Laura Fernandez's Spanish Flair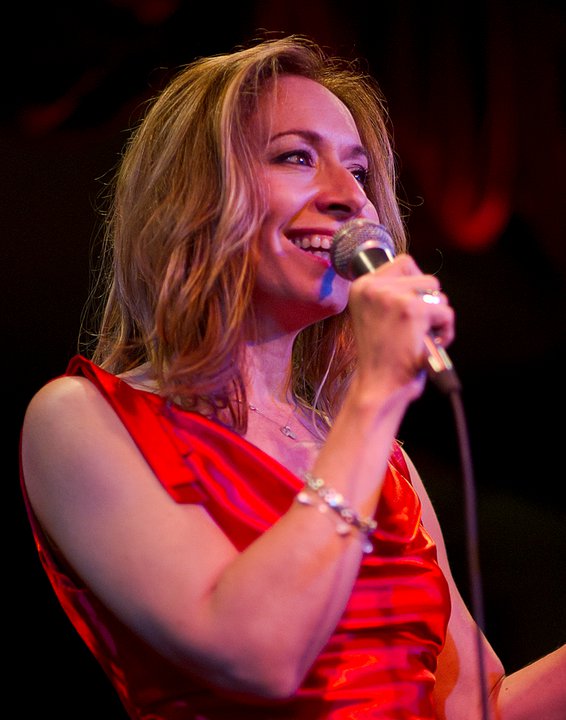 One, two, three, four: pianist Don Naduriak sets the tempo at Montreal's Upstairs jazz bar. After a few measures, the trumpet player, Eduardo Sanchez, takes the lead and the tone of the song shifts from jazz to the familiar hip-swaying rhythm of a Latin ballad. Laura Fernandez, singer and composer, makes her way from the back of the bar to take the mic. "For tonight's show," she says, "I will speak in three languages."
Fernandez is fluent in English and Spanish, and speaks little bit of French. She was born in Madrid and moved to Canada at the age of seven years old, when her father got a job in Calgary. Onstage, Fernandez radiates sincerity; she doesn't belt out her love songs like a pop diva, but she sings them with strength. "Que Mas Quieres de Mi," which she wrote about her mother after her father died, is a moving story of love lost, from her second album, Un Solo Beso. "When I write a song I don't necessarily know what I am going to write about," she tells me. "I get inspired and it just comes out."
Fernandez started writing songs in Spanish at twelve years old, but never thought to make a career out of it. Later in life, though, after a successful twenty-five year career as an illustrator, she felt the visual-arts business had changed. Budgets and workloads had decreased, and everything went digital. One morning, as she sat in her garden room, she felt lost. She had a sinking feeling she chose the wrong career. Shortly after, a friend visited her with a guitar, and that night they played music. She knew immediately that her new career was in the music industry.
Not only does she compose, write and translates English songs into Spanish, but every Saturday afternoon Fernandez hosts Café Latino for Jazz FM 91 in Toronto. The show helped her research Spanish music composed around the world. She even credits her work there in helping her develop the songs on her second album.
Back at her debut show in Montreal, Fernandez lets go of her inhibitions onstage by the second act. Composing Spanish music is a natural fit. "I love the poetic way you can say things and they do not feel contrived," she says. "It's a very romantic and soulful language."
Related on maisonneuve.org:
—When Canadian Jazz Was Good
—Be Still My Heart
—Why "Women Who Rock" Doesn't Take Women Seriously
Subscribe — Follow Maisy on Twitter — Like Maisy on Facebook