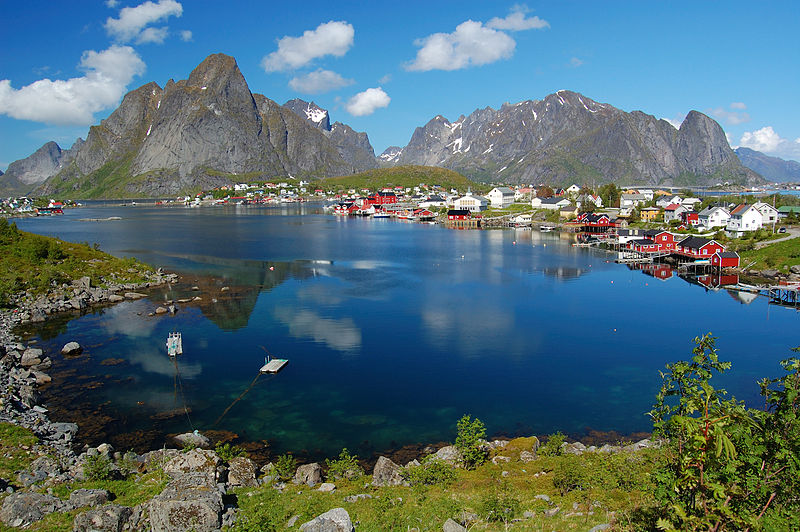 The village of Reine in Lofoten, Norway. Photograph by Petr Šmerkl, Wikipedia.
A few weeks ago I found myself staring at a video report on the website of the London Financial Times. It was one of those frequent, clearly envious news stories about the overflowing oil and gas wealth of Norway. The unusual thing was the way it illustrated that wealth.
Norway is not a member of the European Union. Its people have twice voted against EU membership. Nor does Norway use the Euro. Oslo is a million miles away from rebellious Athens and from the fringe of Mediterranean madness and bankruptcy. There are no government deficits. Norway runs a vast budget surplus, as it has for the last seventeen years. The oil surplus is stashed away in one of the best-padded sovereign wealth funds in the world—over half a trillion dollars.
The video was fascinating because of how it captured the essence of Norway's success. Lovingly shot on a dreamy summer's day near Oslo's waterfront, every frame smelled of untroubled luxury: the wooden sailboats gliding out to sea, the slender ladies and gentleman relaxing with self-effacing ease on umbrellaed terraces. The way they were dressed, the way they were holding their wine glasses suggested something better than supermarket chardonnay. People rode bikes in the city, they behaved responsibly, they were on top of things. Everything in the picture spoke of soft, worldly well-being.
Although I haven't been to Norway in many years, that is the way I remember it. The last time I went, I camped with a friend. We avoided cafés and restaurants because we could not afford them, but it didn't matter; the fjords were pristine and the snow of spring lingered prettily on the mountainsides where we put our tent. The country was gorgeous. Not ordinary gorgeous but special gorgeous in that there was a rare sense of seclusion and tranquillity. We drove along deserted dirt roads and stopped to listen to the silence. Whatever was wrong in this world had not reached Norway.
Nothing could go wrong.
Subscribe to Maisonneuve today.

Related on maisonneuve.org:
—Cairo: A Memoir
—Haiti and the Failure of Aid
—The Neverending Story
Follow Maisonneuve on Twitter — Like Maisonneuve on Facebook