Could Ohio's Zoo Escape Happen in Canada?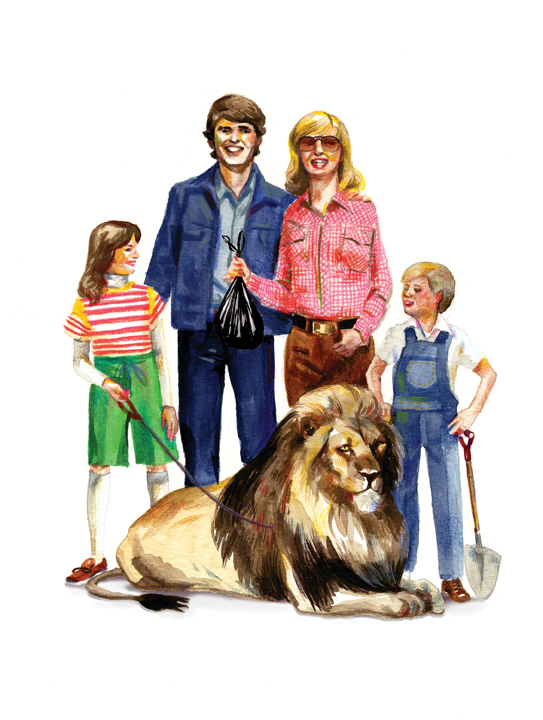 Illustration by Team Macho.
Um, in case you haven't heard already, almost fifty exotic animals—lions, tigers, bears, monkeys, cougars, wolves, cheetahs—escaped from a private zoo in Ohio last night. By now, local police claim, most of the animals are "accounted for," which is a nice way of saying "we shot them with our guns until they died." (At least one of the monkeys was eaten by one of the lions, though. It's the circle of life!) Although the whole situation is kind of hilarious, it does have some serious undertones: apparently the owner of the zoo was found dead on his property, and MSNBC speculates he may have killed himself after releasing the animals from their cages.
Upon encountering the news this morning, I was immediately reminded of Maisonneuve's current cover story, "Unleashed," by Katherine Laidlaw. In "Unleashed," Laidlaw uncovers the strange world of the exotic-animal trade in Canada: she attends an auction that sells off zebras, peacocks and Mongolian horses; she talks to owners of kangaroos and cougars; and, most disturbingly, she finds out just how easy it is to buy and keep a large, dangerous animal in Ontario. She writes:
"It's no secret Ontario is the Wild West for the exotic-animal trade in Canada," Rob Laidlaw says. Owners have abandoned live crocodiles at the Toronto waterfront. Pythons have gone rogue, escaping through the walls of condo buildings. Ontario does not have province-wide regulations; instead, a confusing patchwork of municipal rules allows lions in some jurisdictions and forbids jaguars in others. In some provinces, government agencies can track, inspect and seize animals if they so choose. But in Ontario, under legislation passed in 2009, the only province-wide standardized rule specific to exotic wildlife is the Ontario Society for the Prevention of Cruelty to Animals' power to inspect roadside zoos if there is cause for concern. Neither the OSPCA nor the province has authority over private collectors.
Private zoos—like the one responsible for the current havoc in Ohio—are a major part of the problem in Ontario, Laidlaw goes on:
Because of lax regulations, anyone can throw a few coatimundis in a cage, put up a sign and call the operation a zoo. Many roadside zoos in Ontario offer educational programs to visitors, and some have partnerships with schools. The problems start, experts say, when the zoos turn around and sell exotic animals to interested buyers, encouraging irresponsible pet ownership. Some private zoos survive by charging admission, just like publicly funded zoos-but according to exotic-pet owners I spoke with, they also breed animals as large as tigers and sell them to visitors who ask the right questions.
According to Slate, "Ohio has some of the nation's weakest restrictions on exotic pets and among the highest number of injuries and deaths caused by them." That sounds a lot like Ontario. It's tempting to make light of today's events, but, for Ontarians, they raise a serious question: Could the same thing happen here? Laidlaw's feature suggests that, in Canada, we're not as safe from lions and tigers as we might think.
To read "Unleashed," pick up a copy of Maisonneuve Issue 41 (Fall 2011) or contact us to order it.
Subscribe to Maisonneuve today.
Related on maisonneuve.org:
—This Little Piggy Went to Market
—A Zoo Story
—Pop Goes the Monkey