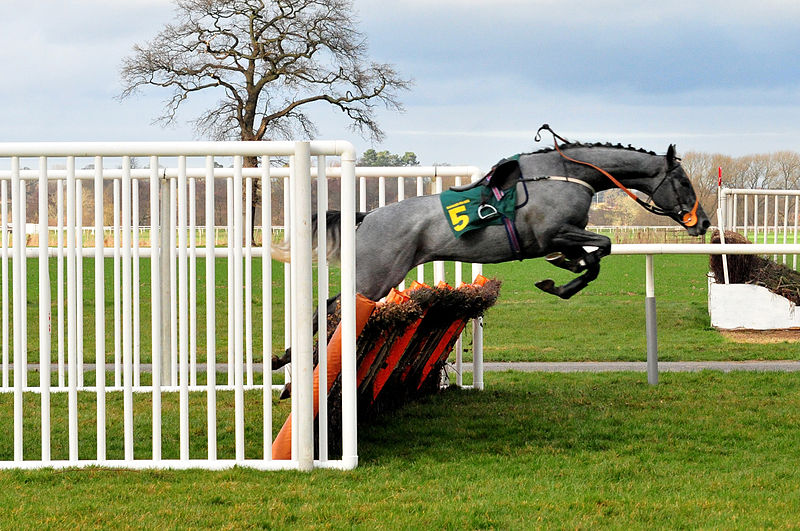 In his poem "Oysters," Seamus Heaney has the following stanza, justly well-known: "I ate the day/ Deliberately, that its tang / Might quicken me all into verb, pure verb." The stanza came to me recently while researching a horse race. They call the Kentucky Derby—being held on Saturday for the 140th time—the most exciting two minutes in sports. It is also pure verb.

Horse racing, by its nature, is more purely about action than any other sport—muscle twitches, whip cracks, hoof clatter, but also the "action" of the betting window. There is so much action, in fact, that there is a newspaper—the Daily Racing Form, known simply as "the form"—to contain it all. This list of a given race's horses and their past race performances, odds, speed figures, past jockeys and so on is so dense, so tightly packed with information, that almost everything a horse player needs to know for a given race is included in a couple of 8x11s. In the racing form we find raw data, but also poetry. All the way to the right hand side, is where some group of anonymous horse-poets describe a race in as few words as they can, often with even the vowels removed.
Here are those descriptions from a recent obscure race I picked at random, with the vowels reinserted for clarity:
5 wide, dug in, in time
prolonged drive, denied
drew even, gave in late
angled out, gaining
bid between, willingly
angled in, mild bid
came 4 wide, belatedly
off slow, 6 wide, no threat
vied inside, weakened
off slow, no factor
contested pace, stopped
saved ground to no avail
Heaney's pure verb.
The seers who interpret this script tend to congregate at places called off-track betting facilities (OTBs). Nothing beats watching a horse race at the track itself, but to watch a big race at an OTB comes close. The shouting, the tearing of paper, the morsels of information flung across a room, the flicker of dozens of televisions, the hyper-spikes and micro-crashes. I've never been on the floor of a stock exchange, but I imagine the OTB as its radically democratic mirror image. The minimum bet is two dollars. Look into the eyes of the teller at the betting window. Shoot laser beams of luck into her eyes that they might travel down into her fingers into the machine that prints your bet then south a thousand miles to Kentucky and into the hands of your horse's jockey that he might know just the right moment along the backstretch to let the horse make its move. Pure verb. And some prayer.
Saturday is Derby Day. If you're in Montreal, take yourself down to the OTB in the basement of the Place Dupuis on the east side of Place Émilie-Gamelin. Voices shout in Caribbean-accented English, Haitian Creole, and Spanish. For a quarter you can print yourself a racing form for the Derby from a machine (11th race at Churchill Downs). For a toonie you're in the mix, and can hoot and holler along with everyone else. The horse California Chrome looks unbeatable, cruising to win his last four races. But they (always "they") say that favourites never win the Derby. There's a Canadian horse, We Miss Artie, bred in Ontario. He'll have long odds on Saturday, but has surprised people before. So who knows. Post-time is 6:24 PM.