History in Shapes and Spaces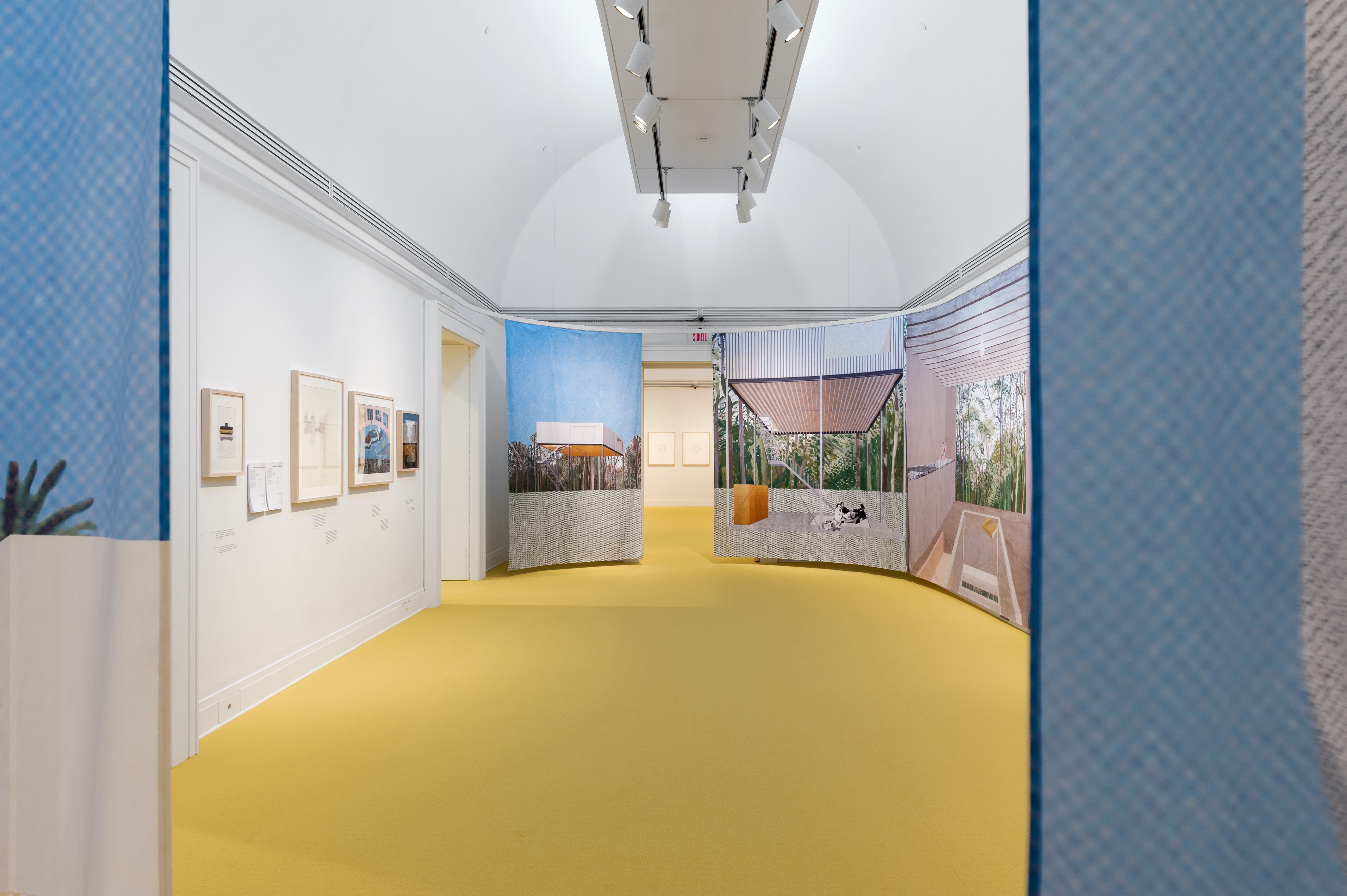 From "Besides, History," on now at the Canadian Centre for Architecture.
Architecture is history in shapes, and spaces. Being both a reflection of its time and a product of its past, architects engage with temporal references by providing historical testimony and a foundation our society. Architecture builds from the past and projects into the future.
All this is on display in "Besides, History," a new exhibit at Montreal's Canadian Centre for Architecture (CCA), which aims to provide a space for an engaging dialogue about architecture and its relationship with history. According to Mirko Zardini, director of the CCA, this is kind of a manifesto of a new generation of architects. Go Hasegawa, of Go Hasegawa and Associates, and Kersten Geers and David Van Severen, of OFFICE Kersten Geers David Van Severen, each present the fruits of their labour, responding to each other's practices by redrawing and rebuilding from their past works in their own respective styles. Go Hasegawa's firm, founded in 2005 in Tokyo, collaborated last year with Airbnb to create a prototype for a house of the future; OFFICE Kersten Geers David Van Severen, founded in 2002, in Brussels, is known for revising elemental forms in their work, far from the usual excesses of contemporary architecture.
Despite the differences between the two firms' styles—striking when face to face with OFFICE's model of a Belgian villa and Go Hasewaga's model of a Kyodo house—they find a common ground. In the space of the CCA, this is illustrated quite literally by a yellow floor that establishes continuity throughout the whole exhibition.
"Besides, History" unfolds in seven installments. Each room answers the next, creating a conversation where the firms become each other's eyes and ears. 
The photographer Stefano Graziani, who has worked with both firms, curated the first room. Through pictures of streets, windows and doors, this room introduces the references, cultural contexts and ideas that inspire them, without any time frame or geographical limit to the space. Graziani's photographs explore the similarities existing in OFFICE and Go Hasegawa's work and their inspiration, presenting structures by other architects. Here, photography is the eye of the public. "Sometimes, unconsciously, we come to understand architecture through specific photographers," writes Graziani in a note accompanying the photographs. "Through image, we understand the process of architectural thinking."
The second gallery gathers twelve models of houses at a 1:100 scale. Once more, their differences blur, as all the prototypes were made in the same material by Go Hasegawa, and look similar from a distance. The visitor can then observe these "false friends" in detail to compare them in forms and shapes. In Go Hasegawa's work, windows and doors are the same size but the position changes the purpose, illustrating the importance of perspective.
Contrasting with his minimalistic and refined style, the two members of OFFICE use another space to showcase their own approach to conception. Through a giant and colourful collage, they create a new reading of their work. Layers of images replicate reality in an exercise of abstraction. Without the perspective of 3D, they had to think differently about their relationship with spaces. This perspective shows them opening to the world and exchanging with their culture.
Deconstructing architecture both in its simplicity and complexity, OFFICE models their work process, from sketches to maps. This comparison sets up an apparent banality, celebrating the ordinary aspects of what articulates history. In some rooms, filled with sketches and inspirations, we can draw similarities between their processes and the plans they work with, offering a method of deconstructing and demystifying art which could otherwise be inaccessible.
In one room, you walk through the foundations of a house built by OFFICE, a 1:1 reproduction of a fragment of the ground floor of the Villa Schor, from Brussels, Belgium. In another, you find yourself standing in front of a tinier home, feeling a new sense of scale within a small, Japanese setting. To better compare their differences in their approach, visitors can walk through the models and experience the proximity to the floor as well as Go Hasegawa's constant will to carefully control the dimension of his buildings.
"Far from a postmodern position that evoked historical architectural forms literally, and far from the work of the previous generation that used history to create a theoretical foundation for architecture," concludes Giovanna Borasi, CCA curator, at the end of a guided tour of the exhibit, "history becomes here a constellation of selected references collected from many historical periods and geographies."
"Besides, History" will run at the CCA from now until October 15, 2017.