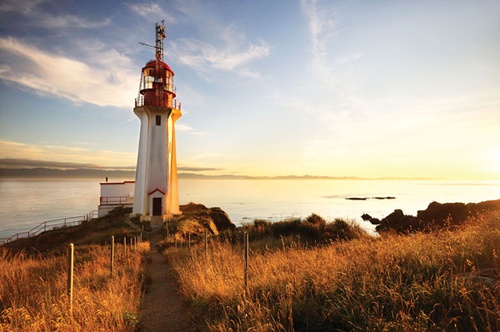 Lights Out
This winter, as a cost-cutting measure, the government may decide that lighthouses no longer need their keepers.
Photograph by Bryn Tassell.
LAST SEPTEMBER, lighthouse keeper Meredith Dickman received an unexpected radio call from her superiors telling her to expect visitors. Two hours later, a red helicopter touched down on the front lawn of her British Columbia Trial Island station, and out popped two Coast Guard officials and a union rep. Over a cup of instant coffee, the trio told her she had two months to move out. Across the country, Dickman's colleagues received the same news: after 276 years, Canada's lighthouses were being handed over to machines.
Lighthouses are one of the country's most iconic structures and a cash cow for the postcard industry. Staffing these secluded outposts, however, costs the federal government over $8 million a year. Given that the towers no longer need supervision—by the 1920s, motorized electric lights had already replaced the high-maintenance kerosene lamps—the Department of Fisheries and Oceans (DFO) has waged a four-decade campaign to clear its payroll of lighthouse operators, an effort that apparently came to a head in 2009. "Technology has evolved to the point where the department feels that we can safely destaff lighthouses," DFO Minister Gail Shea later declared.
Almost immediately, the plan turned into a public-relations disaster. The department's Ottawa headquarters was hit by a barrage of complaints and coastal newspapers exploded with scathing editorials. Everybody from the BC Council of Fish Harvesters to the Federation of Canadian Municipalities declared their staunch opposition to the DFO plan. As tensions mounted, Shea called in a Senate review. The final decision, she said, would wait until a team of eleven senators had finished combing coastal communities and holding hearings. This December, the senators will recommend whether to send keepers packing.
The federal government has rarely destaffed a lighthouse without a fight. In 1987, it tried to close thirty of its forty-one West Coast stations. Facing an outcry, the government decided to shutter five. In 1995, it tried to shut down all of Canada's seventy remaining lightstations, but managed only eighteen after widespread protest. Today, fifty-one manned lighthouses remain—twenty-seven in BC, twenty-three in Newfoundland and Labrador, and one in New Brunswick. For Ian McNeil, Trial Island's former keeper, the push has been so relentless he can't help but suspect a personal vendetta. "I think somebody's got a bee in their bonnet and decided they're going to get rid of lightkeepers come hell or high water," he says.
For keepers—who, at an average salary of $40,000 a year, remain some of the lowest-paid civil servants in Canada—it's all déjà vu. The usual suspects will protest against the DFO's decision, the Coast Guard will insist that lighthouse mechanization is safe, and the final outcome is anybody's guess. If the rest of the world is any indication, however, automation may be inevitable. Japan destaffed the last of its 3,337 lighthouses in 2006. Australia's last lightkeeper checked out in 1999. A year earlier, the UK's sole remaining keeper got his pink slip at a royal ceremony presided over by Prince Philip. Change is not always pleasant, said the prince.
THEY'VE BEEN COMPARED to icemen and elevator operators, but the only thing anachronistic about lightkeepers is the title. While the first were little more than remote lamplighters, their modern-day equivalents are multipurpose sentinels, providing twenty-four-hour coastal surveillance. Dozens of Canadians can credit their lives to a keeper's quick actions.
Steve Bergh and his wife Alice Woods have been "on the lights" at Vancouver Island's Chatham Point station for more than twenty-seven years. About twice a year, says Bergh, the couple find themselves scrambling to a nearby marine emergency. They were the sole responders to a boater who burst into flames while repairing his propane heater. Bergh performed CPR on a hypothermic fisherman who flipped his boat. He has even been called to corral feral vessels. Once, a trio of vacationers fell off their rental boat while it was locked into a sharp turn. Firing up his skiff, Bergh pursued the vessel, straightened it out with a well-thrown grappling hook and hopped over the gunwales to cut the engine.
Aside from watching the water, keepers also study the skies. Seaplanes call on them for local weather, fishermen count on them to report sea conditions. Every three hours (except for a brief lull in the middle of the night), Dickman records a report that's broadcast on rotation to marine radios. She reports on fog, wave height, offshore wind and whether boaters should watch for lightning. If boaters need more details, they radio her directly.
These reports wouldn't be replaced under destaffing—they'd stop. Mariners would rely exclusively on an existing stream of automated weather information broadcast from onshore weather stations. They'd get wind speed and swell height, but that's about it.
To the people who've come to depend on keepers, that's a serious concern. For twenty-two years, Captain Charlie Dominaux has run the M/V Arethusa ferry between Fortune, Newfoundland and the French-held islands of St. Pierre and Miquelon. It's a busy waterway. The tiny islands maintain a population of just over six thousand, many of whom own speedboats, cabin cruisers and fishing vessels. Add to that icebergs and unpredictable weather, and the thirty-kilometre stretch of sea can quickly turn deadly. Two years ago, a French freighter got caught in a storm and sunk, killing all four crew members. "It's only a short distance," says Dominaux, "but she can be pretty rough."
Green Island lightstation is Dominaux's direct line on sea conditions. He could tune in to broadcasts from onshore weather stations, but, according to Dominaux, they rarely allow for notoriously quick changes in coastal weather. For example, right before setting out on a voyage last spring, Dominaux checked the automated reports to find steady conditions. Green Island, on the other hand, reported rising winds—prompting Dominaux to scrub the voyage. A few hours later, even as winds picked up to a near-gale, the automated forecast remained unchanged. "I would have been caught in that with about ninety-three
passengers, and eighty or more would have been children," says Dominaux. Take away Green Island's human eyes, he says, and you take away the region's best defense against calamity. "There's been loss of life out here before. Without lightkeepers, that's only going to get bigger."
Ten months after the helicopter visit, Meredith Dickman remains at her station, the waters around her filled with windsurfers, kayakers and sailboats. She watches over them like a nervous mother. In 2005, her supervisor told her "it was just a matter of time before they destaff all the lightstations." (McNeil received the same speech when he took over in 1967.) For a few more months, at least, she's bought some time.
Only five kilometres away, however, the Discovery Island lightstation wasn't so lucky. In November 1995, the station became a flashpoint of the destaffing controversy after lightkeeper Pat Mickey saved the life of a lost diver. The event was "confirmation of all the best parts of having lightkeepers out there," MP John Duncan told the Vancouver Sun. "I'm horrified to imagine the coast without their presence.'' Two months later the station was closed, the windows boarded up and the vacant facility encircled by a chain-link fence.
See the rest of Issue 37 (Fall 2010).
Related on maisonneuve.org:
—Places to Drink Outside in Halifax
—Drawn and Quartered
—Say Goodbye to Old Hong Kong
Subscribe — Follow Maisy on Twitter — Like Maisy on Facebook