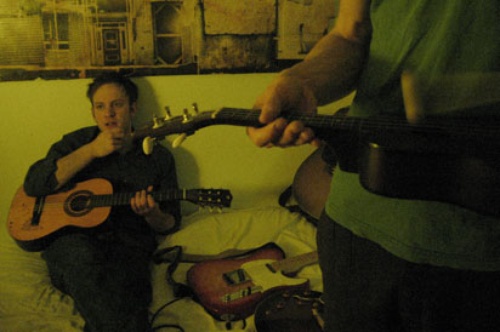 Pop Montreal: The Corner Store
An interview with James Irwin, Katherine Peacock, Shaun Weadick, Carl Spidla and Neil Holyoak.
On September 25, five Montreal musicians—Katherine Peacock, Carl Spidla, Neil Holyoak, James Irwin and Shaun Weadick—will play a special little show at La Tour Prisme, as part of the Pop Montreal festival. It's an updated version of something called the Corner Store, a regular event the performers used to hold at various apartments around the city. I invited all five of them into my kitchen.
Drew Nelles: How did the Corner Store start?
Shaun Weadick: I started it a few years ago, in 2007. The idea was just to have friends come over and share songs in my apartment. It basically started because I felt alienated in Montreal, and I felt a real lack of community. This was not long after I came here. And the Corner Store name came from something from my youth. In suburban southern Ontario, as kids we would hang out in front of the 7-11 or the Mac's or whatever the local corner store was, and wait for somebody and be like, "Can you buy me cigarettes?" Basically, we would just hang out and smoke and maybe drink a pop. And that's what I wanted Corner Store to be.
DN: And where was that?
SW: It was at 5187 Jeanne-Mance, apartment 1.
Carl Spidla: Rest in peace.
SW: Yeah, it just got smashed to bits. Turning it into condos.
Neil Holyoak: I remember that place. It was a good spot.
CS: Let's have a moment of silence.
SW: And then from there it got passed. We actually had one show at 5185 Jeanne Mance, at the time Merrill [Garbus] and Abigail Powell were living there. And then James picked it up.
James Irwin: And I did it on St. Viateur, in my apartment. And then I moved in with Katherine and we did it at our house on St. Urbain. And we just had one the other night at my house on Jeanne Mance, 5185, downstairs. And there was a whole era when Neil had it at his house.
NH: Oh yeah, at the Clark house. Those ones would always turn into crazy hippie jams.
JI: Yeah, as soon as the weed came out...
Katherine Peacock: There were also hand drums.
JI: And Gisele and Lars always had these huge chongers.
SW: Can "chongers" please be in the interview?
NH: It was kind of funny, because everybody would be playing their songs and being serious, and then Jeremy would light a large chonger and pass it around and then you'd see this wave of people losing inhibitions.
DN: So what can people expect at the Pop version of this? [There is a knock at the door.] Sorry, hold on. [Drew goes to the door.]
CS: That Drew is the worst. What a terrible guy.
JI: Hey, let's lie about everything from here on.
DN: [Sitting back down.] Sorry, my landlord lives upstairs. He's just fixing the front door. Anyway, you were saying?
JI: I'd say what people can expect is a glorified version of what we've always done. We're going to have our friend Moheb sort of host. He's not going to talk that much—one way we talked about it was to create more of a separation between the performer and the audience, so that there's a little bit more of a construct of performance to it.
[Katherine looks appalled at this idea.]
SW: One of the main differences, too, is that we're keeping Katherine completely in the dark.
JI: That's relevant only because a large part of it is recognizing that it's not just going to be friends there, and trying to keep what's interesting about this—that it is intimate and a community thing—but recognizing that you're also performing to a public. So it's going to be slightly different in that way.
SW: About what to expect, concretely: myself, Neil, Carlo, Katherine and James are all going to play songs. We envisioned it as two sections, and this is actually how it would happen in the good old days as well. The first section is people playing formally. We have three rounds in this first section, and one is going to be everybody playing one song they've never played publicly before. And then each of us is going to cover a song by one of the others. We did it blind: everybody got sent one song by one of the other people by Moheb, so I don't know who is playing my song. All I know is whose song I have. And then for the last part, we're going to play together, in a few configurations that are still configuring themselves. So that's the end of the first half of the night.
And the second half of the night—what would inevitably happen is people would just start playing covers and hanging out, and we've also invited some other friends who have been involved in the past to come play songs. That's the free-form part of the night. That's when people would usually get drunk or stoned in the old days.
JI: The reason I went to the trouble of trying to explain the construct of the stage is 'cause it makes it different from people just hanging out and jamming. None of us wanted to host an open mic at our house, or a jam. I don't think it was ever that hard to protect, but in this context, because it's part of the festival, there's something different about it.
NH: This is probably going to sound pretentious, but "open mic" has such a bad connotation of shitty acoustic musicians getting up and singing songs about the most boring shit. And none of us, I don't think, do that. And I was worried that if it turned into an open mic night, it would just bum everyone out. I always thought of it as more of a songwriters' workshop, where people would actually put a good amount of care and craft into what they do, and get together and share that—rather than just party dudes who can play an Oasis song or whatever, jamming on that all night.
CS: Me and James more or less know each other from open mics at Grumpy's, from way back in the day when we were in college. And I think these Corner Store nights were a nice extension of taking the things we really like about those, but making it personal, and having it in your house with friends, as opposed to strangers.
KP: For me, it feels like a backstage. This show will be special because we'll all be playing together at the end, which is not something that would usually happen. When James or Shaun or Neil would host a Corner Store, it felt like we were all kind of in the band and hanging out backstage, but it's actually a really serious thing, because there's a front-stage. You're kind of practicing for a show at a regular venue, which is completely different.
DN: What will the setup be like at this show?
JI: It's a loft, a single room that probably comfortably fits fifty people. It's all flat, there's no stage, there's a corner in the room with a piano and instruments. Behind that are big windows where you can see the mountain and cross and everything. The train tacks are right below, too. It's kind of a glorified version of somebody's apartment. It's a glorified version of the Corner Store, basically.
The Corner Store showcase takes place Sunday, September 25 at La Tour Prisme (550 Beaumont, apartment 516) at 8:30 pm.
Subscribe to Maisonneuve today.
Related on maisonneuve.org:
—A Conversation With the Legendary R. Stevie Moore
—A Workshop and Discussion With Tune-Yards
—Pop Montreal: R. Stevie Moore's Best Video Moments
Follow Maisonneuve on Twitter — Like Maisonneuve on Facebook