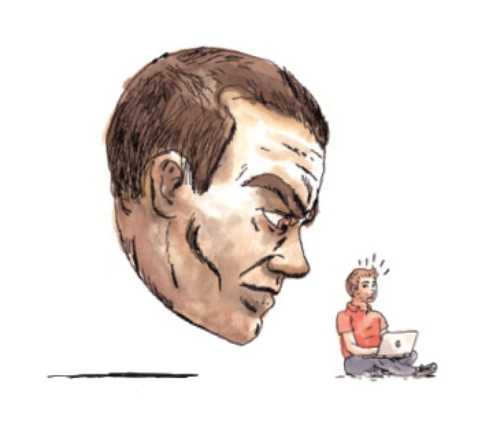 Big Brother Likes This
Is social networking truly "Orwellian"?
Illustration by Victor Kerlow.
"Facebook equals Big Brother" is a ubiquitous trope that, ironically, is often expressed on Facebook itself. The astonishingly successful social-networking site is frequently assumed to double as a monitoring device for both corporations and the state—hence the comparisons to the omnipresent dictator of George Orwell's Nineteen Eighty-Four. The following letters were written as part of the project "Big Brother Where Art Thou?", an online collaboration between Canadian writer Jacob Wren ("A") and Norwegian artist Lene Berg ("B") that attempted to unravel what Big Brother might mean today. The project took place entirely on a Facebook page and was a co-production of the Montreal arts festival OFFTA and the interdisciplinary group PME-ART.
*
Dear Big Brother,
The philosophy that money is the only measure of value is perhaps the closest thing our moment has to Big Brother. I've been searching for slogans, words that might pry open our current situation, that might open a window and let in some air. I came up with this: neoliberalism is the totalitarianism of capital. But to call the enemy names, to cast the enemy in a totalitarian light, however true it might be, is also to distract from whatever it is that we are. And I believe we are lost. How to make a virtue from our lostness? How to make from it a weapon?
The weakest part of Nineteen Eighty-Four, the most unconvincing, is when O'Brien attempts to explain the motivations of the inner circle. ("The Party seeks power entirely for its own sake. We are not interested in the good of others; we are interested solely in power. Not wealth or luxury or long life or happiness: only power, pure power.") No one seeks power for absolutely no reason. One always seeks power in order to do something with it. We don't really understand the motivations of Big Brother. We don't really understand the motivations of everything that is going terribly wrong all around us. And when you don't understand, you don't know how to fight.
When I succeed, I believe it is because I am talented and clever. I am also willing to admit that pure luck is a factor. And that the cultural capital associated with my socioeconomic background played a role. But my first thought, which I only begin to question moments later, is that it is because I am talented, that the main cause is something essential within me. I can dismiss this as ego, but I also know that it is potent. Rulers, kings, dictators must also believe that their skill, strategy and guile have taken them to the top and will keep them there. Your power is irrefutable evidence of your genius. If your power is absolute, so must your genius be.
But every time I begin to understand, my understanding falls short. Perhaps the true lesson of the twentieth century is that propaganda works. We might also say this about advertising. If you tell a lie long enough and loud enough, it becomes the truth. Or, as you, Big Brother, might put it, if you tell the truth long enough and loud enough, it becomes a lie.
Sincerely, A
*
Dear George Orwell,
What would have happened if you had never become quite so famous? Repressive governments that distort the truth are now forever connected to your final work, or, it sometimes seems, to a generalized sense of your posthumous celebrity in the form of the term "Orwellian."
Warhol once said that in the future, everyone will be world-famous for fifteen minutes. (Appropriately, this is perhaps the phrase for which he is most famous.) A more recent cliché says: on Facebook, everyone will be famous for fifteen people.
A book review I once read claimed that famous red-baiter Joseph McCarthy started the anti-communist witch hunt not because he was an ideologue, but because he wanted the fame that came along with it. I believe you also very much wanted the fame that came to you mainly after you were gone. This, of course, is not a sin. In fact, for an artist, it is most likely a normal—one might even say banal—condition.
One might also say that, within the fictional world of Nineteen Eighty-Four, Big Brother is extremely famous. How much of the brutality in the world comes from this desire to be seen, to be known and to be known to have done something important, to be known as someone who changed the world?
Sincerely, A
*
Dear Facebook,
One might say one is addicted to a lover. But one has to be careful when using the same word to describe different things. I don't know what an addiction to a lover feels like, but I will try my best to describe the addiction that I am experiencing here and now. Much like Ingsoc, in my day-to-day life Facebook replaces all other social interactions, with pokes, posts, notes and likes as its minimal, effective and acceptable Newspeak. Everything is allowed, but gestures that are not allowed immediately receive censure from a spontaneous conglomeration of "friends" who quickly comment to express their disapproval. However, censure is relatively rare. Far more often, my behaviour is shaped through positive reinforcement. I do something acceptable and, almost immediately, a number of friends "like" it. This is a more satisfying and simplified form of positive reinforcement than one is able to achieve within other aspects of so-called daily life. As well, there is a vague sense of simultaneous contact with a large number of people, contact with little danger of conflict. Does it need to be said that Facebook, much like Ingsoc, is an exceedingly lonely place? And yet the addiction stands.
Sincerely, A
*
Dear users of Facebook,
There are millions and millions of you. If you wanted, you could start the revolution.
Sincerely, A
*
Dear corporations buying statistical information from Facebook,
I am concerned. Is my information useful to you? Is it useful enough? You now know something about me. But what is it you know precisely? Do I fit within a category that makes it seemly or convenient for you to sell me something, or am I momentarily outside of such categories? If neoliberalism is the privatization of everything, the totalitarianism of capital, then are you—the anonymous, omnipresent purchasers of the statistical version of my interface with this device—in some sense the Big Brother of capital?
Sincerely, A
*
Dear secret service agents using Facebook to spy on us,
I know your weakness: there are too many of us. There is no possible way for you to keep track of every last one. You scan for suspicious words but we avoid such words. You watch the YouTube videos we post, see what we had for breakfast. What precisely can you do with such information? There are millions and millions of videos, millions and millions of breakfasts. Do you really have the time or manpower to scroll through them all? All of this suggests that resistance is possible. And yet, secretly, we know it is not.
Sincerely, A
*

Dear Facebook users using Facebook to spy on each other,
We can all understand the pleasure of spying on one's neighbor. Also, the ritual of the promenade. The internet is a place to find out information about things and people and to be entertained. A place to scan through a large quantity of disparate information very quickly. Your "friends" on Facebook are a kind of information. They provide clues about themselves. On occasion someone will post something about themselves quickly, barely even realizing they have done so. This happens less and less. For you, within the private moment of spying, these posts are vicarious treasures. These are the moments when one never clicks "like."
Sincerely, A
*
Dear Facebook-equals-Big-Brother paradigm,
These things seem to be mainly a question of scale. Not of one person, or a group of people, imposing their will on others. But the scale upon which one person, or a group, is able to impose their will on others. The greater the scale, the more difficult it is to fight, and the more omnipotent it feels on a lived, day-to-day level. What is the scale of Facebook? It seems like everyone is on it, and if you aren't, you would be reasonable in feeling left out. On the other hand, it feels mainly like a toy.
Facebook isn't so frightening in the here and now. Facebook is mainly frightening if we consider how it might be used in the future. The novel Nineteen Eighty-Four also places its frightening situation in the future. This is always the most suspicious thing: to place the catastrophe in the future and not here in the present. Because the problems we can actually deal with are here and now, both less and more disastrous than we currently feel them to be.
Canada is not Burma. Germany is not North Korea. But our lives—the richness and sense of possibility of contemporary life—are impoverished by the structures within which we currently live. What I don't know is if this has simply always been the case, or will always be the case from now on. Something can only be bad in comparison to something that is less bad. If everything is bad, then everything is fine. But things only get better when you fight.
In Nineteen Eighty-Four there is no way to fight. On Facebook there is no way to fight. I hate it when I become didactic. I also hate it when I don't.
Sincerely, A
See the rest of Issue 41 (Fall 2011).
Subscribe to Maisonneuve today.
Related on maisonneuve.org:
—This is My Brain on Facebook
—Behind the Firewall
—Age of the Algorithm