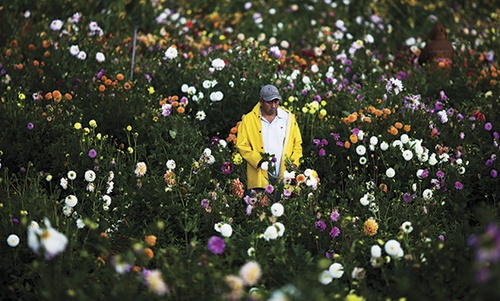 Photographs by Michelle Siu.
Gathering Flowers for Home
Every April, Dagoberto Cruz Miranda leaves his family in Mexico and flies to Ontario to work on a farm for six months.
FOR OVER FOURTEEN YEARS, Dagoberto Cruz Miranda has been living two lives.
One is centred around his wife, three children and family farm, located in the dusty Mexican town of San Juan Xochiaca. They grow cacti and peach trees. San Juan Xochiaca is a safe place filled with close-knit friends and family. Anything Cruz Miranda could need—his butcher, his baker, his church—is steps away. San Juan Xochiaca is home. Cruz Miranda's other life is four thousand kilometres north. Every April, he flies to Toronto and settles at someone else's farm in Milton, a town fifty-five kilometres away. There, he lives in one of three trailers with fifteen other Mexican men—"the guys." He spends the next six months growing corn, berries, flowers and pumpkins, among other produce. The work is legal and stable. He is paid minimum wage. He does this trip year after year for ...