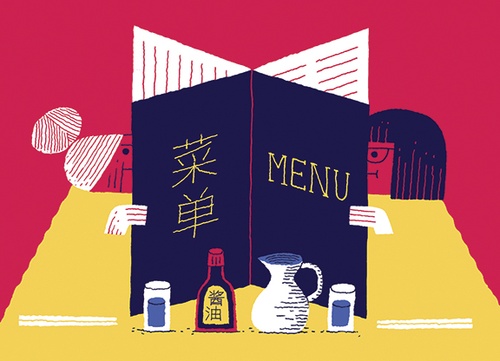 Illustration by Patrick Doyon.
Letter from Montreal: Under the Paifang
Fragments of my parents' past are strewn all over Montreal's Chinatown.
BEFORE THERE WAS A CHINA, in my mind, there was Montreal's Chinatown. It's a yellowed photograph from the seventies: among cobbled streets and brick buildings, a girl with bright eyes—my mom, increasingly younger than me—stands with her mother in their first winter coats. Another picture shows them, along with my father, in front of the grand red arches with golden tiles and a curved horizontal beam. I've walked under these gates to the neighbourhood, covered with tiles that my parents imported from Taiwan, countless times. Sometimes it feels like I'm accessing a piece of my past just by stopping at the butcher for a pound of barbecued pork, or eating at Restaurant Hong Kong, where I'm greeted by a friendly manager who has always looked like an old uncle. But most of the time it just feels like I'm going grocery shopping or eating pretty good Chinese food ordered off the English part of the menu.
My parents moved to Montreal from Taipei and Hong Kong when they were eighteen and nineteen. They met at a Chinese church and formed a community with other immigrants, trading job leads during Bible study before going for hot pot. Neither had attended university, so my mom took business classes at night while my dad worked. On quiet evenings, he'd pick her up after class and they would trudge home in the snow together, stopping at a Vietnamese-run video store to pick up the latest Hong Kong blockbusters.
Back then, Chinatown was a collection of restaurants, small groceries and import stores staffed by Cantonese speakers who took smoke breaks in each others' kitchens. Because my dad spoke English, he waited tables at Restaurant Hunan. My mom kept the books at her parents' importing company. They shipped goods from Taiwan into Chinatown grocery stores, and then expanded into decorations: wooden dragons, china tile and gold wall ornaments for restaurants all over the city. Chinatown bloomed into a cultural centre and tourist destination, and soon the architect in charge of redesigning the area hired my mother to secure the iconic red tiles for the paifang at the corner of René-Lévesque (then Dorchester Blvd.) and St-Laurent.
At the height of their success, my parents ran three gift shops across the city. They spoke Cantonese more than English. Their French was almost non-existent, save for the odd "Bon-joo" and "Meh-ci" when talking to Francophone customers. They ate at their friends' restaurants, places with two menus that turned out decent and cheap hangover food to sai yun (Westerners) as well as reminders of something like home for more familiar patrons. Soon my parents had my brother and me, moved to the suburbs and then to Toronto, in search of better jobs, relief from the pre-referendum climate and a school system that didn't impose yet another language between immigrant parents and their kids.
Eventually, I returned to Montreal, where I have hustled, too. Between tutoring jobs, call centres and cafes, I've been peddling articles and editing others'. On quiet nights, my boyfriend meets me after work and we trudge home in the snow to watch Cantonese dramas. We talk shop over our little hot pot burner. I pass the gates of Chinatown weekly to get groceries, often not even noticing the dusty ink-red tiles. I'm pretty sure the manager of Restaurant Hong Kong has pinched my cheeks, but it was decades ago, so he now passes me the English menu. I wonder if he remembers my parents, those two young schemers who used to scarf down yeung chow fried rice and plates of gai lan between shifts at work? 
I talk about moving to Hong Kong, to try my hand at a different kind of hustling—one intrinsically linked to the inherent privilege to wander, as opposed to the necessity of finding a life that is more amenable to one's needs. I could learn how to read the language of my native tongue, come back a "real Chinese." Hong Kong is bigger and more exciting than the handful of blocks that make up Chinatown, but there is a certain comfort in this neighbourhood caught between cultures. Fragments of my parents' past are strewn all over the city; little chapters of their brave, ambitious and impecunious youth. They follow me around cobbled corners, from restaurant to grocery store, and all the way home.