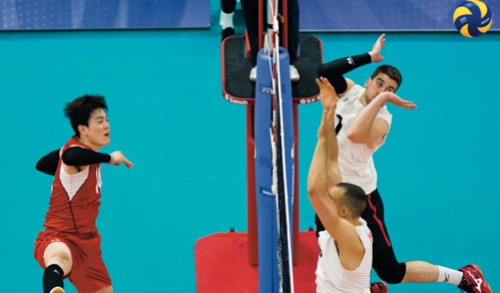 Photograph by Kevin Light. Courtesy of Volleyball Canada.
All on the Line
At six foot eight, Richard Kelly Kemick is built for volleyball. There's only one problem: he's not any good.
Editor's note: Maisonneuve regrets to inform its readers that Richard Kelly Kemick's short story "The Most Human Part of You" was removed from our website, and the issue in which the story originally appeared will no longer be available for sale, after striking similarities between his story and "The Dog of the Marriage" by Amy Hempel were discovered. Read Maisonneuve's full statement.

When I see Gavin Schmitt for the first time in real life, he looks startlingly human. He's standing on the sidelines, chatting eye-to-eye with two men: Daniel Cornelius Jansen VanDoorn, who boasts both the name and blond smugness of Austrian royalty, and Steven Marshall, replete with a stubbly beard and a half-sleeve tattoo. The three pass around a bottle of hair product. In their palms, the bottle seems hotel-sample small. A volunteer wearing a City of Saskatoon sweater vest appears, mopping the floor ...