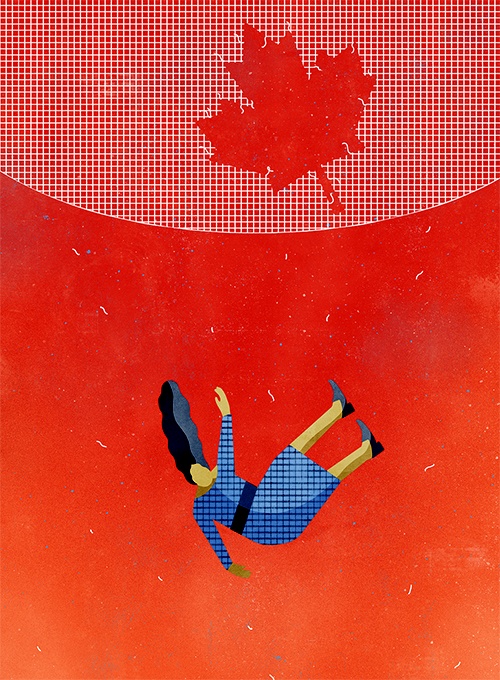 Illustration by Melanie Lambrick.
Same Campus, Worlds Apart
International students are a huge boon to the economy, but as Carine Abouseif writes, bureaucracy and social isolation can make it tough for them to set down roots in Canadian soil.
Hundreds of students packed a snow-covered field, grumbling and shivering under the 3am sky. They tugged at their pyjamas, huddling in groups and peering at the fire truck at the head of the field. Firemen, police officers and college residence staff whispered and gestured. 
Keziah Dourado looked over the crowd. "You have to tell them it was you," her roommate said. 
Minutes earlier, Dourado and her two roommates had been standing in front of an emergency fire exit inside the residence building. They'd just returned from a local bar, but security wouldn't let them in with the two guys they'd brought back. "Just do it," one of her roommates said. So Dourado pressed her palm on the cold door and pushed. 
A shrieking sound had filled her ears. She fell back and watched as every resident emerged from their rooms and evacuated the building.  
An eighteen-year-old Indian ...