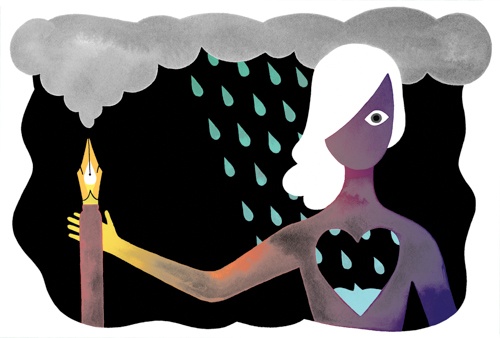 Illustration by Chris Kuzma.
You Want to Travel With Him
It was hard to breathe in front of the fire. As a five-alarm blaze ravaged the abandoned R.S. Muir & Co. building at Parc and Milton, large plumes of smoke towered over the surrounding area, turning the sky grey. Donald Trump had recently won the US presidential election, and I was afraid to exhale. CTV News later reported that the fire department realized the building could not be saved—the only way to gain control of the fire was to tear it down.
Drifting snow fell softly as the firefighters pressed on. It disappeared on contact, touching the empty, winding sidewalks and Victorian architecture of the McGill ghetto. I warmed myself by walking to Leonard Cohen's makeshift memorial site, outside his home on rue de Vallières, near boulevard Saint-Laurent, just over ten blocks away. Our hometown hero had been dead a little over two weeks.
I first read Leonard ...