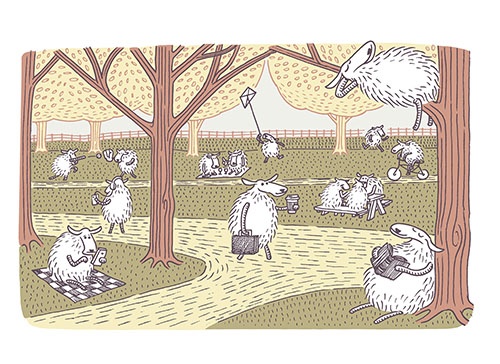 Illustration by Tom Chitty.
On the Lam
Letter from Montreal.
When the weather is warm, Parc du Pélican—a mid-size semi-suburban park flanked by apartment buildings in Rosemont–La Petite-Patrie—fills with locals. Young families swim in the pool; teenagers stake out the bleachers, the smell of weed carrying on the air along with their laughter. But today, a drizzly day in July, the rain is keeping park-goers away. Which is why there's almost no one around to see me chasing down the ewe.
A hulking mass of white wool with black spots, the fugitive is one of a flock of ten. She and her pen-mates—five other ewes and four lambs—have been brought in from a farm in the Laurentians: Montreal will host them from June to August. As part of an urban agriculture project, they'll help mow the lawns in three Rosemont parks and awaken city-dwellers to the benefits of sustainable farming. A few months ...