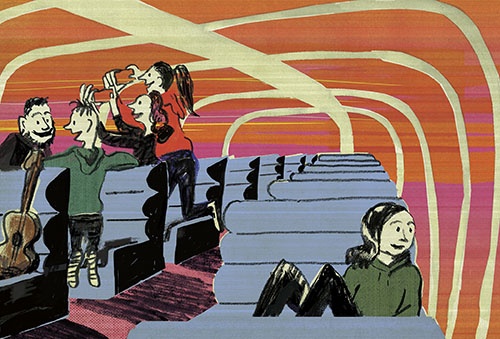 Illustration by Tine Modeweg-Hansen
Off the Rails
Who bought all those Canada 150 train passes? Kate Black spent a week finding out.
Just before midnight on July 11, 2017, I learned the westbound train destined for Vancouver was running four and a half hours late. The stink and sweat of July in Toronto was seeping into Union Station's basement. Construction crews were renovating through the night, drilling furiously through surfaces above and below and beside me. It was hell but I couldn't move—if I gave up my space in line, I might be forced to sit by the toilets again.
I tried to forget I was doing this all for the privilege of sleeping upright in a train for five nights. Like four thousand other people, I'd gotten a VIA Rail Canada 150 Youth Pass because it was cheap: $150 for unlimited train travel throughout July 2017. In a press release, VIA Rail had said the passes would encourage the next generation of train travellers to "have their own truly Canadian experience." They were only available to twelve- to twenty-five-year-olds, and at twenty-three I was edging out on the age limit.
The video ad for VIA's Toronto–Vancouver line opened with jaunty, throbbing string instrumentals and shots of the sun rising over prairie wheat fields. "Put your dreams in motion," the narrator mused. "Wake up to the grandeur of the Canadian wilderness and take it all in." Cut to middle-aged tourists in a train car, snapping pictures of the wilderness. Have you really seen Canada? 
I didn't know. Had I?
I'd rolled my eyes through most of the year's embarrassing Canada 150 novelties. And though the pass seemed like just another celebration of colonization—VIA Rail had originally sold 1,867 passes to mirror the date of confederation—I was willing to swallow my political concerns for dirt-cheap summer travel. It would take five days to get from one coast to another, and you didn't get a bed, but, as the promotional video promised, it would be the trip of a lifetime.
Plus, I was coming out on the other side of a lonely first year in a new city. My partner and I had moved from Edmonton to Vancouver midway though 2016, and I'd only managed to make two new friends so far; maybe I'd meet people on the train. The odds of that seemed low—as a tween in summer camp, I would endlessly weigh the risks of talking to my bunkmates and then be home, friendless, before I knew it—but I remained hopeful. According to dozens of old British and Russian novels, trains were all about happenstance meetings, intense dramas, indelible memories forged in close quarters. Maybe the train itself was the magic ingredient I'd never had. Now I was about to find out: after flying to Halifax with my partner and riding together to Montreal, we'd diverged, and I'd started the solo part of my trip.
Virtually everyone in line for the train was wearing a yellow Youth Pass bracelet. They were smiling and chatting, seemingly blissfully unaware that we were trapped in a humid underworld and it was closing in on 1 am. Someone at the front of the line triggered the wave. Then they started singing "O Canada." I tried to give them the benefit of the doubt, but a familiar feeling began to grow in the back of my brain, and I fished a mismatched pair of earplugs out from my backpack.
As the chorus rounded out the last two we stand on guard for thees, I realized two girls sitting beside me were smiling and trying to talk to me. I pulled out an earplug. "Sorry?"
"I was trying to tell you that earplugs were a good idea!"
I laughed, unable to tell if she was being ironic. We small-talked about our train plans—me, bound for the terminus station in Vancouver, them headed to Jasper. Eventually, our conversation faded under the high-pitched squeal of a welding tool. Nearing 2 am, weary VIA Rail employees led us onto the train. I took the only empty seat I could find, beside a figure shrouded in a rain coat.
Less than a year after financier Donald Smith drove the last spike into the Canadian Pacific Railroad, Ellen Spragge departed on the first passenger train trip across Canada in late June 1886. In her account of the trip, From Ontario to the Pacific by the CPR, she recalled sinking into "a luxurious seat, flanked by [her] valise and rugs, feeling that [she] was established for the next thirty-six hours at least." People had gathered at train stops across the country to watch the historic first passage, Spragge wrote. Mostly, she mused about the fields and fields of wildflowers that passed by as she gazed out the window.
On my first morning out of Toronto, I woke up beside a now-unshrouded man: white-blonde bowl cut, wire glasses, VIA Rail bracelet around his wrist. I was flanked neither by valise nor rugs, but by his warm track-panted leg grazing mine. I made my way to the train's common area, smothering a couple bagels in free Kraft peanut butter and cracking open Madeleine Thien's Do Not Say We Have Nothing—hefty enough for a cross-country trip and also to prove I was a twenty-three-year-old who read. My quaint train journey had finally begun, I thought, looking out at the flurry of trees, a dizzying blur of deciduous. Maybe the chandeliers and gleaming silver of 1886 were gone, but I was feeling cultured.
"Wait—are you eating by yourself?" a young woman asked, taking the seat across from me. I said I was, trying to sound content with being alone. But before I'd finished my bagel, I'd learned her name was Sara, she had just started her train journey, and though she had braces and the skin of a cherub, she was my age.
Sara asked how my trip had been so far. If I were being completely honest, I would have told her that I opened the sliding metal bathroom doors on the Halifax to Montreal leg of the trip only to see a man on the toilet, squarely facing me, jeans at his ankles, clearly pooping. That we locked eyes for far too long as I frantically pushed the button that had opened the door, trying to close it but likely just keeping it open. That I'd whispered I am so sorry as I'd walked away. Instead, I told her that my trip had been mostly pleasant, though I wished there were more bathrooms.
Sara pointed behind me. "Have you ever been to the dome?"
"The what?"
"The dome. Everyone's talking about the dome."
I let Sara lead me up a small flight of stairs to an elevated car above the common area. VIA Rail started acquiring panoramic cars in 1978, making them ever-bigger since then—this was one of the oldest and smallest, available to us Economy passengers. Nevertheless, I could see for kilometres over the trees and marshes dotting the land we were passing, somewhere west of Sudbury Junction. I opened my book again and read exactly three pages before getting tired and resting my head on the window.
I could feel Sara looking at me. She poked my arm. A group of six people at the front of the dome was playing Cards Against Humanity, laughing quietly at the racist cards and extra-loud at the Canadian ones.
"An icy handjob from an Edmonton hooker? Oh my god!" a young woman yelled. I recognized her from the station as one of the woefully loud people doing the wave. They were eating ketchup chips. "You guys, this is so Canadian," she said.
I quickly learned that the group called themselves the dome squad. Whenever one of them made an inside joke, another would say "classic dome squad." If a new person arrived to the dome and asked them what they were talking about, they'd tell them it was a "dome thing." One of the guys spun around to Sara and me. "Isn't it crazy…" he trailed off, dipping his finger into a fresh pod of peanut butter. "Isn't it crazy that we wouldn't all be here if it wasn't for VIA Rail?"
"Totally," Sara said.
I told him that was so true. I'm doing it, I thought. Summer camp. But then I heard the strum of acoustic guitar strings coming up the dome stairs. "Anyone wanna jam?"
I walked back to my seat before he could finish the first few chords to an Ed Sheeran song.
Sara and the peanut butter guy eventually found me there. "We're having a party in the dome!" Sara said.
"Oh, I'm good," I responded. "I'm, uh, listening to a podcast." We all looked at the unplugged headphones in my lap. They came back less than an hour later. "Still good," I smiled.
That evening, our train stopped for half an hour beside a lake near Thunder Bay to let a freight train pass. I watched a sunset unfold itself across a heavy sky in dreamy pinks and purples. Just as we began chugging off again, a lone paddling beaver broke the water's surface. Everyone around me had their phones out to capture the sunset. Sitting on my own, I somehow felt like I had the moment all to myself; I felt a surreal kind of peace.
The next morning, we were chugging through Manitoba's infinite canola fields, and the dome gave us far longer sightlines than a regular car would have. This was one of the few areas that had left Spragge unfazed in her green-velvet, brushed-brass coach car: "the monotony of the dead-level horizon," she described it. But my sentimental prairie heart fluttered.
I hadn't known one thing when I boarded: passively watching nature through VIA windows is as much a part of Canadian history as the building of the Canadian Pacific Railway, and it's just as complicated.
I knew my old history lessons would pop into my mind as I crossed Canada, right on schedule with various landmarks; they did, though VIA didn't seem to pay them any attention. We passed the CPR's last spike in Craigellachie, BC, with no notice; our train ran smoothly over a landscape that had been blasted and graded at great danger to the lives of the underpaid Chinese immigrants who'd done the brunt of the work.
Dozens of historians have written about the train's role in knitting disparate landscapes into the country of Canada. Margot Francis argues it was the single tool that enabled the state to seize control over the western territories; it brought in an influx of new settlers, even bolstered the state's defeat of Louis Riel's 1885 resistance. On my train, there was no nod to the Indigenous peoples who'd been ousted to create the illusion of a barren, discoverable land for train passengers—it didn't even have any gratuitous Salish garb. (VIA Rail did recently announce that it has finalized a partnership with the Canadian Council for Aboriginal Business and is working towards hiring more Indigenous people.)
But everyday passengers just wanting to see the country were complicit in that process, too. CPR ads from those early days suggested, Francis writes, that riding the train in itself made you a good Canadian. "We're sailing west, we're sailing west, to prairie lands sunkist and blest," read one ad featuring a photo of Scottish passengers. The wilderness views have changed in places, but one thing has stayed the same: identifying with nature comes with an assumption of class and civility and culture. Over a century later, in a way that Ellen Spragge never could, I watched most of Canada's terrain pass by from the heightened comfort of the dome.
I kept to myself from Winnipeg onward, and every member of the dome squad but one got off in Jasper. I watched them tearfully add each other on Facebook, and the one young woman left behind sat by herself in the regular cabin. I wondered what was worse: an unaccompanied extrovert, or an introvert like me trying to flip herself inside out.
As we neared Vancouver, I realized that part of me felt cheated out of the image VIA Rail had sold me in its promo video: waking up to towering mountains, far away from where the highway runs. Sure, I was humbled by that sunset. I saw a handful of waterfalls and a whole new side of the Rockies, but my train whizzed past most of it, leaving the wildflowers Spragge described a blur. Wolfgang Schivelbusch describes this effect in his classic book of train scholarship, The Railway Journey. Compared to earlier coach travel, he writes, the speed of the train fractures the relationship between the traveller and where they're travelling, à la Marx's idea of annihilation of time and space.
I concur. What I remember most vividly about the train was the way it smelled like an air-locked room of people, the way it exposed me to a queasy kind of closeness I hadn't anticipated. After Sara left, I had moments of serenity. But I also spent a lot of time locked inside my own brain, wondering why I couldn't just relax and jam to Ed Sheeran with strangers.
I didn't feel sentimental getting off the train until I saw the lone dome squad woman rolling her suitcase towards her parents' car. I flashed her a quick smile and a wave, and she looked back, puzzled—she had no clue who I was. I got in a cab and marvelled at having the whole back seat to myself. As we drove through downtown Vancouver, I felt resigned to the fact that the train didn't change me like I thought it would. But for the first time, Vancouver felt something like home. And the distance between me and the driver—it felt amazing.