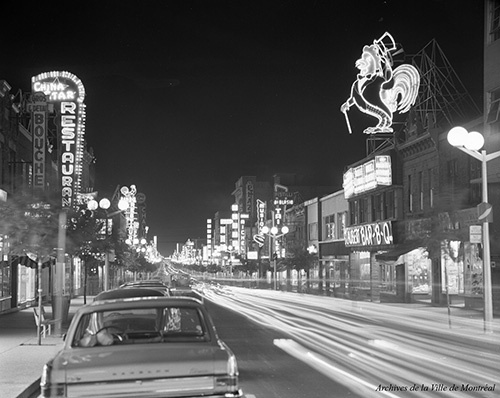 The Plaza
Letter from Montreal
My first memories of Montreal's Plaza St-Hubert are as weird, liminal and hazy as the commercial strip itself. I first trekked to the plaz (as I like to call it) in 2015 to attend a queer dance party. I recall strolling drunkenly along the four-block strip, past anime stores, wig shops and retailers advertising $50 prom dresses. My destination was Bar Le Félix, a short-lived club that tried to capture the cachet of Berlin nightlife by having two shirtless bouncers in animal masks confiscate everyone's phone at the door. 

Past that point, the night comes to me in fragments: a room inside the venue that was completely empty save for a blowup mattress on the floor; a single-stall bathroom with a large window right next to the toilet; my friend making out with a man inexplicably dressed in a full cowboy outfit. 
I do remember this though: I fucking loved it. I started to return to the plaza regularly in the light of day to wrap myself in its chaos. I found it calming to amble along, trying to identify that week's most tempting deal (a tank top emblazoned with I flex for sex, only $2!), or most intense window display (two mannequins dressed for a Renaissance Fair next to a giant white horse). The controlled mayhem of the plaza was a welcome distraction from the stressful unpredictability of regular life. 
The plaza wasn't always so bric-à-brac. St. Hubert Street began to turn commercial in the 1920s and grew popular over the next three decades. In 1951, the iconic chicken chain of the same name opened its very first location on the strip. A few years later, merchants formed an official association, which helped steer the plaz into its most prosperous decade. By the sixties, St. Hubert was the second most important commercial strip in all of Quebec, next to St. Catherine Street. 
Its reign was short-lived. The street was already falling out of favour with shoppers when a bulky green awning was added over the sidewalks in the eighties. The structure was considered an eyesore by both residents and visitors. The plaz remained a commercial area, but as the new millennium dawned, bargain shops had settled in and it transitioned into a junk-lover's paradise—like gentrification in reverse. 
By the time I arrived in the city, St. Hubert was changing once again. Storefronts shuttered steadily at first, then rapidly. Between 2018 and 2020, eighty of the plaza's four hundred businesses closed. Eighty-nine new ones sprouted up in their place during the same period, their flavour largely changed. Cheap taco joints and stores selling knockoff Nike made way for pastel-coloured dessert spots and natural wine bars. 
The transformation of the plaza was helped along by the pandemic, which took a toll on small businesses city-wide, as well as by the city's $50 million revitalization project, which left the strip under construction for nearly three years. Anti-gentrification activists began to sound the alarm over BIPOC business owners being priced out of the strip.
Still, the march of gentrification is rarely clean and linear. During the pandemic, Black-owned bookstore Librairie Racines opened a plaza location. Decades-old businesses like Radio St-Hubert and Le Roi du Smoked Meat have stayed put. And the area remains a hub for the city's Latinx community. Cruising spot Sauna St-Hubert—one of the only bathhouses in the city that welcomed trans women—shuttered a few years back, but the street is still home to multiple fetish stores, a porn theatre and a swingers' club. 
The plaz also maintains some of its chaotic spirit. When its latest renovation was officially unveiled last summer, a group of city engineers on strike disrupted Mayor Valérie Plante's speech, protesting loudly for most of the launch event. Soon after, a plaza barbershop made the news after its window was shattered by a couple making out passionately up against it. 
Walking St. Hubert now, I take stock of its post-­lockdown state. I see at least three newly opened places to buy overpriced candles, sure. But there's also the shoe store with the owner who told me he lends out his stock for free to anyone who needs them for photoshoots. There's 100,000 Jeans, a boutique that somehow sells basically zero denim. There's a store that's just called Style. There's a store that's just called Swag City. 
There's my hope that, no matter what the plaz becomes next, it stays at least a little bit weird.
Ziya Jones is a senior editor at Xtra Magazine.Their writing has appeared in Chatelaine, Eater and the Toronto Star, among other places.Their last piece for Maisonneuve was "Snack Attack" (Issue78).