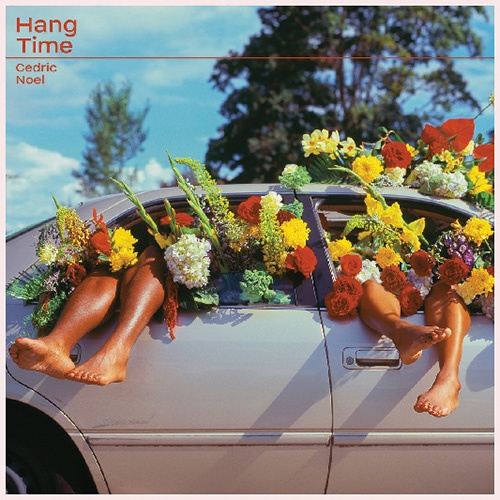 The Winter 2021 Music Room
New music from Cedric Noel, Land of Talk, Haviah Mighty, and Ombiigizi.
Hang Time

Singer-songwriter Cedric Noel has been steadily releasing his music online over the last decade, building a catalogue of carefully constructed songs indebted to ambient, folk and indie rock. Hang Time (Joyful Noise), Noel's first release on vinyl, feels like a continuation and culmination of this work. Armed with his guitar and a series of collaborators, Noel poses questions about identity, politics and intimacy. Through his forthright vulnerability, Hang Time provides a beautiful bridge between triumph and tenderness. The record's trademark is Noel's insistent strumming, which guides him through Hang Time's highs and lows. Above the strum, Noel showcases his hugely expressive voice while delicate synths and atmospherics fill the space between. Squirrel Flower's Ella Williams and Common Holly's Brigitte Naggar drop in for duets, complementing Noel's declarative and fluid lyricism. "Am I still apart from it?" he asks on "Stilling." "I begin again," he insists in "A Hold On Losing." Back-to-back showstoppers "Allies" and "Nighttime (Skin)" find Noel questioning the loyalty of supposed allies and asserting pride in his Black identity. Whether belting to the stars or whispering quiet and close, Noel is adamantly (un)sure of himself—steeped in a process of becoming.
Calming Night Partner
"I was walking on sunshine," Elizabeth Powell sings on "Moment Feed," the second track on their new EP as Land of Talk. The clanging guitar and urgent beat submerging Powell's voice tell a different story, however. Recorded over a ten-day period during the pandemic, Calming Night Partner (Dine Alone) is not as soothing as the title would suggest. The EP's four tracks explore suicidal ideation and toxic expectations through Powell's familiar poetics and fuzzed-out guitars. Calming Night Partner is a short dispatch from a dark moment, hinting at hope. Opener "Leave Life Alone" finds Powell repeating variations on the same phrase for over a minute: "I'll leave this life alone." Powell sounds resigned but not defeated, and though they sing about death, a full band comes alive around them. When the drums drop out, gorgeous saxophones rise, building to a hectic outro. On the title track, Powell traces the safety and violence of love: "Was it a knife fight? Was it a lifetime?" Powell frequently dwells in duality. The anxious rhythm of "Moment Feed" eventually becomes a blissful chorus, where Powell's delayed vocals echo across the noise. "Wings wide, heavy water," they sing, hovering somewhere between the sky and what lies underneath. 
Stock Exchange
On Stock Exchange (Mighty Gang), success has a price tag. Haviah Mighty's follow-up to her Polaris Prize-winning 13th Floor finds the Brampton rapper looking over her shoulder. The mixtape features twelve songs, released as singles over a twelve-month period. The collection still feels cohesive, though, foregrounding Mighty's strong flow and crisp trap beats. She sets up Stock Exchange's major theme on the very first line: "money costs more than most things." Mighty wrote these songs while reflecting on the transactional nature of the music industry, and the ways in which metrics determine value. Competition under capitalism makes Mighty skeptical of others, and vice versa: "They got they doubts / I'm still the queen of the house / they want the clout," she raps on "Occasion." The mixtape's production is fittingly ominous: heavy bass, stuttering samples, and Mighty's voice doubled an octave below. But she still finds room for some fun, too. "Avocado" is a bright and catchy ode to confidence that could easily be twice as long, while "Flamenco" is a seductive reggaeton jam. Whatever mode Mighty is working in, Stock Exchange is a reminder that her success was no accident.
Sewn Back Together
Noise can be a lot of things. The best noisy projects understand this plurality; that coarseness and comfort intertwine. Ombiigizi, the new collaboration from Anishnaabe musicians Adam Sturgeon (Status/Non-Status) and Daniel Monkman (Zoon), means "s/he is noisy." Their debut album Sewn Back Together (Arts & Crafts) veers between jagged riffs and immersive pools of sound, using noise as a means for healing. The instrumentation on Sewn Back Together is subtly psychedelic and strikingly pretty, dabbling in autotune and string arrangements, reaching for the sublime. The lyrics centre on family and community: "hearing all of the people / giving all of the children / someone calling your name," Monkman sings on the serene "Ogiin." "Residential Military" finds Sturgeon searching for a home amidst alienation and legacies of violence, while on "Spirit in Me," he evokes the past to imagine a future—"my brother is crying / my sister's been trying / my father surviving." His vocals approach the whine of emo, giving the lyrics a piercing immediacy. A fantastic fuzz takes over in the song's last seconds, blending into Sturgeon's voice—noise as catharsis, care, the sound of people coming together.