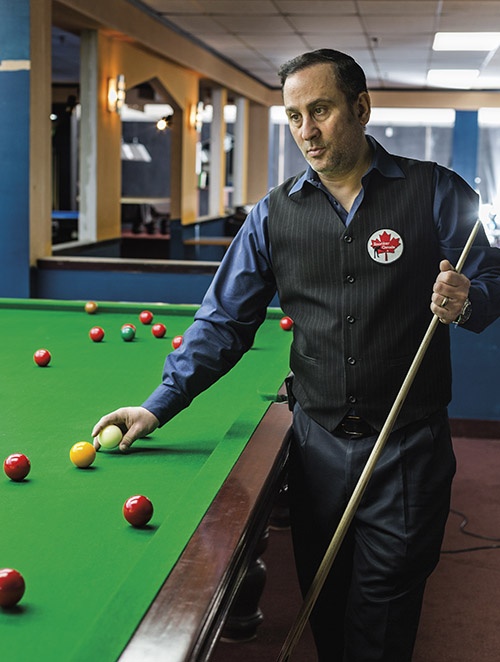 Photos by Roger Lemoyne.
Perfect Game
One Montrealer is trying to revive a local addiction: snooker.
In the shuttered basement of the Bowl-O-Drome, Patrick Guigui paces up and down a dusty lane as an electrician tinkers with the ceiling lights. Guigui, a short, tanned Montrealer with a hint of a lisp, has been refurbishing the ten-thousand-square-foot facility for about six weeks. It's now September, and there's still work to be done. An out-of-commission cigarette machine is tucked away next to some pool cues strewn around haphazardly. The only tidy place is the far-left corner, where a massive billiards table, six by twelve feet, is illuminated by three panel lights hanging above. Its cloth is a bright, grassy, untarnished green, and its dark wooden rails are smooth and scratch-free. Under the cloth are three large slabs of Italian slate, carefully levelled. Sparkling coloured balls are sprawled across the pristine table.

Two of Guigui's friends are playing snooker. When he comes over to offer them ...