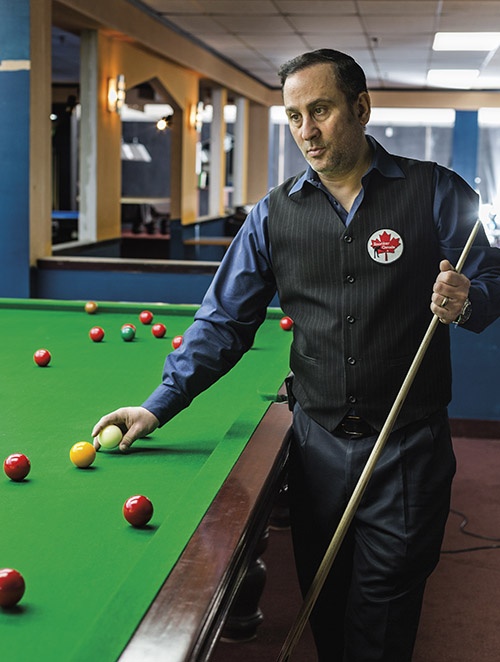 Photos by Roger Lemoyne.
Perfect Game
One Montrealer is trying to revive a local addiction: snooker.
In the shuttered basement of the Bowl-O-Drome, Patrick Guigui paces up and down a dusty lane as an electrician tinkers with the ceiling lights. Guigui, a short, tanned Montrealer with a hint of a lisp, has been refurbishing the ten-thousand-square-foot facility for about six weeks. It's now September, and there's still work to be done. An out-of-commission cigarette machine is tucked away next to some pool cues strewn around haphazardly. The only tidy place is the far-left corner, where a massive billiards table, six by twelve feet, is illuminated by three panel lights hanging above. Its cloth is a bright, grassy, untarnished green, and its dark wooden rails are smooth and scratch-free. Under the cloth are three large slabs of Italian slate, carefully levelled. Sparkling coloured balls are sprawled across the pristine table.

Two of Guigui's friends are playing snooker. When he comes over to offer them some water, they tell him the table is a little slow. The room's humidity is dampening the green surface cloth, Guigui explains, causing the balls to drag slightly instead of glide. A quick ironing will fix it, he assures them. The table was imported from England, where it was once used on the professional snooker circuit in the 1980s. It cost Guigui ten grand, and he's spent some $50,000 to buy and install four others like it. That sum doesn't factor in the five or so pool tables he's also got, the ping-pong tables or the cost of leasing out this facility. But no corners will be cut in Guigui's mission to revive snooker, a complicated and painfully difficult billiards game whose presence in Canada has dwindled over the past twenty-five years.
The bowling alley will become a family-friendly pool hall called West Island Recreation, also dubbed the "Snooker Cafe." Located deep in Pierrefonds, Quebec, a quiet suburb in Montreal's West Island, the cafe is about a half-hour drive from Mordecai Richler's downtown snooker haunt on St. Laurent Boulevard. In 2001, the famed Canadian author penned his final book, On Snooker, chronicling his pool-hall exploits and the crew of gambler-turned-pro Canadians who earned millions playing in the UK. The cafe is far removed from that heyday, but Guigui presses on with his ambition. Snooker is won with a philosophy of relentless determination, after all, and Guigui has nothing if not a one-track mind. 
Snooker is like pool, but harder—one oft-repeated analogy is that pool is to snooker as checkers is to chess. A snooker table is far bigger than a pool table, and the balls must be sunk in a specific colour-coded sequence to earn points. Missing the intended ball on any given shot also rewards your opponent with points, making it a tactical game that encourages stingy, defensive play. You can "snooker" your opponents by leaving the cue ball in an awkward spot on the table, scoring simply by screwing them over. But its zero-sum strategy isn't the only thing that makes snooker punishing. When the balls must travel such long distances into narrow pockets, the tiniest miscalculation or slip of focus can foil an otherwise good shot. 
The real thrill comes after years of practice and hair-pulling: commanding a sense of order and control on a surface that pits human fallibility against the cold mathematical precision of physics and geometry. A good player will be able to make a "century break," scoring one hundred points in a single turn, which means potting at least twenty-five balls—often more—without missing, in the proper sequence of red ball, coloured ball, red ball, coloured ball. 
Given how hard it can be to sink a single shot, let alone sink it in a way that sets up your next shot, the untrained amateur would have better luck flipping a coin twenty-five times in a row, landing heads each time, than they would making a century. Though you've more or less guaranteed a victory at around seventy points, the challenge then becomes how long you can keep your streak running. When a high century is made in amateur's club, it's treated like a rare cosmic event.
Last fall, Guigui made his first century, though he doesn't remember much of it. At the sixty-point mark he "blacked out," he says. He was so focused that he can't remember any of his final, critical plays. "If I had thought about any shot I took, I would've missed," he says. Tension in the arm or a racing heart are the snooker player's greatest foes. A clear, focused mind may be even more important than hand-eye coordination or technique.
Guigui's love for snooker began in 1986, when he was a teen playing pool in Notre-Dame-de-Grâce with friends. Invented in the 1870s by British officers stationed in India, snooker had made its way to Canada by the early twentieth century. But it didn't become popular until after the Second World War, when Canadian soldiers acquired a taste for the game while stationed in England. In the seventies and eighties, a number of Canadians joined the professional tour in England. Led by Cliff Thorburn of Victoria, BC, who became the first overseas world champion in 1980 (and won the Order of Canada for it), the Canadians were notorious for being tough as nails, challenging the Brits' snooker supremacy. It was quite an accomplishment in a country where the public has watched snooker as a televised sport since the 1960s.
Canadians, by contrast, now tend to associate snooker with the gambling lowlifes who hustled at pool halls in past eras. Despite once being the game of choice between the two, snooker made less economic sense for billiard-hall owners—pool is easier for casual players, and with tables half the size of snooker tables, you can cram double the number of games into your hall. By the 1990s, video games eclipsed billiards among youth; the beer-soaked, rundown billiards environment couldn't compete with their convenience and instant gratification. Not to mention snooker's steep learning curve and esoteric, undulating list of rules. 
Guigui stopped playing when he moved to the United States, spending much of his adulthood in California managing gift shops with his brother. When he returned to Canada in 2005 and got married, he was approaching midlife and sought out a hobby. Picking up the game for a second time, its sights, sounds and philosophy enraptured him. Snooker is "all I ever think about," says Guigui, now forty-nine.
In the throes of obsession, he came to a revelation: he should be the one to bring it back. He began calling every pool hall in the country, asking how many snooker tables they had, how many players used the tables and if they ran leagues. He met former pro players and organizers to learn about the logistics of forming a governing body. In 2011 he finally founded Snooker Canada, a volunteer organization that's more or less a one-man show. He hosts courses on coaching, refereeing and table mechanics and travels the country to organize tournaments.
Guigui knows Canadians would love snooker, regardless of whether they know this yet themselves. In an attempt to change its perception from a geezer's pub sport, he's selling it as a kid's activity akin to martial arts, chess or the violin. Snooker "takes time to see results," says Guigui; it takes "respect, discipline and patience." 
The game is, in fact, still booming in various pockets of the world. China boasts an estimated sixty million amateur snooker players; schoolboys can attend snooker academies in the vein of Canada's hockey schools. The game is a great fit for Chinese sporting culture, where finesse sports like table tennis and badminton are widely enjoyed, along with mental games like Xiangqi, known as Chinese chess, and the classic board game Go. One Chinese snooker star has more than five million followers on Weibo, one of China's biggest social media sites. But can Canadian kids be convinced to play?
Guigui is trying, adding a birthday party room, board games, ping-pong and foosball tables to the cafe. He also envisions an e-sports gaming area that can host "Fortnite parties," using the latest video-game craze as a ploy to bring youth into the space. At the moment, there's just an Xbox and PS4. Guigui hopes that a handful of kids from the Fortnite crowd will give snooker or pool a try and experience a conversion. 
Eventually, Guigui hopes to develop enough young talent to generate a professional player. Tennis Canada has Eugenie Bouchard, Denis Shapovalov and Milos Raonic. Canadian golf has its young phenom in Brooke Henderson. Canada hasn't had a single professional snooker player since Alain Robidoux retired in 2004, but Guigui believes that Canadian TV stations will air the game if he can foster a homegrown star to play overseas. 
Crowds do still gather to watch snooker in corners of Canada, though it's usually just a gaggle of retired men quietly sipping coffee, peering over their morning papers to check in on the aging aces whose hands don't tremble and whose eyes don't fail. Though snooker halls used to be places of disrepute, they also had an air of solemn reverence and still do. 
The Corner Bank Bar & Grill, a billiards joint in Scarborough, Ontario, is no different. Aside from the odd joke or exchange of trash talk, games are played in silence. Most of the players are seniors, but if you come, tread lightly, for the Corner Bank is also a hangout for former pros and top-notch amateurs. Owner Jim Wych is himself a former snooker professional. Wych says he's noticed a recent "wave" of interest in snooker, especially among younger players. He says that Guigui's tournaments so far have boosted the prize money available in Canada, generating interest even among pool players. 
But not everyone shares Wych's confidence in Guigui's bid to bring snooker back into the spotlight. This isn't, after all, the first effort like it. From 1973 to 1990, Ervin Budge was the public relations director for the Broken Cue Billiards, a franchise which ran twenty snooker halls in the Ottawa Valley and organized tournaments and exhibitions across Canada. Budge, a seventy-nine-year-old known as "Budgie" by seemingly everyone, spends most of his days playing at the Orange Monkey, the last vestige of snooker in Ottawa. Despite his age, he is far and away the best player in town. He even once beat the legendary Cliff Thorburn, an old friend of his, though Budgie says Thorburn had just driven four hours from Toronto and wasn't at his best.
 The Broken Cue was like Snooker Canada: its raison d'etre was to lift the game's reputation. "With the word 'pool,' you imagine sawdust on the floor, people spitting, cigarette butts all over," says Budgie. He ran a snooker-in-schools program that brought busloads of kids to his tidy establishments. But the results were mixed. The students were thrilled to finally enter a pool hall, that mythical den of louts and ne'er-do-wells, but the game was a little too complicated for them to master. "They didn't give a shit about the 'how-to,' they just wanted to hit a ball," he says, chuckling. 
Budgie doubts the game can ever return to its old form. He's met Guigui and wishes him well but also told him, in one encounter, "It's a lost cause." Guigui says he doesn't care about his skeptics' warnings. "I don't even hear it," he says. 
Once, on a visit to England to make business connections, Guigui met Ronnie O'Sullivan, the game's equivalent to Tiger Woods or Roger Federer. O'Sullivan had recently made his fifteenth maximum break, also known as a "one-four-seven" for snooker's highest possible score, a perfect game. He's "unbelievable," says Guigui, "a freak." O'Sullivan's form is immaculate; his torso folds over the table, and his cocked elbow forms the top of a triangle that slopes down to the tip of his cue. Late in the match, as he sinks yet another black, the cue ball hurls itself at a cluster of reds. Click-click-click, and they split apart, offering themselves, perfectly placed, for O'Sullivan to pluck away when their time comes. He makes it look easy and even beautiful.
But real life doesn't always roll as planned, as O'Sullivan's life story shows. With a stint in rehab and a slew of early retirements, fired managers and assaulted officials, the mercurial player has admitted that the game has driven him crazy at times. A quick look at the some of the game's best players from its glory days reveals a pattern of alcoholism, drug addiction and gambling problems. The professional circuit has since cleaned itself up, but snooker continues to seduce obsessives who swear by the game's beautiful, hypnotic sadism—labouring endlessly at the table over the angles, force and spin.
West Island Recreation has had its own challenges, too. Originally slated to open September 1, it got delayed to October, and then again to November as renovations continued. Finally, after heavy vacuuming, "balls are rolling," Guigui says, and the facility has hosted a number of events. 
As I tour the building with Guigui, I spot a poster of Thorburn leaning against the wall. He's smiling, cue in hand, with a bustling billiards hall behind him. It was a scene of better days for beleaguered snooker halls across the country. 
For the time being, a section of the former bowling alley remains curtained off. Eventually, the lanes will be ripped up and the aging terminals removed to make space for the e-sports area. Still, Guigui is holding out hope that "one day, these will all be snooker tables." He laughs, but he's only half joking. If business allowed it, this entire room would be jam-packed with green felt surfaces, beckoning to be painstakingly hand-ironed.