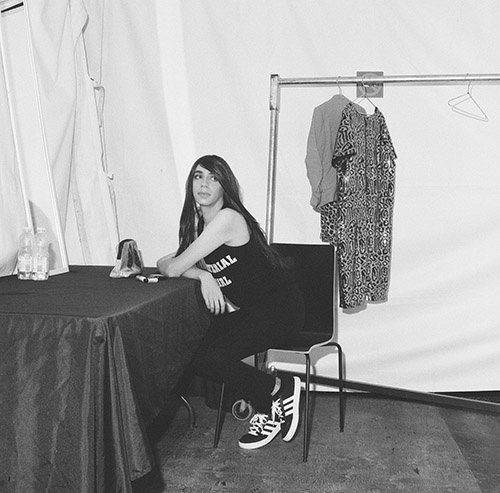 Photo by Alana Riley.
Funny Girl
Rosie Long Decter follows Montreal comedian Tranna Wintour as she does her bit.
Tranna Wintour is in a green room backstage, putting on her lipstick. There's a knock at the door and she begins making her way through a dimly lit hall toward a cheering crowd. She walks with confidence, in a flowing blue dress; tall and angular, with cascading black hair, she could almost be a model on a runway. A stagehand stops her—"I have Mariah Carey on the phone"—but Wintour shoos her away: "I don't have time to deal with her crazy." The MC announces her arrival and Wintour finally steps through the door—and into her bedroom, where she promptly crawls into bed and falls asleep, her lipstick shining. 
This is the start of Wintour's first-ever comedy special: a twist on the typical stand-up opening, but classic Wintour. She plays with the line between fame and fantasy, divas and wannabes—the technique is even built ...