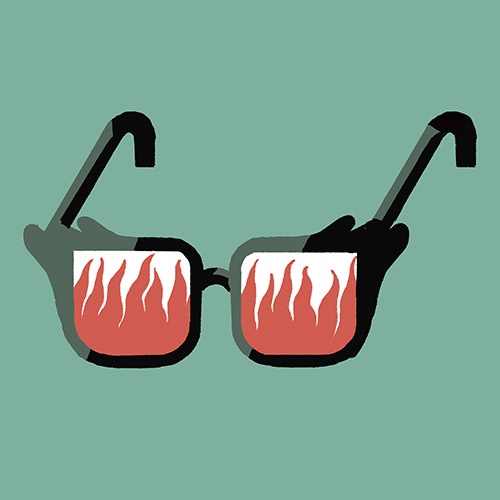 Illustration by Julien Posture.
Harm's Way
With the rise of "dark tourism," it's never been so popular to go off the beaten track.
Near sunset on a Friday, Johnny Ward laid his eyes on land for the first time in days. Earlier that week, in February 2017, Ward had arranged to hitch a ride. He would travel across the rich blue waters at the mouth of the Gulf of Aden, off the Horn of Africa, on a wooden fishing boat modified to haul eight thousand bags of cement mix. 
Yahya, a local fixer in the Omani port city of Salalah—about 150 kilometres east of the Oman-Yemen border—had set it up. The ship's destination was Socotra, a Yemeni island roughly five hundred kilometres away, noted for its distinctive biodiversity and isolated location. 
Despite being a relatively peaceful area, the airspace around Socotra was a designated no-fly zone, along with the sky above Yemen's war-torn mainland. The only way in or out of the island was by sea. Ward and Yahya had spent more than a week attempting to convince stern immigration officials and various sea captains to ferry him to the island. They combed the port in southwestern Oman daily, hoping to find boats with lax health and safety codes that might be inclined to accept an under-the-table offer to bring a civilian aboard. Yahya pulled every trick in the fixer's handbook, from gifts to favours to outright bribes. 
Eight days passed. Then, while lounging at his Salalah hotel, Ward got a call: a willing ship bound for Socotra had been found, and it was leaving now. Right now. In a frenzy, with no food, water or bedding packed, Ward grabbed his backpack and dashed to the port.
"The boat was just falling apart, crawling with cockroaches. It was nine Indian sailors who didn't speak a word of English, and me," says Ward, then thirty-four. A travel blogger born and raised in Ireland, he had worked as an English teacher in Asia and as a test subject for a pharmaceutical company's medical trials before dropping everything to travel the world. 
Since 2016, Ward had tried and failed to visit Yemen five other times but was routinely thwarted by shunned bribes, cancelled permits and charter flights that were either forced to turn back mid-flight or never left the ground. "I said to myself, 'Just do it, Johnny. You've been trying for a year—just get on the fucking boat.' So I did. And these Indian guys just thought I was a lunatic." 
A decade earlier, Ward set out to visit all 197 countries, by his count, in the world. Before finally securing passage to Socotra, he had been stuck for months at 195. After entering the Middle Eastern nation, in the throes of a civil war since 2015, the only new country left for him to visit would be Norway—an accessible destination, chosen strategically so that Ward's friends and family in Ireland could join him to celebrate the completion of his life's goal. Norway's generous, mostly visa-free tourism regime and hundreds of daily scheduled flights ensured that visiting the Scandinavian country would be a breeze, meaning penultimate Yemen, effectively sealed off from the outside world, would actually be his final challenge. 
He was boarding, his dream finally near, but Ward was on edge. One threat was hijack-for-ransom encounters with Somali pirates, as a private security contractor staying in Ward's Salalah hotel had reminded him. The Socotra-bound vessel's seaworthiness was questionable, too, with water splashing into the ship through gaping holes in its hull. Googling "Socotra boat sinking" before leaving port, and learning an overloaded cargo ship went down with sixty people aboard two months earlier, didn't help to calm his nerves. 
"Was I stupid to be attempting this? Is this a step too far?" he remembers thinking as he made his way through the port. He stayed quiet about Socotra on social media to lessen the chances of pirates finding out about an unarmed European on a vulnerable civilian freighter. Ward hopped on the vessel—which had no beds, shower or functioning toilet—praying his latest attempt to visit Yemen would be a success.
After a roughly fifty-hour journey, the freighter approached the coastal village of Hadiboh, the capital of Socotra—a sanctuary from the violence around Sana'a, the official national capital on Yemen's mainland. A pod of dolphins appeared, swimming alongside the ship's bow for the last ten or so kilometres. "It was surreal," he recalls. The island was one of the most naturally magnificent places he'd ever seen. "I was almost crying when I arrived." 
In Canada, the federal government maintains a four-tier system to warn travellers about danger. Nations at the lowest level are considered safe, with an overall security situation similar to Canada's. The next level advises that while a country may be relatively stable, travellers should be "exercise a high degree of caution" because things could deteriorate with little notice. Such destinations, in 2019, include Israel, El Salvador and China. A third level asks potential visitors to avoid non-essential travel; members of this group include Pakistan, Haiti and a handful of Mexican states near the US border.
The most dangerous category asks Canadians, in bold red text on a government website, to "avoid all travel." This list includes twelve of the world's most volatile and unpredictable nations, including Syria, Afghanistan, Iraq, Somalia, North Korea—and Yemen. Canadian consular assistance for citizens in these places is all but unavailable. Canadians in such nations are advised to seek shelter and get out immediately. 
Of course, if travellers choose to ignore the warnings, that's on them—and increasingly, people seem to be ignoring them. The "avoid all travel" countries are seeing a modest influx of tourists, at least judging by the flurry of proudly posted selfies with ruined Syrian buildings and immaculate North Korean monuments. Meanwhile, the countries' on-the-ground dangers are debated in the comments.
"Dark tourism" can mean flocking to places historically or presently associated with murder, war and disaster. Dark tourists' bucket list items range from Dealey Plaza in Texas, the site of former US president John F. Kennedy's 1963 assassination, to the areas around the ruined Chernobyl Nuclear Power Plant in northern Ukraine. In 2018, Netflix even released Dark Tourist, a multi-part documentary series on the phenomenon. Meanwhile, HBO's recent five-part drama Chernobyl has helped stoke renewed interest in the radioactive site for selfie-snapping tourists. 
These visitors have also been met with their fair share of backlash—online outrage over the many vapid photos taken at Chernobyl, for example. Critics denounce this type of travel as unethical, disrespectful of victims' memories, or, in unstable regions, a way of endangering local security contractors and guides by unnecessarily trekking towards conflict. 
But such arguments don't deter everyone. Granted, most travellers steer clear of places where their imminent safety could be threatened. And literal war tourism, in which tourists travel to the front lines of an active foreign conflict, is virtually unheard of. Still, a select group of intrepid travellers are venturing to the "safer" parts of countries suffering war, conflict or humanitarian crises. 
For them, the very fact that foreigners are cautioned to stay away has become one of these destinations' selling points—havens for those who want to steer clear of mass tourism by any means necessary.
Travel has become cheaper than ever thanks to competition among low-cost airlines and the rise of accommodation services such as Airbnb and Couchsurfing.com. That accessibility has spiralled into so-called "over tourism." Cruise ships, tour buses and backpacking hoards are mobbing the world's most treasured sites. This is particularly true in European destinations like Barcelona, Paris and Venice, whose historic infrastructure was never designed to cope with such a swell of visitors. 
That presents a condundrum for hardened travellers who want an "authentic" experience—not just to enrich their lives, but to win them some exclusivity amongst globetrotting peers. The surefire solution? Going somewhere dangerous. No matter the risk.
Gianluca Pardelli's clients can mostly be divided into three categories. Pardelli runs Berlin-based Soviet Tours, a travel agency that advertises trips to destinations around the former USSR, as well as both "scheduled tours" and "bespoke journeys" to Iraq, Sudan and Afghanistan, among other countries. It's one of many specialized tour companies that, for a fee ranging from hundreds to thousands of dollars, offer all-inclusive trips to forbidden destinations, touting unparalleled adventure and ultimate travel bragging rights. "As you can imagine, it's a niche market," Pardelli says.
One group of travellers has a deep interest in the history or culture of a country; they are characteristically over fifty years old, "upper class," and have some prior knowledge about the region, he says. Then there are those who seek out "weird and bizarre areas of the world, just for the sake of that weirdness and that bizarreness." Often younger and from North America, this second group may find the simple fact that a destination is off the beaten path more attractive than its culture or history. 
There are also "country collectors" or "passport stamp collectors." These customers are searching for off-the-radar experiences and may even seek out trips that go beyond his company's already wide scope, says Pardelli. To respond to that demand, Soviet Tours also offers "intermediary" services. The company connects tourists to local agencies in Yemen, Syria, Somalia and Libya, four countries the company doesn't visit due to high-level Reisewarnungen (travel advisories from the German government) that lead to prohibitive insurance rates.
But he maintains that the affiliate tours are completely safe thanks to effective local policing and, in more extreme cases, private security firms hired on a case-by-case basis to protect travellers. "In our two years of activity in those countries, we haven't had any single accident," he says. 
But not everyone who ventures to these destinations does so without incident. In 2016, a group of twelve foreigners on tour with UK-based Hinterland Travel were attacked by the Taliban in the western Afghanistan province of Herat while travelling as part of a military-escorted convoy. The tour group was ambushed on a dangerous rural stretch of highway that most other travel companies choose to fly over, if they offer trips to Afghanistan at all. The attack injured at least five of the tourists as well as their Afghan driver, though all were treated at a medical clinic in the region and survived. 
That same year, American university student Otto Warmbier was jailed while travelling in North Korea and subsequently sentenced to fifteen years of hard labour for attempting to steal a propaganda poster from his hotel in Pyongyang, the capital city. A year and a half after his initial arrest, a surprise announcement by US officials indicated that Warmbier would be released, though it was quickly revealed that he was in a coma and had been for over a year. Six days after his return to the United States, in June 2017, he died of an undetermined cause. A coroner's report proved inconclusive: it refuted North Korea's claim that his coma was the result of a case of botulism, though it also found no signs of torture, which Warmbier's parents had publicly suggested to be the cause of his death. 
More recently, in December 2018 and January 2019, two unrelated Canadians disappeared in Burkina Faso, a West African nation the Canadian government currently lists under the "avoid all non-essential travel" banner due to threats of terrorism and kidnapping. Edith Blais from Quebec is thought to have been abducted while travelling with an Italian friend late last year. While neither of them have been officially seen or heard from since, Burkina Faso authorities released a statement in April saying the pair is alive but no longer in the country. A few weeks later, Nova Scotia resident Kirk Woodman was visiting a Canadian-owned mining site in the country's north, on business, when he was kidnapped and, after a daylong search, found murdered. Burkina Faso's Ministry of Security suggested he was likely killed by bandits, after reports that Woodman's belongings had been stolen when he was abducted.
These kinds of incidents are fairly isolated, says Shane Horan, a photographer who spent four years guiding trips with adventure travel company Young Pioneer Tours—the same company that facilitated Warmbier's fateful trip to North Korea. He says that many of the nations under high-level travel warnings have just as much to offer as a conventional tourist destination, and that with proper behaviour, respect and common sense, a tourist can have an equally safe and enriching trip. 
Horan recently split from Young Pioneer to found his own company, Rocky Road Travel. One of its first destinations has been Iraq, where a lasting peace has only recently begun to take hold and culturally rich areas are still devoid of tourists. "The appeal of visiting these destinations is to go beyond the resort—to get out of one's comfort zone, to try new things, all in places that haven't been invaded by mass tourism yet," says Horan. 
Travellers do wonder about these things: on its website, Soviet Tours answers frequently asked questions—not only whether the tours are safe and whether its employees are "commies," for example  (the company says no to that), but whether it's unethical to visit "avoid all travel" countries. 
According to the company, the answer to the last question is also no. "There is nothing unethical in visiting the aforementioned countries and regions in a respectful and responsible manner," the website reads, noting that the company steers clear of the frontline of conflicts, that it's aiming for something else entirely. "We'll never ever do war tourism." 
"Every Passport Stamp" is a closed Facebook group boasting more than five thousand members, most of whom want, like Ward, to visit every country in the world. Members regularly solicit advice and share opinions on topics ranging from Syrian visa guarantors to Yemeni border crossings and North Korean tour operators. Occasionally, a group member will claim to be the latest person to have set foot in all 193 UN-recognized countries on Earth, posting their newly stamped passport to virtual applause. 
They also use the group to debate relevant news. In 2017, the day after Warmbier's death, a post about North Korea elicited forty-one comments. "I was there and felt safe all the time. Some strange things just made me smile and were part of the difference of such destinations," commented one member, a doctor from Portugal. A few commenters were more critical, saying Warmbier's case cemented North Korea's reputation as ruthless toward tourists and should only be visited for humanitarian purposes—a statement to which another member, a lawyer from New York, replied, "I find it surprising that someone in a travel group such as this one is arguing that a traveler needs a 'valid' reason to visit a country."
Another post from April contains a link to a website with the thirty-five countries the US State Department has flagged as being high-risk for kidnappings. "Hahahahahaha!!" one Nepali member wrote in the post's comment thread. "This is so absurd," says another member from Atlanta, attaching a link to a self-authored blog post entitled, "Why you should ignore official travel warnings." The post was full of examples of countries that the author believed have been wrongly assessed (the US maintains a four-tier risk system similar to Canada's), arguing that travel warnings are oversimplifications based on bias and misinformation. That comment received eleven likes; the original post received just seven. 
Opinions in the group vary, but two views are generally absent: sympathy for the casualties in destination countries, which seldom appears, and fear of following in their footsteps—even rarer.
While people may simply see themselves as tourists, not war tourists or even dark tourists, it's not that simple, says Gada Mahrouse, a Concordia University professor of cultural and racial studies. The real dark side of these trips doesn't necessarily have much to do with whether travellers are being ferried near the path of bullets.
In 2014, Mahrouse began researching dark tourism and travel through the lens of War Zone Tours, a US-based tour operator that touts itself as a bona fide war tourism company, orchestrating tailor-made trips to active conflict zones—a label and service many of its competitors, like Soviet Tours, shy away from.
While conducting research on various refugee crises, Mahrouse says she was struck by the amount of material she was coming across promoting trips to the very countries that millions collectively risk their lives to flee. "I started a loose collection of things that would come up when I search for war-zone tourism. Some were guidebooks, some were Vice documentaries, some were newspaper articles," she says. Advertising themes were similar, regardless of whether a tour was headed to southern Iraq or the Chernobyl Exclusion Zone: shaky graphics, menacing sound effects and an iconography of firearms, flaming cars and biohazard symbols, to name a few.
Mahrouse agrees with Pardelli that most of these trips pose little threat to a tourist's personal safety—at least one who is whisked around on a carefully organized itinerary that shields them from the true perils of local life. On a tour bus, for example, an armed guard might accompany the driver, while locals in cars risk carjackings and robberies; tourists may drink water from plastic bottles in a community that otherwise has no access to potable water. 
"The real danger in all of this is the way [this style of travel] reinforce the 'us and them' distinction," Mahrouse says. It highlights the disparity between the "haves" in more developed nations of the Global North, who can afford to travel in this way, versus the "have-nots" in places being travelled to. "We should really be concerned about the depoliticizing of war and sensationalizing of danger."
In Mahrouse's eyes, companies that organize tours to so-called dangerous countries in the developing world have inherently limited options for acting ethically. "At the very least, I would want to see a very explicit anti-war, anti-militarism stance, but that would contradict their whole essence," she says. "These tours are the height of glorifying war."
Ward is now one of the roughly 250 people, according to the tallies tracked in Every Passport Stamp, who have visited every country on Earth. But danger was rare in his decade-long world tour, he says. Only once did he feel truly threatened: in Mogadishu, the capital of Somalia, where his exit flight was delayed because the airport was being shelled by terrorists. 
"For me, 'war tourism' is going right up to the front lines, being almost in the fight...and pretty much no one does that," says Ward. Going to places with a "bad reputation" isn't the same thing. In fact, he adds, often it's the most isolated countries that are actually the most hospitable, beautiful and worth visiting. 
On his trip to Socotra, the cockroach-ridden ship anchored offshore at dusk and Ward disembarked, ferried by dinghy to the pier in Hadiboh to have his passport stamped by Yemeni immigration officials. Country 196: check. While he was in transit at sea, his fixer, Yahya, had called ahead to his brother, who still lives on the island, and arranged for Ward to sleep in his guesthouse. 
"I find it difficult to explain how amazing the place was," says Ward, who ended up staying in Yemen for four days, touring the island's beaches, caves and nature preserves until the same ship was ready to return. "It was a tough journey. Four nights on the cement boat and four nights on the island seems a little unfair, but four nights in Socotra is a huge treat, a privilege in fact," Ward recounted on his blog after returning safely to Oman. "And worth every last bit of the effort." 
For Ward, years of these efforts came with a perk. As he began funding his trips by blogging, he eventually learned to run a large-scale "content farm" comprised of over a hundred websites, from which he claims to have made more than a million dollars in online ad revenue. 
After wrapping up his travel goal, he realized he had developed a desire to give back to the communities that changed his life—a compulsion that felt as strong as his drive to travel in the first place. He now runs a charity that allows tourists to volunteer on infrastructure projects organized by the communities they visit. 
Ward's latest project: organizing a tour of his own to Socotra, slated for February 2020.