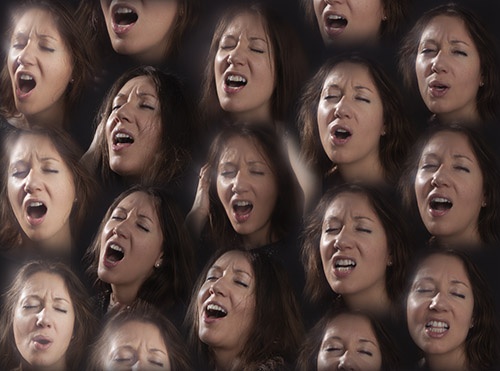 Photo by Alana Riley.
Peak Performance
Letter from Montreal.
Squished on a floral sofa in Park Extension with a handful of strangers, I was instructed to begin making a noise you could only really describe as horny mewling. I went with something like the mmm you might make at the first bite of a delicious meal, but angstier. This would escalate into wailing before easing into satisfied sighs. 
It was my first rehearsal with something called the Fake Orgasm Choir. Queer performance artist Coral Short was conducting us through four compositions they had written. They kneeled on the floor and waved their arms, getting us to build and then decrease the intensity of our moaning or the speed of our panting. 
Before I arrived, I'd been told no musical training was necessary. But I'd noticed a few worried glances when I admitted that not only did I not know if I was a soprano or alto, but I didn't really know what those words meant. 
The rehearsal lasted two hours. Coral encouraged collaboration, getting excited when someone added improvised slurping noises. They recorded each song on their iPhone and we listened to it together, seriously discussing small changes to make in the next rendition. 
Before we left, Coral reminded us to wear all black on the night of the performance. 
It was October and I had just moved to Montreal from St. John's, Newfoundland, so my partner could attend grad school at Concordia. We arrived in late August with three suitcases and Bugs, our spunky Jack Russell terrier. 
I was excited to live in what I'd heard was a weird and sexy city. People had told me that since rent is cheaper in Montreal than in Toronto and Vancouver, it's easier to make art that might not be commercially viable. I knew of some of it: Dayna Danger's portraits of nude, oiled women holding antlers, and a performance piece by Kama La Mackerel where the artist moved slowly, their body wrapped in wire and then a second layer of chicken wire.
After arriving, however, my routine involved working from home and wandering around Westmount with the dog. I hadn't encountered much weirdness. Most afternoons, Bugs and I trudged along sterile streets lined with shops selling expensive leggings and brand-name parkas. 
I was beginning to feel lonely. One day, on the way out of the house to meet school friends for lunch, my partner urged me to "get involved in something, maybe a book club at the library." That afternoon, I saw a Facebook post seeking participants for a Fake Orgasm Choir; it felt like a sign from the universe. 
In elementary school I was once asked to mouth the words in music class, and ever since I've shied away from being involved any kind of live performance. At the rehearsal, I did start to enjoy myself—coming up with dirty talk to volley into the barrage. I began with a timid, "don't stop" and worked my way up to, "yes, yes, wait no like before, a little more—yeah!" 
But I hadn't realized that in just two weeks, the choir would be performing—at Festival Phenomena, an avant-garde event that prides itself on promoting "unclassifiable, unconventional, or experimental" artists. It was too late to turn back.
I met another choir member in the lobby of the ornate Rialto Theatre, both of us unsure where exactly to go. We began wandering around, listening for the choir.
The building was housing many of the festival's performances. We tiptoed through the back of a small theatre where an audience was rapt by a lit stage, empty except for a shower of small white feathers floating down from the ceiling. We followed a curling staircase up to a lobby where people were drinking from champagne flutes, and then down to the basement, where someone was dancing in a set of butterfly wings made from what looked like unfurled hangers and a bed sheet.
Eventually we heard the familiar sound of shrieking and followed the thundering climax to a dressing room, where everyone applauded our late arrival. We'd made it just in time for the final run-through, and soon we trouped single file up a dark staircase. 
We emerged onto a spotlit stage, about a hundred people staring up at us. For a moment, the thought of making sex noises at them felt nightmarish. Then we formed a loose semicircle and Coral stood, arms raised high. Everyone moaned in unison. As the next song's panting opening crescendoed into howling, I caught the eye of the woman next to me. We exchanged a gleeful look. 
I realized I'd stepped through a portal, right into freaky Montreal. I was so glad I came.