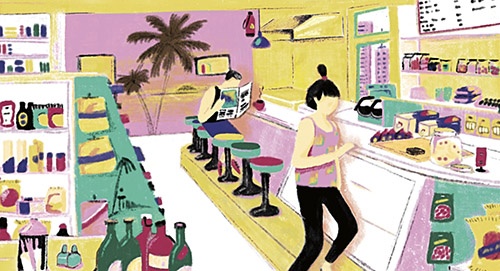 Illustration by Lucie Le Touze
Melting Away
Letter from Montreal.
First you lay the strips of spencer steak on the grill. On top, circles of pepperoni. Next comes shredded mozzarella, which melts and holds the whole mess together. Slide the long metal spatula underneath and place it on a toasted sub bun. With onions and piments forts, the "Sousmarin Jimmy Style" was named for the previous owner of the place that became Dépanneur Le Pick-Up. 
The grill predated everything. Before the tropical sunset wallpaper. Before the jam-preserving workshops and the zine rack. Before craft beer and art installations. Before the tech takeover of Mile End pushed the freaks farther north. Way before the words "Mile-Ex" had ever been spoken. When Montreal art punks Bernie and ­Penny bought the little wood-panelled casse-croûte-slash-dépanneur in the summer of 2008 and I became their first employee, there was the grill and the Jimmy Style sub. Jimmy still lived upstairs and came down ...