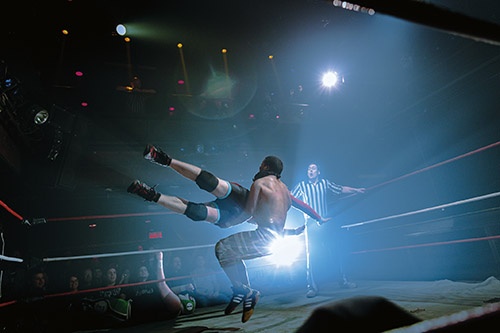 No Holds Barred
Wrestling is famous for its outrageousness. It takes a special kind of fan to get bored with the mainstream.
It's Christmas at Foufounes Électriques and a ­burly, bearded wrestler called Mathieu St-Jacques is thrashing his opponent with a fir tree. Next, he slams his victim down on a glittering sea of fibreglass ornaments which, of course, splinter into a mini-mountain range of skin-piercing jags. 
With deliberate sadistic precision, St-Jacques unwraps a gift to reveal a box of thumbtacks, which he liberally sprinkles onto the canvas. The crowd gasps in delighted disbelief at what is about to happen. But in a hoist-by-his-own-petard twist, St-Jacques is the one who finds himself turned into a human pincushion, his opponent, Francis, launching himself from the top rope to add ­two-hundred-plus pounds of pressure to St-Jacques's agony. 
I've been to a couple of these monthly wrestling shows. They've had outlandishly costumed competitors performing amazing aerial feats as they make their entrance or take each other down. There was even a ...