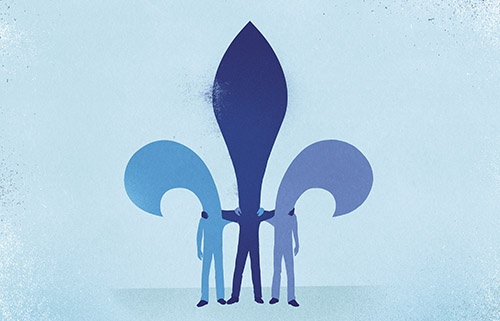 Illustration by Sébastien Thibault.
Quieter Revolution
This isn't your parents' separatism, Nora Loreto writes—except in a way, it is.
I fixed the flag to my bedroom door in the summer of 1995 and it stayed there until I left for university. Yellowed, with stains from sticky-tack bleeding through to the front, it had been a centre­fold image from the Toronto Star that featured the ­Canadian flag, except half of the maple leaf had been replaced by half of the fleur-de-lys. It was the news­paper's way of telling its readers that, as was the refrain from the federal campaign for Quebec's 1995 referendum, our Canada includes Quebec. 
I was eleven. My parents let me stay up the night of the referendum and I remember being rapt, my eyes glued to the bar on the bottom of the screen on CBC. Every time the red bar moved over 50 percent, I felt relief. When it dropped below 50 percent, I felt despair. Quebec's second referendum was ...