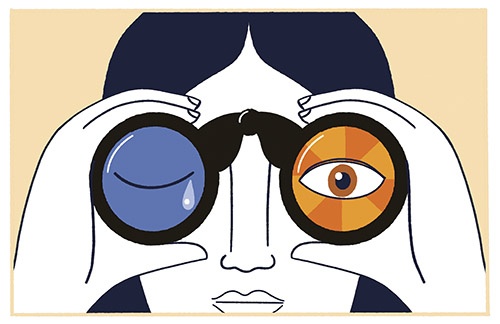 Illustration by Jamie Bennett.
Hindsight 2020
In this year of losses, Fatima Syed writes, let's not add one more—our ability to care.
The first day of 2020 was quiet. I remember an overcast sky and quiet streets as I drove to a brunch of eggs and French toast with a close friend. We were the only guests in the restaurant, our laughs rising above the Top 40 music playing through the speakers.
We naively did what all twenty-somethings naturally do on the first day of a new year, a new decade: we made plans, promised to overcome and change things. We pledged to become more assertive in our careers, learn a new skill, go on that trip we'd been planning forever. Then, in a decision that seems so novel now, we drove to the cinema to watch Little Women.
On the third day of 2020, "World War 3" was trending on Twitter after the United States confirmed it had ordered an airstrike that killed Iran's top military general, Qasem Soleimani. Around the same time, apocalyptic images emerged from Australia of blood-red and orange skies clouded in smoke. Those were the first three days of the world's warmest January ever recorded.
I have near-daily screenshots of the events that followed. It is an impulsive habit I developed a few years ago, a personal, digital twenty-first-century journal. The 2020 folder on my phone is an endless march of things getting worse: The beginning of the pandemic. The Nova Scotia mass shooting. The Amazon forest fires. The California fires. Record monsoons resulting in devastating floods in Karachi, Pakistan. Tributes for Kobe Bryant, Irrfan Khan, Chadwick Boseman, Ruth Bader Ginsberg, Alex Trebek.
On Day Three of the US election, I returned to the folder, scrolling through it while awaiting vote results. But I didn't feel the existential dread that I thought I would. I didn't cry, hurt, or ache. I was numb. I flung my phone to the other end of my couch.
As this year crawls to an end, it would be nice to feel it's been a boiling point for problems the world has failed to address time and again. It would be nice to say it hasn't been discouraging to watch world leaders pullout band-aid solutions for issues they should have solved years before, like gaps in public health care or affordable housing. Or to feel something other than desperately hopeless watching Black communities forced to take to the streets again, using the same rallying cries for justice and equality they had used decades before. To feel hopeful, not frustrated, seeing young people needing to fight yet again for climate action.
But I'm tired. That promise of a new decade on the first day of 2020 seems very far away.
I've tried to dismiss the dread. In July, my sister and I bought binoculars and drove an hour and a half away from home in Mississauga, walked up a hill in deep darkness and stared at the starry sky for hours, searching for a once-in-a-lifetime comet. In August, I went to an island in Georgian Bay and sat silently by the water, watching the seagulls fly past. In September, I walked through multiple forest trails surrounded by autumn hues and crunchy leaves.
Still, 2020 wouldn't allow itself to be forgotten. Even in my efforts to escape, I was reminded of all the things I was trying to leave behind. A fallen, forgotten mask. People talking to friends on screens, barred from meeting in person. Shuttered businesses on every corner.
And yet, somehow, the fact that most of these realties—the ones caused by Covid-19—were out of our control made them easier to come to terms with. The stories of 2020 that have marked me most deeply are the ones that we could have more easily done something about. The same ones that, precisely because of the overwhelming awfulness of 2020, we didn't have enough capacity to care about.
Armed RCMP officers arrested Indigenous people trying to defend their territory in Wet'suwet'en Nation and on Six Nations land near Caledonia, Ontario. Mississauga police shot and killed Ejaz Ahmed Choudry, a sixty-two-year-old man with schizophrenia. Montreal police shot and killed Sheffield Matthews, a Black man who was in distress. Joyce Echaquan, an Indigenous woman, died in hospital in Joliette, Quebec, shortly after she filmed staff make degrading comments about her in response to her cries for help.
Over one thousand migrant workers were infected with Covid-19 while working on Ontario's farms; at least three have died. In June, two undocumented workers in Toronto reached out to me through one of their friends. One of them was exhibiting signs of Covid-19 but was afraid to go to the hospital because he didn't have any documentation. Through bouts of his cough, his friend asked if I knew a doctor who'd consult with them by phone.
These stories should have been impossible to forget, but for the most part, we did. Despite their individual horrors or momentary new context in the pandemic, they were also similar to stories we'd heard before; any hopelessness they brought almost felt normal in a blockbuster year of sadness and suffering.
So we forgave ourselves for not caring about them because "it's 2020," a phrase we used all too often as a coping mechanism and a rationale.
On the one hand, this shorthand makes sense. We had few emotions to spare after this year rapidly burned through our collective compassion. But unwittingly, we also used "it's 2020" as an easy excuse to justify our complacency: it was a bad year and we couldn't stop any bad thing from happening. We didn't always take the time to question whether that was true.
It's natural to feel overwhelmed, to want to pile together the tragedies of this year and resign ourselves to apathy. But there is a silver lining to this year: we've learned more about the world than we ever cared to. We can no longer turn away from how flawed it is, from the cracks the pandemic has exposed, from the many crises we've long let linger. Most of these issues are not going away when the year ends.
If 2020 was the world at its lowest point in recent memory, perhaps every day, month, year that follows will see us trying very hard to not repeat it. It may be wishful thinking, but maybe we've learned to look beyond the noise—beyond the endless stream of headlines and distractions—to what matters.
So it's time for another reset. Time for new plans, freshly built up hope and renewed promises to change things: not just to take care of our seniors and our essential workers, though that, too. We can aim anew for progressive and inclusive politics, robust and well-funded health care and social services to overcome the Covid-19 pandemic for everyone, equitably, especially the vulnerable and marginalized among us. We can aim for meaningful climate action and material policies to combat racism in all our institutions.
Our goals and resolutions for the new year won't look anything like they have before, and that's okay. We had little control over how 2020 unfolded, but we can control what happens next, how we grow and mend and move forward. In 2021, I hope we do much more than just start over.

Fatima Syed is a Toronto-based freelance journalist who has reported for the Logic, the National Observer and the Toronto Star.