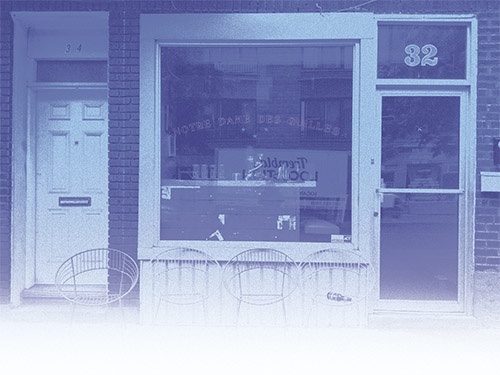 Queer Atmosphere
"ETA ten minutes," my friend Hunter texts me. I know that means they'll probably be here in twenty, but I don't mind. I've always felt comfortable sitting alone at Notre Dame Des Quilles. 
On any given night at the queer bar, I might see three people I sort of know, someone I briefly dated, and my best friend's horrible ex—all while some straight person drunkenly tries to bowl in the wooden lanes the place is named after. Tonight it's especially busy, so I sling my jacket over one of the tables at the back to guard my spot.
After Hunter arrives, we try to decide if the queers at the table across from us are on a first date. Just when we agree it seems a bit awkward, one of them sits on the other's lap and they start making out. We look away to give them some privacy. I can't help but notice the person at the ATM directly beside the couple doing their best not to stare, face almost comically focused on remembering their PIN code.
When I was eighteen, my new friends from Concordia dragged me up to the no-frills queer bar in Little Italy for the first time. Living downtown, we'd never made it past St. Laurent, let alone onto the orange line. My friends were all queer; I wasn't sure about my sexuality. For months, I had been trying to decide whether wanting to make out with girls made me, maybe, not straight.
I didn't realize that night how often I'd find myself in the glow of NDQ's mood lighting in the years to come. Singing a duet of "Islands in the Stream" with my friend Griffin on a country-themed karaoke Sunday, using the bowling lanes as a makeshift stage. Spilling a drink on myself as I nervously tried to impress my current partner, Helen, while they made me laugh. Sitting alone, attempting to read Larissa Lai's The Tiger Flu despite the noise, while my friend Yousra participated in Lesbian Speed Dating.
For those of us who haven't been interested in braving the cis and male-centric energy of the Village, NDQ has been the place to go. While Montreal may be known for its large queer community, the city hasn't been kind to our queer spaces. Bar after bar has shut down in recent years, from Cabaret Playhouse to the Royal Phoenix. But the hole-in-the-wall in Little Italy has remained reliably packed: you can count on finding friends sharing pizzas hot out of the oven in the back, dates sitting on the floor for cult movie screenings and strangers hooking up on the dance floor.
That all changed when the pandemic hit, of course. When we think of what this time has stolen from so many people, being able to meet casually at your favourite queer bar might feel low on the priority list. But if this year has taught me anything, it's how to mourn things big and small without guilt, honouring even the small losses that affect our daily lives.
Queer bars have always been a place for chosen family to gather. That's something I miss, especially as governments continue to make pandemic restrictions with traditional family structures in mind. This limited understanding of what a family can look like has complicated the ways queers in the city have been able to see and support each other. It's ironic, given we've been navigating conversations around consent, safety and relationship dynamics for years.
Even so, we've been finding new ways to stay connected. Now instead of meeting at NDQ, my friends and I walk side by side in Jarry Park, six feet apart, wading through snow and ice. Sometimes we watch the colourful sunsets that start at 4 PM, the most dazzling ones visible from Parc-Ex. Just a short walk away, the bar is there waiting for our safe return.
These days, I've been dreaming of going back to NDQ and getting to hear Lenore, Montreal's queer celebrity karaoke host, call my name up on stage. I'd sing a song I've been practicing in Helen's living room, like Tracy Chapman's "Talkin' 'Bout a Revolution" or the Goo Goo Dolls' "Iris." I can almost hear the crowd of queers cheering me on.

Eli Tareq El Bechelany-Lynch is a queer Arab poet living in Tiohtià:ke, unceded Kanien'kehá:ka territory. They were longlisted for the CBC poetry prize in 2019. Their first book, knot body, was published by Metatron Press in 2020. Their second book, The Good Arabs, will be published by Metonymy Press in 2021.