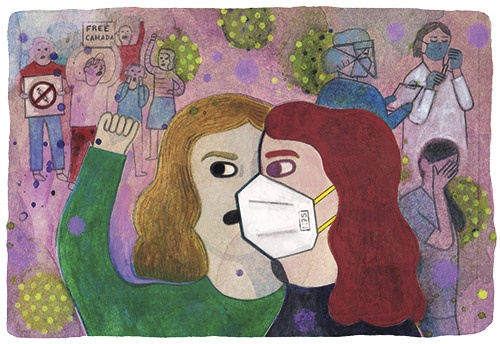 Illustration by Sara Guindon
Fact or Friction
Cori Howard didn't think anything could come between her and her closest friend—let alone a vaccine.
The day I know it's over, I'm sitting in a rented house on BC's Sunshine Coast, looking out at a vast blue sea. In the distance, ferries and sailboats slide along the horizon like toys. I open the patio door to hear the waves lapping just a few feet away. A seal pokes his head out of the water. Seals terrify me when I'm swimming, but from land, I long to be like them—coming up for air and then disappearing again. Living mostly underwater. 

I'm here to retreat, but reality has found me. When I open my computer, I see an email from my closest friend with a letter attached. My friend and I have rarely exchanged letters. We live in the same city and I am, after all, the writer. She is a beautiful, brave and compassionate business owner, but she is not ...