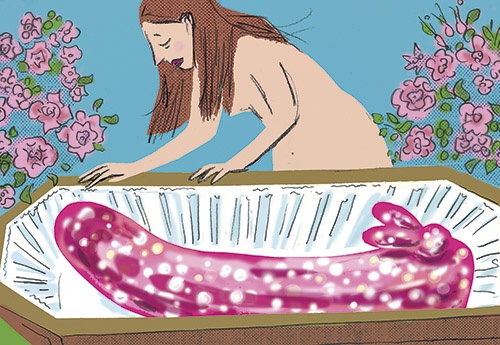 Illustration by Tine Modeweg-Hansen
After Bubbe
When Jess Goldman's grandmother died, her grief was matched only by her horniness.
I've been thinking about my bubbe's body. That is, her lust. When my Aunt Sondra was clearing out my bubbe's drawers she found a dildo. She asked the family if any of us wanted it. We all said no. I declined out of some kneejerk reaction to the notion of inheriting any dead person's—let alone my bubbe's—sex toy. Now, her dildo sits in a garbage dump somewhere and I regret not saying yes. 
It seemed fitting that my aunt had found it. Sondra was the first person to tell me, with utter frankness, what a blowjob was. I was about twelve at the time. We were at my bubbe and zeyde's rental home in Boynton Beach, Florida, getting ready to go to the pool. Within the salmon pink walls of the guest room, I remember feeling titillated, nervous and a little depraved ...