Pop Montreal 2011: Arcade Fire, tUnE-yArDs and Growing Up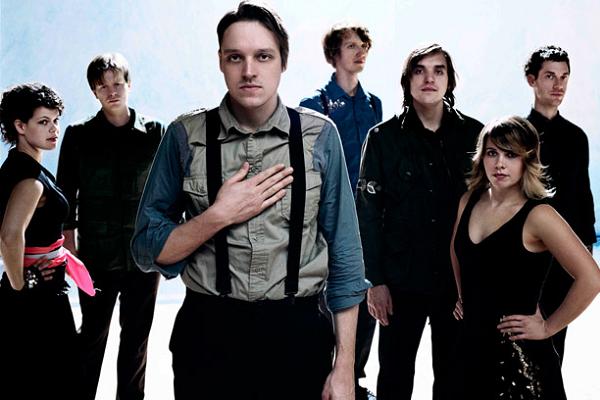 Pop Montreal turned ten this year. It is arguably Canada's best music festival, presenting as it does a relatively diverse array of programming: art, film, lectures, craft fairs and workshops alongside all that indie rock. Organizations don't turn ten without making a few tough decisions along the way, though, and I imagine Arcade Fire's massive free show last Thursday felt like a bizarre moment to some of the folks at Pop. Both the festival and the band have been around for a decade now, and they've shaped each other. Pop Montreal nurtured some of Arcade Fire's early shows; then, as the band became the Grammy-Polaris-Juno-Brit-Award-winning phenomenon we know today, institutions like Pop fostered the booming arts scene here in the city, leveraging Arcade Fire's global popularity for local advantage. Still, the show on Thursday was a bit of a strange beast, taking place in the controversial Quartier des spectacles and brimming with corporate sponsorship. I wonder if either Pop Montreal's founders or the members of Arcade Fire ever imagined themselves here, ten years on.
When a friend and I arrived at the Quartier des spectacles that night, we weren't immediately sure where to go. Opening act Karkwa was playing, and various scattered crowds were watching the show on various giant screens, but I couldn't tell where the actual stage was. Eventually, we found the main concert area, only to be told it was already at capacity, so we snuck in via another entrance. I don't like such huge shows—there were reportedly a hundred thousand people in attendance—but I do like the half-surly camaraderie of these festival-type concerts. We're all in it together, and none of us can really see the stage, so, at some point, everyone stops caring and enjoys the show.
And I did enjoy the show, although it was distant and curiously quiet in the peculiar way that open-air concerts are. Win Butler and Régine Chassagne and the rest of Arcade Fire seemed genuinely thrilled to be playing such a massive hometown show. The crowd was mostly subdued during songs from The Suburbs—odd, given that it's sold almost five hundred thousand copies and won a slew of awards—but during selections from Funeral, Arcade Fire's near-perfect first album, the audience erupted. When the band played "Month of May," from The Suburbs, and Butler sang, "The kids are still standing with their arms folded tight," I caught myself standing glumly with my arms crossed. But when they kicked into "Wake Up"—the first Arcade Fire song I ever heard live—I found myself "ooooooooohing" along, like I was eighteen once again and this was still all so new.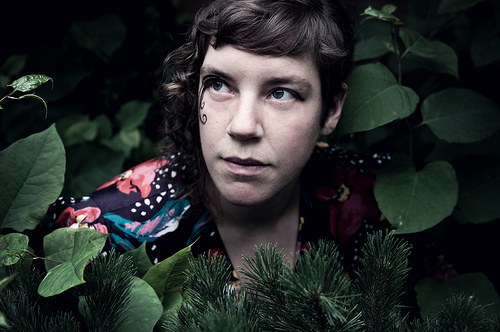 THE NEXT DAY, I was slated to moderate a vocal workshop at the Pop Montreal Symposium with Merrill Garbus of tUnE-yArDs. I had met Merrill a few years back, when she still lived in Montreal, but, in the Symposium green room, she very politely didn't recognize me until I reminded her who I was, at which point she offered a warm hug. (She also very politely didn't recognize the next three people who walked into the green room, though they certainly remembered her.)
Merrill is a person of unnatural talent and kindness, traits she amply demonstrated during our workshop. For the first hour, I interviewed her before a receptive audience, and for the second hour, we sang. The idea behind the workshop was that six local singers from various musical backgrounds would learn the choral arrangements to a tUnE-yArDs song, which we would then perform that evening at Merrill's apparently sold-out and highly anticipated show. (The other five vocalists were an opera singer, a jazz pianist, a musicologist and two classically trained composers. I, uh, sometimes sing in a rock band.) A big swath of audience members joined in, and soon a whole pack of us roamed around the Symposium room, making strange groaning sounds in pale imitation of Merrill's trademark vocal versatility.
Listen to tUnE-yArDs and you're immediately struck by the sheer number of things Merrill can do with her pipes. The yodel is perhaps what she's best known for, though her version doesn't really sound like someone trilling in the Alps. Instead, she focuses on the basic mechanics of the technique: rapidly switching between the chest voice and the head voice. This is much harder than it sounds. Even if you can achieve some pitch stability, those of us with deep voices often find it easier to simply climb up a few octaves within the chest register, rather than aiming for the head. I tried to use the trick my high-school vocal instructor taught me, of imagining myself singing through my nose, but my falsetto still felt false.
Thankfully, I was assigned a more suitable bass-baritone part for the new, unrecorded song we would perform that night. It consisted of a gruff, low E, hummed two beats at a time while the other five singers vamped on their own harmonies, until we all switched to a tricky chromatic section. We didn't have a lot of time to practice: Merrill ran through the piece with us again after the workshop, then at soundcheck, then backstage at the show that night, in between the opening acts. I couldn't believe that Merrill, who was about to play to several hundred rabid fans, would so patiently squeeze in these brief practices with an impromptu amateur choir. She is a force of nature.
The first time I saw Merrill play, years ago, it was in a kitchen. I have also seen her play in the basement of a record store, in a loft and at the Musée d'art contemporain, as well as in a few more traditional venues. Before last Friday's show at the Ukrainian Federation, I knew that tUnE-yArDs was getting big; I remember opening the New Yorker not long ago and being pleasantly surprised to see Merrill's painted face accompanying an article by Sasha Frere-Jones. But I was not prepared for just how big. When Merrill started the show alone onstage, humming and moaning like the bastard offspring of a banshee and a poltergeist, the crowd just went nuts, and didn't let up. The Ukrainian Federation is a nice, spacious sit-down venue, but everyone stood and crowded the front. Eventually, the whole place became so hot that even the bathroom mirrors were fogged.
Watching Merrill build her drum and vocal loops, hearing the saxophonists deliver those dizzying descensions in "Bizness," I felt like I might as well give up on trying to be good at anything. Merrill has become successful by doing something that nobody else is doing; why bother working at your art if you're not going to be the best? Eventually, she asked the six singers to come onstage and told the audience about our workshop. The crowd screamed in approval, and Merrill remarked that only in Montreal would talking about "experimental vocals" receive such a warm response. I looked out at the bright lights and adoring, sweaty faces in the crowd, and we started to sing. The performance was fun, though I suspect nobody could hear us after the rest of the band kicked in. (There's already a bootleg video of the song on YouTube.) I watched the rest of the show from backstage. During the song "Party Can," I could only see Merrill, from the side, and not the audience. When she shouted, "Do you want to live?", the crowd screamed back, "Yeah!" in deafening unison. Because the audience was invisible to me, it seemed as though Merrill had suddenly, magically grown hundreds of extra voices.
The show ended and we milled about the Ukrainian Federation green room. I noticed that a lot of the beer was gone already, but Merrill hadn't even had one yet. Eventually, Win Butler showed up, and he loomed so literally (he's well over six feet tall) that the figurative weight of his fame hardly seems worth mentioning. He congratulated Merrill on the show, him looking down and her looking up. I wished right then for a giant torch to place in Win Butler's giant hands, just so he could pass it to Merrill and make the whole damn thing official.
Subscribe to Maisonneuve today.

Related on maisonneuve.org:
—Pop Montreal: Interview With tUnE-yArDs
—Pop Montreal: Music Made With Machines
—Pop Montreal: Abbreviated Roundup
Follow Maisonneuve on Twitter — Like Maisonneuve on Facebook