Roger Ebert, the Posthumous Twitter Follow and the Way We Mourn Today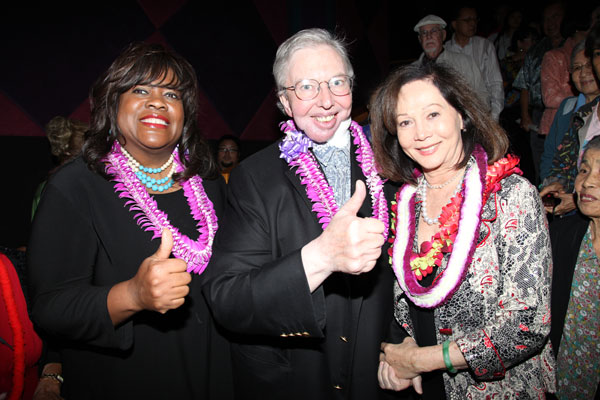 Roger Ebert and his wife Chaz Hammel-Smith give the thumbs-ups to Nancy Kwan at the Hawaii International Film Festival on October 20, 2010. Photograph by Chuck Boller of the Hawaii International Film Festival.
On Thursday, April 4, 2013 when Roger Ebert died at the age of seventy, I was struck by an urge specific to modern mourning: I wanted to follow him on Twitter. Twitter is the perfect collection of self-crafted epitaphs, a stream of consciousness that summons the rhythm of a person's thoughts from beyond the grave. My feed was already full of Ebert's wisdom, retweeted by admirers. My finger hovered over follow, but I resisted. It seemed morbid. After all, no new tweets would appear. But could it be a way to pay homage? A small hat-tip to his cultural contribution, akin to leaving an open chair at the dinner table?
Many other people seem to think so. As of this writing, Roger Ebert has posthumously gained over 5,700 Twitter followers.
Even when they're not in the public eye, people often contemplate what will happen to their social-media accounts after death. There are tools, like DeadSocial, that allow you to set up social-media posts that will appear once you're gone. You assign an executor (or administrator) who executes your social-media will. (Their language, not mine.) Right now, certain elements of Ebert's Twitter account (his last post, "My leave of presence: An update"; his bio description, "Film critic since time immemorial") seem especially poignant, a trick of timing. DeadSocial provides a poignancy guarantee.
This is a dream come true for anyone who fears they will leave something unsaid. But is it healthy for people to dwell on their final words? And, more importantly, is it kind or cruel to those left behind? Unlike a memorial, a Facebook page or Twitter feed is generated not by memories but by a lost reality, and can encourage mourners to become stuck there, looking for answers like Donna Hayward gazing at Laura Palmer's secret diary. But the internet also creates a distance that can make it the best way to reach out to someone in grief. Journalist Mark Pothier wrote in the Boston Globe that, after his father's death, the emails of friends and relatives comforted him, and seemed the most natural way to express sorrow for his loss, an antidote to the "boiler-plate bromides" of store-bought sympathy cards.
Yesterday's Collected Letters are fast becoming today's Memorialized Accounts. Our social-media legacy will ensure that a small part of the internet is ours forever. Silly, smart or seemingly innocuous thoughts will become newly significant. This new kind of mourning may feel like an awkward addition to traditional forms of grief, but, as Roger Ebert's posthumous followers will attest, this is now the way we remember.