On Materiality and Ephemerality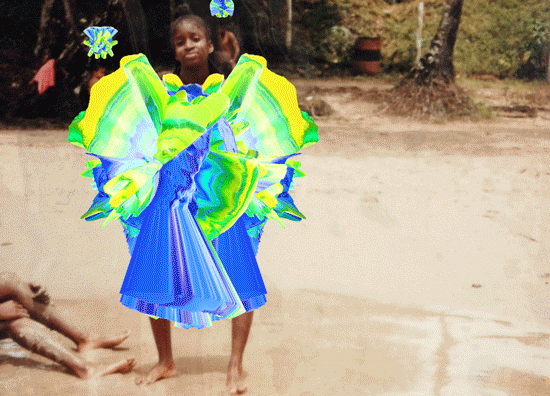 Family and Friends # 4, 2017. Animation by Rodell Warner, photo by Gerald Warner.
Founded in 2012, based in Vancouver, the mandate of Decoy magazine is to engage with writers and artists both locally and abroad. Through their Bcc: project, a monthly digital art subscription platform, subscribers receive fresh, unique digital art every month from a commissioned artist. Maisonneuve caught up with Lauren Marsden, Decoy Editor-in-Chief, and Maria Fedorova, Bcc: curator, to learn more about the project and talk about the art that has been featured so far.
andrea bennett: How does Decoy engage with writers and artists? What's different about your approach?
Lauren Marsden: When we first started Decoy, it was a more conventional online arts magazine; we published mostly local art reviews, artist interviews, and essays. As we have evolved over the years, our approach has shifted toward more of a project-based framework. This involves the cultivation of writing that happens alongside art-making. This means that we have started to use the publication as more than just a site for circulating writing that reflects on the pre-existing condition of artworks, and instead operate the magazine as an exhibition platform in and of itself. We have started curating and commissioning the production of new artworks, both physically and digitally, under the Decoy Magazine masthead, which also gives us something new and exciting to write about. I see this as a pretty significant editorial shift from one of accumulation to actually generating and catalyzing creative content. 
ab: The Bcc: project is one of the projects under Decoy's umbrella—a $3/month digital art subscription service that you curate. There's an interesting tension inherent in the idea: on one hand, digital art is being treated with the same kinds of boundaries that make art one would see in a gallery feel special, defined as art in contrast to any other image or object; on the other hand, because the art will only be released once, it has a necessarily ephemeral quality. Did this come up while you were developing the project? Did it take a while to hash out what form the project would take, and did you consider other options? 
Maria Fedorova: It is an interesting question. Definitely, there is a tension between the materiality and ephemerality of online-based or online-distributed files. And this has been a dispute among media theorists for more than twenty years. Surprisingly, we still talk about it and, in a way, are trying to figure out what do internet and distribution mechanisms have to do with the way we approach ephemeral (or not?) art. This was and still is one of the main challenges that we deal with in Bcc:.

For us, it is a very socially engaged project. We envisioned Bcc: as a cultural exchange community, a way of disseminating knowledge, cultivating the culture of patronage in the arts and educating the public through online networks.
In a way, Bcc: is an alternative to museological knowledge dissemination. We all acknowledge the change in open culture, museums, libraries and educational institutions opening their archives for free access. But we forget how much global economies affect the ways information is being shared online. Marginal online networks are, at times, the only opportunity for media artists to present their work. Therefore, the question is: how long can we rely on this system? How can we reinforce a healthier information exchange within larger communities of artists, educators and viewers?

One of the key goals of this project is to ensure inclusiveness in media arts. Think about places where specialized online platforms and archives are not available for economical and political reasons. For example, such a seemingly accessible platform as YouTube has been banned, both permanently and temporarily, in Turkey, UAE, India, China, Morocco and more. The problem here is that YouTube is believed to be a free online platform for knowledge dissemination and an educational resource, including for art, which is obviously false. Email is available in most countries for private use.
ab: I really loved Rodell Warner's art, from May 2017—it combines still photography with these super-colourful, mesmerizing digital images transposed on top. What drew you to Warner's work? How does his use of digital media support the themes of his work? 
LM: We love Rodell Warner's work too, and we chose to commission him for a few reasons. One was to share an example of what we see as a distinctly Caribbean digital aesthetic in contemporary art, which he does very well. Animation and GIF-making are quite prevalent in the Caribbean context, serving as relatively low-impact creative tools in terms of production, file size and shareability.
Rodell has used the GIF format in many ways, but we are particularly struck by the way he has, to borrow from Hito Steyerl, involved himself in the postcolonial restructuring of culture in the context of an independent Trinidad & Tobago. Much of his work involves animated interventions that awaken or perhaps liberate archival photographs, allowing daily life to appear as something much more surreal than documentary. He can take an everyday image, such as a colonial street scene or a family snapshot on a beach, and transform it into an otherworldly and endless dreamscape, all within the space of just a few frames.
ab: Phillip Huang's contribution, from December of last year, is a short movie that depicts someone playing around in Photoshop over a bubbly, underwater soundtrack. It's fun and playful and slightly creepy. It's art in and of itself, while simultaneously portraying the creation of art. Is this something that digital art is uniquely positioned to do well? 
MF: One of the outcomes of this project, an outcome we never expected, is that all of the artists acknowledged the degree to which they felt free and uncensored to experiment. Indeed, even though carefully curated, this project never aimed to put constraints on artists and their work. On the contrary, we were so excited when, for example, Philip Huang experimented with the animation piece you mentioned. It was his first experience working in this media! And we feel honoured that he got to do this for Bcc:. Another good example: sound artist and musician Renick Bell recorded his piece while touring in Europe and performing at Algoraves. Imagine, somewhere in Finland, Bell records an exclusive piece that is delivered to your email box!
You're right, these examples show how the process of creating an artwork was revealed in the final file that our subscribers received, and this may be partly due to the quick turnaround time we give the artists to produce the work. It makes us feel really good that, despite all parameters that this distribution channel imposes (file size, resolution, etc.) it ends up being a great platform for experimentation, a platform that allows one to be bold and, in a way, think more about viewership. One artist, Lorna Mills, described in an interview with Hyperallergic that the Bcc: commission allowed her the freedom to "perv out." And this is exactly what we were hoping Lorna would do!
ab: Have any overall themes emerged through your curation of Bcc:? Are there other artists, or areas, you're hoping to explore soon?  
MF and LM: We talked a lot about inclusiveness, about what this distribution channel gives us (viewers and artists), and how we can get the best outcome every month. Each artist approached this idea differently, which complemented the overall "portrait" of the project. The artworks by Jonathan Monaghan, Anthony Discenza and Li Alin were all so different. Where one artist might create a mesmerizing GIF that a subscriber can just watch directly in their email, another will create an interactive web artwork that requires the audience to navigate through the web to get to the final work.
On the project page you will find among the Bcc: commissions both prominent and emerging artists. They come from all over the world, have different backgrounds, work in different media. This is what we've been aiming for. We try hard to engage as many emerging artists as we can. This is our goal for now—to support them, to incite them to create something new and give them the opportunity to distribute their work.
Growing the network of subscribers is our priority and our daily responsibility. In fact, it turned out to be way harder than we expected, given that so many other services in our culture now require monthly subscription fees. It seems many people are still not ready to pay $3 for an exclusively editioned artwork delivered by email. But we are trying to create an alternative to the overwhelming amount of free labour that artists, especially digital artists, put out into the world, and we don't plan to stop any time soon.