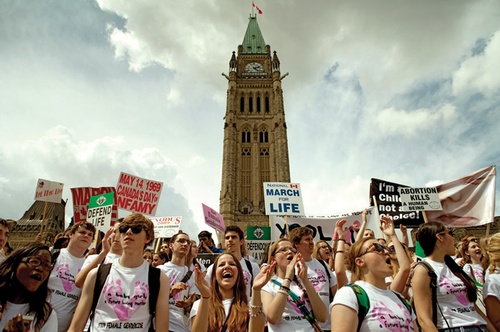 Photograph by Justin Langille.
No Choice
Abortion rights, long considered sacrosanct in Canada, are suddenly up for debate. Is this the start of a new culture war?
ON THURSDAY, October 25, 2012, the Delta Toronto East's parking lot fills with minivans and station wagons, their bumper stickers bearing images of fetuses alongside slogans like "I'm a child, not a choice." Eager conference-goers roll their luggage into the lobby. Though the hotel was just renovated, it retains its drab, early-eighties ambience. Attendees set up poster boards and paraphernalia in the hallway that leads to the ballroom; signs promote Christian schools and family-values organizations. The word "life" is everywhere. A display proclaims the gathering's theme: "Transforming Our Culture." Welcome to the 2012 National Pro-Life Conference.  

THE PAST YEAR HAS BEEN A BANNER one for the anti-abortion movement in Canada. Last summer, Conservative backbench MP Stephen Woodworth introduced Motion 312, which aimed to re-examine, for the purposes of the Canadian Criminal Code, the definition of when a human life begins. Critics condemned the motion as a backdoor route to criminalizing abortion. Though the Conservative whip underscored his party's position that abortion wasn't open for debate in Canada, Tory MPs were allowed to vote their conscience.

The motion received broader support than expected. Although, in September, it was defeated 203 to ninety-one, four Liberal MPs and eighty-seven Conservatives—including ten ministers—voted yea. Status of Women minister Rona Ambrose tweeted, "I have repeatedly raised concerns about discrimination of girls by sex selection abortion: no law needed, but we need awareness!" Motion 312 didn't deal specifically with sex-selective abortion. But Ambrose's tweet, whether informed or merely prescient, anticipated the filing of Conservative MP Mark Warawa's Motion 408—an appeal to condemn sex-selective abortion in Canada—the day after the defeat of Motion 312.

Throughout 2012 and 2013, record numbers of pro-lifers participated in marches, protests, Life Chains and prayer groups. One such demonstration inverted a key historical symbol of the pro-choice movement. In 1970, the Abortion Caravan travelled from British Columbia to Ottawa before depositing a coffin—representing women who died during unsafe, illegal abortions—at the prime minister's house. On May 29, 2012, the New Abortion Caravan left the steps of the Vancouver Art Gallery and retraced its opposition's route across the country, displaying graphic images of aborted fetuses. When the protesters reached Ottawa on June 30, they took an infant-sized coffin to 24 Sussex Drive.

It's telling that pro-choicers had their symbolic moment in 1970 while pro-lifers had theirs in 2012. Since the Supreme Court's 1988 Morgentaler decision, which struck down the federal abortion law as unconstitutional, Canada has had no criminal laws regulating the termination of pregnancies. Strict physicians' guidelines cap abortions at twenty-four weeks, and Canada has a relatively low abortion rate in comparison with the US and the UK. But this lack of legal restrictions has provided an opening for the pro-life movement. As Warawa asserted in a September parliamentary speech, it puts Canada "on par with North Korea," which also has no laws regulating abortion.

Today, Canadians can be passively pro-choice because it's the status quo. As Jonathon Van Maren, a spokesperson for the anti-abortion Canadian Centre for Bioethical Reform, puts it, the pro-choice movement "won, packed up and went home." Pro-life Canadians, on the other hand, have everything to fight for. Their current groundswell of support—and time in the political spotlight—is not the work of a few rogue MPs but of a vast, nationwide network of dedicated activists. For one weekend in October, they gather in a Scarborough, Ontario hotel and lay out their vision for the culture wars to come.
THE 2012 National Pro-Life Conference takes place almost entirely within the hotel's largest ballroom. Beaded chandeliers with broken strands hang over circular banquet tables; smoky mirrors and textured wallpaper suggest elegance on the cheap. At the front of the room, spokesperson Anastasia Bowles opens the annual general meeting of LifeCanada—Canada's only national umbrella pro-life group. LifeCanada's executive director is, appropriately enough, absent due to the imminent birth of her first child.

Bowles, her substitute, focuses on LifeCanada's annual poll, commissioned from Environics at a cost of $16,000. Its results show that 72 percent of Canadians want "some protection for the unborn," while 92 percent think sex-selective abortion should be illegal. Bowles hints that the poll's questions were "carefully phrased to educate Canadians." Politicians and the media have repeatedly cited its numbers, but without her push-poll caveat. Whether or not the figures are inflated, the perception of popular support may be more valuable than popular support itself.

After the AGM, an icebreaker: volunteers instruct conference attendees to form groups. Rather than making small talk about the weather or hockey, people chat about their church denominations and how many children or siblings they have. In one corner of the room, Enza Rattenni of Aid to Women, a crisis-pregnancy centre in Toronto, speaks with Jan Gillett of the Back Porch Ministry in Edmonton. Both are on alert for media spies. Rattenni notes that her centre was one of several infiltrated by the Toronto Star. A 2002 injunction against the Back Porch prevents Gillett and her colleagues from interfering with women on their way to the health clinic and abortion provider across the street. As per the injunction, the "counselors" must now wait for women to come to them.
CRISIS-PREGNANCY CENTRES like Aid to Women are the front lines of the pro-life movement. Their purpose is to steer pregnant women away from abortion, and they are frequently located close to women's health clinics. Women who are persuaded not to terminate are referred to as "rescues"; images of their children fill conference slideshows and marketing materials.

In 2009, the now-defunct Pro-Choice Action Network published Exposing Crisis Pregnancy Centres in British Columbia, a report on the alleged misinformation propagated by CPCs. The report detailed the pro-life Canadian Association of Pregnancy Support Services' training program, which allegedly requires trainees to affirm that the Christian scriptures are "divinely inspired" and "infallible," and that they will not "provide, recommend, or refer clients for abortion or abortifacients." In 2010, the Toronto Star sent reporter Joanna Smith to eight crisis-pregnancy centres in and around Toronto. She found that they provided information about abortion "that either lacked context or has been dismissed by medical experts." Finally, in 2012, CTV ran an exposé that caught a Surrey CAPSS volunteer claiming that abortions cause "catastrophically scarred uteruses that would leave a woman infertile."

On the ground, the centres can seem innocuous, even well intentioned. The Fraser Valley Pregnancy Centre is a nondescript storefront in a strip mall in Aldergrove, British Columbia, inconspicuous beside a hair salon and a Taco Bell. In early February 2013, Executive Director Desirae Tubman led a short tour around the space. One counselling room contained a TV; CPCs have been accused of showing violent, inaccurate footage of abortion, though Tubman said that this TV goes unused. The single-stall bathroom had a transfer window for pregnancy tests, and the large walk-in closet was filled with plastic bins of diapers, infant clothing and other supplies.

In an email, Tubman insisted that the Fraser Valley Pregnancy Centre is not a "pro-life" organization. But she clarified this point in person, saying that while the FVPC is not involved in politics, and that each woman who visits must make her own choice, "we are on the right-wing side of the abortion debate." Tubman initially said that the FVPC was started in 1990 by a group of concerned citizens; later, she acknowledged that the organization was formed by parishioners from the St. Joachim and Ann Church. Though the FVPC is still listed as one of St. Joachim and Ann's parish groups, Tubman maintained that it's now a non-denominational non-profit, running under the umbrella of the CAPSS.

Tubman's caution is characteristic of the general guardedness of CPCs. Earlier this year, the Fraser Valley Pregnancy Centre distanced itself from the "Pregnancy Centre" label altogether, choosing to go by the moniker "Your Pregnancy Options."

CPCs are also notoriously litigious. In July 2012, the Crisis Pregnancy Center of Vancouver Society and the Christian Advocacy Society of Greater Vancouver filed a defamation lawsuit against CTV for its exposé. The broadcaster settled out of court, agreeing to make a few small changes to articles published online. In October, more than three years after the initial publication of the Pro-Choice Action Network's report, the same two groups filed a defamation lawsuit against its author. The effectiveness of CPCs depends on the appearance of pseudo-medical neutrality and earnest, loving counsel. Media scrutiny casts doubt upon both of these qualities.
ON THURSDAY NIGHT, Monica Roddis, the then-president of LifeCanada, exclaims what a "great joy" it is to see so many young faces in the room. The next morning, her joy multiplies when students from four high schools in the surrounding area arrive. Some of the students from Parenting 11 at Our Lady of Lourdes High School in Guelph, Ontario carry realistic, crying baby dolls.

Youth recruitment is a cornerstone of Canada's new anti-abortion movement, and conference speakers relentlessly emphasize the importance of turning elementary, high-school and university students into pro-life activists. "Young people are known not to vote or get involved politically," says Alissa Golob, the twenty-six-year-old youth coordinator of Campaign Life Coalition. "So when they take a special interest in an issue like abortion, in their own constituencies, in their own towns, politicians tend to listen. When there's twenty thousand high-school students and university students standing on Parliament Hill" at the 2012 National March for Life, "the media pays attention."

Campaign Life Coalition bills itself as the political arm of the pro-life movement in Canada, and Golob herself got involved as a child. At age thirteen, she took part in the Show the Truth tour, presenting the "horrible truth of abortion" to passing pedestrians through graphic placards. She was hired by CLC straight out of university to recruit youth, largely through social media. CLC's professionally produced videos of the annual March for Life protest in Ottawa feed into this youth-focused narrative. Accompanied by a stirring rock-opera soundtrack, the videos depict an endless sea of teens and young adults flooding the streets of the capital, pumping their fists and raising signs on cue. In another set of videos, small girls and young women face the camera to thank Rona Ambrose for voting yea on Motion 312.
Stephanie Gray, the co-founder and executive director of the Canadian Centre for Bio-Ethical Reform, has given presentations at hundreds of public and faith-based schools, the majority of which have been high schools and universities. The moral clarity of younger audiences comes as a rare treat. "When I speak to that age group—grade six, seven, eight—I just say, 'Who knows what an abortion is?'" she says. "One kid will raise their hand and say, 'It's where someone kills the baby.' And another kid will raise their hand and say, 'Why would anyone do that?' It's proof of abortion being such a grave injustice: if you had to describe it to a child, how would you? Describing an appendectomy to a child isn't awkward. If you describe cutting a pregnant woman open and taking the baby out, however you do it, the child will be horrified."

If Gray is busy creating the next generation of pro-lifers, Rebecca Richmond of the National Campus Life Network is charged with retaining them. Richmond's speech, unlike the majority of the conference's straightforward pro-life arguments, feels heartfelt and personal. Her opening joke—"I don't know if you know this, but the culture at university is not pro-life"—receives warm laughter. Richmond claims that while only 33 percent of high-school graduates support abortion in all cases, this number doubles by the end of university. She identifies university campuses as a "mission field," a demographic vulnerable to both abortions and the muddying of perspectives.

Richmond calls herself a "small-town girl" of "paralyzing shyness," and says it was a huge shock to her parents that she became a prolific public speaker on such a controversial topic. At age twenty-six, she comes across as immaculately polished and media-trained, so at ease in interviews that she seems almost bored. She trains student activists how to respond to common pro-choice arguments, how to find club members and how to deal with school administrations. NCLN also promotes clubs' events, and encourages members to collectively blog their outrage when conflicts arise.

Not all of the speakers connect with the young audience as well as Richmond does. At one point, the conference brings in representatives of the American organization Speaking of Motherhood—three women with twenty-four children between them. Jenn Giroux, the group's main spokeswoman, opens with a canned joke about how many children she has: "Seven. No. Nine!" In a broad drawl, she laments that motherhood has been desecrated for fifty years, roughly since the advent of the birth-control pill. She urges the young women in the room to give their "best years" to having as many children as possible, rather than "saying no to God." Giroux's fiery, galvanizing rhetoric seems to make the Canadian audience uncomfortable; the louder she gets, the more they shrink back into their seats. While some of her target demographic—adolescents and teens—are rapt, many pull out their smartphones to text friends or play online Scrabble.
ON FRIDAY EVENING, the ballroom transitions from businesslike conference to formal banquet dinner. Volunteers don eveningwear and hot-pink feather boas; linen napkins and charger plates replace the fetus dolls and religious tracts. At one table, young Catholic women discuss the marriageability of the men in their lives.

At another table sits Rosemary Connell, a petite woman in her sixties and the first person in Canada to protest using enlarged images of aborted fetuses. Gruesome visuals have since become a key tool of the pro-life movement. Stephanie Gray's Canadian Centre for Bio-Ethical Reform has a display, called the Genocide Awareness Project, that compares abortion to the Holocaust and the lynching of African-Americans. Gray has written extensively in defence of graphic imagery. "If I'm speaking to students in grade seven, I'll just show images of aborted children," she says. "If I'm debating a late-term abortionist, I'm going to show video footage of an abortion in progress."

Connell shares the status of grandmother of the movement with longtime activist Linda Gibbons. The Friday banquet culminates with the presentation of LifeCanada's Mother Teresa Award to Gibbons for her protests outside the Morgentaler Clinic in Toronto, in violation of the local bubble-zone law. She has spent nine of the last eighteen years in prison. Just days before the conference, Gibbons was awarded a Diamond Jubilee Medal by Conservative MP Maurice Vellacott, who said that "civil disobedience is an appropriate method when trying to protect defenceless, voiceless human beings in the womb from butchery and death."
Gibbons and Connell represent the former terms of the fight: selfless, grassroots sacrifice that supporters can compare to Mother Teresa's ministry without irony. But today's pro-life movement is necessarily slicker, attuned to the power of marketing and contemporary political realities: adopting the language of feminism, using social media (the conference is live-tweeted with the hashtag #NtlProLife2012) and training young, camera-ready spokespeople—twentysomethings who seem more like news anchors than activists.
THE MOST HIGHLY ANTICIPATED speakers are saved for Saturday morning. The hallway chatter stops, the tables fill—friends save spots for one another—and all smartphones are pocketed. After two solid days of lectures, even the most jaded conference veterans are trained toward the stage. Campaign Life Coalition national president Jim Hughes takes the podium first, flanked by Conservative MPs Brad Trost and Stephen Woodworth.

Along with youth engagement, grooming pro-life politicians is a crucial pillar of the new Canadian anti-abortion movement. In his speech, Hughes emphasizes the importance of cultivating friendly relationships with the MPs of the federal pro-life caucus. He tells conference attendees that they could "take over every riding association in every part of the country if they decided to do it." One audience member has already gotten started: John Hof, the former BC president of CLC, earlier referred to Langley, British Columbia as a model for what could be accomplished in every community across Canada. Activism, he said, had led to the election of pro-life MP Mark Warawa, two pro-life MLAs and pro-life municipal officials. Quoting Heather Stilwell, a prominent activist who died in 2010, Hof added, "It's easier to make a pro-lifer into a politician than a politician into a pro-lifer."

Back on stage, Hughes celebrates a changing media landscape—forty years ago, he says, the movement could only rely on supportive journalists in the Catholic media, but now mainstream journalists are listening. "Today we've got Sun Media," he says. "We've got all sorts of people in the National Post." CLC representatives frequently appear on shows such as Sun TV's Moral Maze.

When his turn comes, Woodworth's message is simple: "History is on the side of justice and human rights." Woodworth counsels attendees to learn the language of their target audience. Abortion is a dirty word, he says, likely to shut down conversation with most Canadians. "Justice" holds more power. (Joyce Arthur, the founder and executive director of the Abortion Rights Coalition of Canada, says that pro-life activists have intentionally "co-opted the language of the left" in order to align themselves with human-rights movements.) "Stick to the message that is most likely to resonate with the hearts and minds of your audience," Woodworth continues. "We'll drag parliament into the twenty-first century."

Trost is the youngest and most charismatic of the three, with a down-home, conspiratorial smile. His goal is to teach pro-lifers how to "think like a politician" and learn the "basic rules of politics." Referring to the failure of the 2007 Unborn Victims of Crime Act, Trost identifies the political arm of the movement as its feeblest part. But the events of the past year give him hope. "A pattern has been set," he says. "This is going to be a regular topic in Canadian politics. This is going to be part of the Canadian political debate."

Trost, a self-described "real rural Saskatchewan farm boy," began volunteering for political campaigns at the age of twelve. "I was pro-life then," he says. "That was one of the things that got me involved." He was twenty-nine in 2003, when he landed the Conservative Party nomination for Saskatoon-Humboldt, and, the following year, he was elected in an extraordinarily close four-way split, only 1.1 points ahead of the NDP's runner-up.
In 2009, Trost made headlines for condemning federal funding of the Toronto Pride Parade; the minister responsible was removed and Toronto Pride later lost its funding, though the Stephen Harper government maintained it had nothing to do with Trost's comments. In 2010, Trost started a petition to end Canadian support of the International Planned Parenthood Federation. During the 2011 election campaign, he announced the petition's success at the Saskatchewan Prolife Association convention, but the Tories rushed to say they simply hadn't responded to the IPPF's application yet. An IPPF representative told the Globe and Mail that 2010 was the first year the organization had not partnered with Canada, even though its proposal complied with the requirement that it not fund abortion services. (The federal government reinstated partial funding in late 2011.) Trost won his 2011 race by a landslide, with 52.7 percent of the vote.

Trost joined the pro-life parliamentary caucus as soon as he came into office. The group has existed in its current form since the late 1990s, and is considered secretive by pro-choice activists and the media. Trost says it's simply amorphous, and that even its members are not quite sure how it works. "Journalists have asked, over the years, how many members there are, etc.," he says. "Like a lot of semi-formal groupings around here, there's not really a hard or firm definition. Some people support financially but don't come out to the meetings. Some participate by supporting the legislation."

While Trost has no immediate plans to table a bill on abortion, he says the movement can count on him "throughout his political career." He insists pro-lifers need only vote for their convictions. "If 3 to 4 percent of Canadians were pro-life and prepared to vote on the issue, you would see a massive swing in how much attention is paid to the issue in the House of Commons," he says. "There are usually about thirty or forty seats that are decided by 5 percentage points or less. That's the difference between minority and majority governments, the difference between wins and losses."
AS ATTENDEES PACK UP their info-boards and rush to make the checkout deadline, the atmosphere is convivial, one of new connections and renewed energy. Some line up to thank and congratulate Woodworth, while others form small groups to talk about plans for the year. Richmond and Golob return to rallying the nation's youth; the CCBR's Genocide Awareness bus drives to another school campus; Trost and Woodworth head back to their ridings, unaware that they and their fellow pro-life backbenchers will remain in the media spotlight for several months to come.

Linda Gibbons is arrested again a few days later. Her Christmas letter from prison calls her Diamond Jubilee medal a "harbinger of a battle yet to be won."
IN JANUARY, three months after the conference, Conservative MPs Maurice Vellacott, Leon Benoit and Wladyslaw Lizon came under fire for signing a letter that called for an RCMP criminal investigation into 491 deaths, between 2000 and 2009, classified by Statistics Canada as "Termination of pregnancy, affecting fetus and newborn." The letter framed these deaths as botched late-term abortions, in which babies were born alive and then murdered. Leon Benoit later back-pedaled on his accusations, saying he signed the letter while on holiday and missed a crucial difference. "I thought the letter said exactly what I said—there was an attempted abortion, the baby was born alive, then killed," he told the CBC. "In fact, that's not what it says. It says there was an attempted abortion, the baby was born alive and died as a result of the injuries caused through the attempted abortion." When contacted, StatsCan agreed: the classification refers to a fetus that shows any sign of life, following an abortion and complete removal from the mother, irrespective of the duration of the pregnancy. The sign of life can be as minor as a pulsation of the umbilical cord, and the fetus can be many weeks from viability.

Pro-life media depicted the 491 deaths as evidence of a large number of late-term abortions resulting in live births, and some mainstream outlets seized upon this idea. Jonathan Kay cited the letter in a National Post column that called for an abortion law, claiming that, "homicide or not," Canadian women may seek an abortion "for any reason, or no reason at all" at any point during pregnancy. This prompted a response from family physician and Liberal MP Carolyn Bennett, who said that she was "totally fed up with 'lawyered' assertions that totally misrepresent the facts." She challenged Kay to find one late-term abortion in Canada that happened "without serious indications that the life of the mother is at risk or that the fetus has very serious malformations."

In early February, the National Post and the Vancouver Province ran front-page articles about Abbotsford Right to Life's annual Cemetery of the Innocent, a field of some 1,860 crosses meant to mark the number of abortions that happen in Canada on a weekly basis. Jared White, who attended the National Pro-Life Conference as Abbotsford Right to Life's representative, said that last year's Cemetery received little public attention. So, this year, he was surprised when the front page of the Province read, in all-caps, "ABORTION BATTLEFIELD." The movement is making inroads.

DESPITE HIS PRO-LIFE RECORD, Mark Warawa—the backbencher who, in September 2012, tabled Motion 408, asking parliament to condemn sex-selective abortion—insists that his concern is gender discrimination, not abortion; he declined an interview on this basis. "If at some time you are going to write an article on discrimination against girls," his legislative aide wrote in an email, "Mr. Warawa would be happy to do an interview."

In March 2013, Warawa toured university campuses in BC's lower mainland. NLCN paired a screening of a documentary called It's A Girl: The Three Deadliest Words in the World with a presentation from Warawa on "gendercide."

On a rainy evening at Simon Fraser University in Burnaby, a friendly, insular crowd of eighty gathered in a lecture theatre to watch the film. A baby-pink banner reading "Protect Girls" hung over the lectern, featuring three scrubbed-clean infants of Caucasian, East Asian and South Asian descent.

It's A Girl stars activists and local women from India and China; purported Asian sayings like "Raising a daughter is like watering a neighbour's tree" elicited gasps and hushes from the predominantly white crowd. Gendercide, according to the film's summary, is "a shocking atrocity that's spread by Non-Christian superstition and government tyranny."
After the screening, Warawa emphasized his human-rights record, and said that he tabled Motion 408 in good faith as a gender-discrimination bill—that is, not as an underhanded way to criminalize abortion. He projected a photo of himself with two local pro-choice women of South Asian descent, Lucky and Navi Gill, who helped campaign for his motion.
Onstage, in front of supporters, Warawa seemed confident that he'd done his due diligence both with pro-choice Canadians and the abortion-allergic Prime Minister's Office. After a series of softball audience questions, at least one of which badmouthed Stephen Harper as a coward, Warawa hinted that the 2015 election holds hope for pro-life activists, though "this parliament will not deal with the issue of abortion."

Just over a week later, Warawa was proven right. A parliamentary committee deemed Motion 408 "unvotable," quashing it before it could hit the floor. Warawa unsuccessfully appealed the initial decision, and prayed for an answer about what to do next. On April 17, he dropped his bid in favour of a new bill targeting sex offenders.
ON MAY 9, with the 2013 March for Life on parliament's doorstep, Warawa stood up in the House of Commons and made another statement about sex-selective abortion, as part of what the National Post dubbed a "backbench rebellion." Trost had just tabled Motion 431, which would have seen committee chairs chosen by House vote rather than appointed by party leaders. Motion 431 was widely seen, including by pro-life media outlets such as LifesiteNews, as a way to stop the Conservative leadership from suppressing bills like Motion 408.

Several other socially conservative backbench MPs have rallied behind Warawa and Trost's campaign to make room for dissenting voices within their own party. Whether this indicates a return to social conservatism for the existing Conservative Party or a schism that could result in a breakaway group, abortion has reentered the public consciousness. Repeated attempts by the PMO to sweep the issue under the rug have failed.

The idea of enduring defeat or victory, for either side of the abortion debate, is a misleading fantasy. The political agenda of government and the composition of parliament are perpetually in flux; while Harper's Conservatives knuckle down on the tar sands and centralized federal control, the next iteration of the Canadian right could just as easily turn its focus to social issues like abortion. The human infrastructure—a motivated, politically savvy pro-life movement fronted by young, charismatic leaders—is already in place.