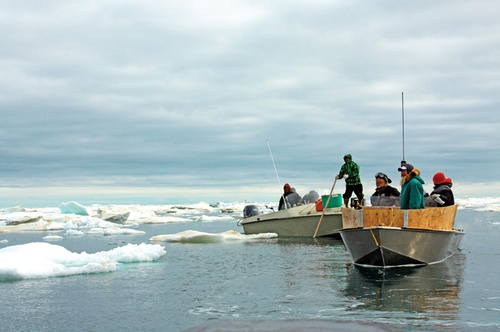 Photograph by Ashleigh Gaul.
A Mountain of Ore, A Meatless Land
Canada's largest iron mine could create thousands of jobs and bring billions of dollars to Nunavut. It could also permanently harm Baffin Island's dwindling caribou population.
IT'S AN AIRUT FAMILY CUSTOM that whoever catches the first caribou of the summer has to dance a jig. Tonight, there are no jigs.   

Marie and her husband Lukie, who usually goes by Airut, stand at the entrance of their tent and squint across a narrow inlet of water at a figure on the opposite shore. The figure unloads an armful of heather onto a rock, then ignites the mound and lights three cigarettes in quick succession.

"He's waiting for us to pick him up," says Marie. Airut drags on a deeply scooped pipe and bends to stir a stew of potatoes and fresh Arctic char. His boat lies thirty feet away, beached on an intertidal shore.

"He doesn't have any caribou," says Marie.

The tide comes in. Goes out. The Airuts do not pick the man up. They prepare for bed.
Matthew Airut, the man on the shore, stands, leaving the fire raging behind him. It's late July 2012, and if North Baffin Island experienced darkness this time of year it would be well after dark. Matthew has walked eight hours already. The trip back to his parents' tent—ten minutes by boat—will take two hours, through polar-bear country. He speed-walks over hummocks and plows through marshes in heavy rubber boots. As he passes, sandpipers run ahead, trying to lure him away from their chicks.

Matthew's mission was doomed from the beginning. In eight hours, he's seen more helicopters than wildlife—only one antler, which disappeared behind a cliff when a mining-company charter swooped low overhead. A passenger on that flight, looking down, might have caught a bird's-eye view of a man giving up, throwing his arms out, screaming muted curses into the air.

When Matthew arrives back at camp, he unslings his father's World War II–era Enfield rifle and carries it to the tent. The family sleeps in a neat row, feet lined up along the back wall. The cold stew in the corner confirms the conclusion he made earlier, deep in the tundra: "This is a meatless land."

The Airuts know perfectly well that they're unlikely to catch a caribou here. They're camping at the mouth of Steensby Inlet, one of two potential port sites of what could soon be Canada's largest-ever—and Nunavut's first—iron-ore mine. Baffinland Iron Mines Corporation's proposed 76-square-kilometre Mary River project is in the last stages of a four-and-a-half-year approval process. It promises to create 750 to one thousand jobs in the surrounding communities, as well as contracting opportunities for businesses equipped to outfit a camp of that size. Over a time span of twenty-one to one hundred years, Baffinland says, the mine could generate between $2 billion and $5 billion in taxes and royalties for Nunavut—many times the $1.1 billion that Canada transferred to Nunavut as a result of the 1993 Land Claims Agreement, which led to the territory's creation in 1999.

The mine consists of a central deposit—two mountains of iron ore straddling its namesake river—smack in the middle of North Baffin Island, with long, tendril-like transport routes stretching to the north and south coasts. If Mary River's entire infrastructure is approved and constructed, it will be impossible to cross Baffin Island from east to west without running into some part of the project.

While the final hearings take place in three of the affected communities, the site itself—a two-day boat ride from the nearest gas station—is a frenzy of activity. Baffinland archaeologists, sometimes accompanied by Inuit elders, survey a 136-kilometre stretch of land slated for a railway, making recommendations about which artifacts to protect and which to remove. Meanwhile, an ex-consultant for Baffinland's archaeological team conducts her own counter-study of the same route, accompanied by another group of elders from a nearby hamlet called Igloolik, population 1,454. Along the banks of Steensby Inlet, Department of Fisheries and Oceans scientists collect samples of bottom-dwelling organisms for a long-overdue study of the area's benthic ecosystem. Atanarjuat: The Fast Runner director Zacharias Kunuk and a five-boat caravan of elders, cameramen, technicians, a professor and a journalist—that's me—stop at several places along the future shipping route, visiting the elders' childhood campsites. Baffinland helicopters sweep the area, touring local politicians and community members through the mine site, watching the action closely.

These people are researchers, activists, artists, Inuit and corporate consultants. Some of them are looking for conclusive evidence that the mine should be stopped, delayed or redesigned. Baffinland is trying to build an ironclad defence of its project in an era when environmental stewardship and community consultation are closely regulated requirements. If the company is right, the project could help free Nunavut from federal assistance and lift the territory out of poverty. But if Nunavut isn't ready, the mine could cut Inuit off from a millennia-old source of sustenance and tradition: the land.   

Marie and Airut are simply looking for a caribou. This summer, they will return to Baffin Island three times to find one. They'll spend thousands of dollars to kill it and bring home the meat. Some say the nine-deposit Mary River mine will deliver the deathblow to Baffin Island's already dwindling caribou population, to say nothing of its marine mammals and sea birds. In this light, the Airuts' hunt could be seen as a political gesture—a resolute determination to keep doing what their family has been doing for generations.

But it's more complicated than that. The Airuts support the mine.

DAYS AFTER RETURNING HOME to Igloolik from Baffin Island, Marie is ensconced in her living-room couch, enjoying a McCain Strawberry Shortcake. A home buffet of French fries, drying caribou jerky, chicken fingers and chocolate-chip cookies spans the kitchen counters. An eight-year-old boy lies on the floor with a bowl of Alpha-Bits, a half-eaten General Tao chicken dinner on the coffee table beside him. "For years, we lived in an outpost camp on Baffin Island," says Marie. "We came into town for groceries only a few times a year. And even more than my kids, I was homesick for Southern food—pop and sugar and chips."

Marie and Airut are planning another hunting trip to Baffin Island with two other families and several boys from town; I'll accompany them. Airut was born and taught to hunt on the island, but in recent years the family has supplemented their Baffin harvest with mainland caribou. Though they prefer the drier, leaner North Baffin herd, that population has been declining steadily and mysteriously since the mid-1990s. Now the Airuts only hunt Baffin caribou in the summer, when the ice breaks up in Foxe Basin and, for roughly two months, the area becomes navigable by boat.

Marie twists around in her seat to face a floor-to-ceiling map of North Baffin Island. She traces the route with her finger. Starting north from Igloolik Island, we'll pass Fury and Hecla Strait, then stop off on a small island and ancient walrus-hunting camp called Qaisut. There, we'll drop off our back-up fuel supply and continue east, past Steensby Inlet at the top of Foxe Basin. We'll pause at Nuvuit, a finger of land at the northeast limit of Foxe Basin. If we find no caribou there, we'll go further down the eastern shore until we do.

The front door opens and Airut enters the kitchen, fresh from his carving shed, covered in bone dust. Airut and Marie are about as opposite as two people who've lived within a 100-kilometre radius their entire lives can get. Marie was one of the first Inuit born in Igloolik when it became a town site in the early 1940s; Airut was one of the last hunters to leave the land and settle here. Marie learned to speak English at residential school in Chesterfield Inlet; Airut speaks no English and never went to school. Marie is soft; Airut is dark and leathery. Airut is fiscally naïve; Marie is savvy. But more than fifty years of marriage have turned their differences into complements. Airut is an internationally renowned carver; Marie negotiates his fees. Airut is a part-time Ranger for the Canadian Forces, but faints at the sight of human blood; Marie is a homebody, but, when a local boy was attacked by dogs, she was the one who stitched him up and arranged his Medevac to Iqaluit. Marie and Airut have raised seventeen children together.

"I didn't want to be his wife," Marie says of her arranged marriage to Airut. "I already had a boyfriend. So when the priest"—a white Catholic—"asked me, 'Do you take this man to be your lawful wedded husband?', I said no. He asked me four times and I said no four times. And then he said, 'I'm going to keep asking until you say yes.' It used to be that Inuit couldn't say no to white people." She's referring to the "yes that means no," a loophole of etiquette that led to much exploitation. Traditionally, as a matter of hospitality, Inuit never refused a stranger's request. So, for example, when eighteenth-century European whalers asked Baffin Inuit to help with the bowhead hunt, they did so—and helped drive the whales to near-extinction. "But it's not like that anymore," says Marie. "We can say no if we want to."

For Marie, the choice of whether or not to support the Mary River mine is clear: only a handful of her children can hunt well enough to support the family, and none are full-time hunters. For elders such as Airut, whose main, year-round source of clothing, bedding and food has always been the caribou, and whose childhood travels followed the animals' migration routes, the matter is more delicate. Ask him whether he supports the mine and he nods yes, but Marie says he doesn't like to talk about it.

I had been in Igloolik for three months when I met the Airuts. Initially, I went looking for the Mary River project's supporters and opponents. I found neither; only people, on both sides, who hold many reservations but feel that the question of support is moot. The mine, everyone says, is inevitable.
A FORMER BAFFINLAND CEO once said that Murray Watts "didn't have to be a genius" to discover Mary River. On a clear day, at 5,000 feet, the deep black ridges of Mary River's main deposit are visible from nearly 200 kilometres away. Its two highest peaks were navigational aids for Inuit, who named them Nuluyat—the buttocks.

Watts recognized the deposit as a mountain of the purest possible natural ore. Born in 1909 in Cobalt, a Northeastern Ontario silver hub, Watts cut his teeth as a mine manager before starting his own exploration company. He discovered several asbestos and nickel mines in Northern Quebec, as well as the Coppermine River–area deposit in the Northwest Territories. But Mary River, which he found during a 1962 exploratory flight, held a particular fascination for him. He named the site after his daughter, crashed his Cessna trying to get there and spent ten years and $2.6 million attempting to develop it into an active mine.

Part of Mary River's allure was its size. Watts estimated that it would take more than fifty to one hundred years to exhaust its estimated 115 million tonnes of ore. But mining would be a challenge. Watts figured that accessing the inland deposits would require icebreakers, a deep-water port, two airstrips, a year-round working camp and overland transportation to the coast. It would mean building roads on permafrost and carrying regular freight loads through the southern portion of Baffin Bay, some of which was perpetually ice-locked.

Still, according to a 1970 textbook on Northern mining, Pathfinders of the North, "Ottawa regarded the Baffin bonanza as very much in Canada's national interest," and the Department of Indian and Eskimo Affairs provided financial and research support, as well as icebreakers, to Watts and his team throughout the 1960s. An article Watts wrote for the same textbook suggests that he thought the federal government should invest even more, if not for immediate economic benefit then for social development. "There are currently 10,750 Eskimos in Canada," he wrote, "and only 300 have steady, full-time work ... The future for Eskimos lies in the mineral industry ... and we who have explored and tried to develop the North hope that our government will join with industry in seeing that the necessary capital and other resources are supplied for this most essential purpose." He intended to employ at least 50 percent Inuit for hard labour and administrative work.

For his time, Watts was, arguably, progressive. But, seven years later, Thomas Berger, a lawyer working with Inuvialuit Inuit and Dene groups in Northern British Columbia, released a report that would forever change the relationship between Canada's Aboriginal peoples and the extractive industries. Between 1974 and 1976, Berger conducted interviews with three hundred legal, biological, mineral and sociological experts, as well as nearly one thousand residents of thirty-five communities within the vicinity of the proposed Mackenzie Valley Pipeline. The 1,220-kilometre pipeline would have transported natural gas through the Northwest Territories to Northern Alberta. But it passed through several Aboriginal territories, and the indigenous groups who owned the land hadn't been thoroughly consulted about the impacts and benefits of the project. Berger recommended a ten-year postponement. The pipeline was never built.

The effect of the Berger Inquiry was most pronounced in the eastern Northwest Territories, now Nunavut. In 1976, the area's newly formed land-claims group, Inuit Tapirisat of Canada, proposed an agreement with Ottawa to ensure that Inuit would receive more than a one-off paycheque when the inevitable resource bonanza ensued. Over the next decade, Inuit Tapirisat consulted with geologists to select surface and subsurface land parcels to which Inuit would own the rights. Any development on Inuit-owned land would undergo an exhaustive review process, whereby Inuit groups negotiated the conditions of the project—local employment quotas, community initiatives, on-the-job concessions for traditional activities—and the power to make recommendations to the federal government on the conditions under which a project should go ahead.

In the ensuing years, a new generation of prospectors formed Baffinland Iron Mines Corporation to revisit Watts' claim. In 2006, Baffinland nearly tripled Mary River's initial ore estimates to 365 million tonnes. The same year, Stephen Harper was elected prime minister, partly on a Northern-development platform. In 2007, satellite images depicted a Northwest Passage free of ice for the first time ever, and a global shortage of iron ore dramatically increased its price. Watts' plan to transport the ore by a tote road north to Milne Inlet turned into a decision to build the world's most northerly railway south to Steensby—on rapidly melting permafrost through a little-studied ecosystem.

For proponents of Mary River, the economics of the mine are self-evident; Nunavut's unemployment rate is among the highest in the country. But the fact that many elements of the project are unprecedented—icebreakers three times the size of football fields; massive trains running over permafrost; 18 million tonnes of ore shipped per year—means that no one can truly anticipate the mine's environmental impact. The Baffin Island ecosystem may not withstand the rush.

AT THE TOP OF a black conical cliff, we turn several times, slowly, following the flight of a sandhill crane. The view stretches from the mountains to the coast, and we hear the echo of the bird's reptilian call. The rest of the tundra is an empty stage. On our tiny summit, we find only a caribou skull and the skeleton of a fetal owl. "If there were any living caribou," says Barry Airut, "we'd see them from here."

This morning, the Airuts broke camp at Nuvuit and started down the eastern shore of Foxe Basin. Barry has replaced Matthew for this trip. He has his own custom-made rifle—white with a maple-leaf decal—and he's trying out a new GPS device. "If we walk really fast," he says, "we can probably get back to camp in two hours." We start out in single file: Barry, then me, then Aisa and Angus, two of the local boys who tagged along.

We are tired already, and the boys and I quickly lose stamina. Aisa and Angus drop to the ground at the top of every hill, stuffing their mouths with wild blueberries. Barry barely looks back, and I lose sight of the boys. When I catch up with Barry, we peer through his riflescope and spot them, crouched in the grass at the other side of a lake, still eating blueberries. According to the GPS, Barry says, they can get home that way.

The next several hours are sometimes beautiful, sometimes scary, lonely and boring and always hard. Occasionally they're hallucinatory—at one point, I'm halfway through a field of boulders before I realize the white ones aren't skulls. Barry's figure periodically appears kilometres ahead. I drink at every stream, exhausted and protesting his perseverance. When we begin to scale cliff faces, I call out, "Barry!" He answers, "Hurry up!" I don't hear or see him again.

By the time I return to camp that night, Aisa and Angus are already there, and Barry is sleeping fitfully, moaning in his tent; he drank water from a stagnant pool and vomited the rest of the way back. Marie is awake in bed, the CB radio crackling beside her, char stew on the Coleman stove. First, she says, "I was worried about you guys." Then: "No caribou?"  
Marie doesn't say it then. She doesn't say it when a hunter we meet near Foxe Basin cuts his motor too late and slams into the side of our boat, nor when she tells me that a Canadian Forces rescue worker died last year trying to save the same hunter after his engine broke down. She comes close once, when she notes that her children's teeth are too sugar-weak to soften skins, but she never says it outright: Inuit are forgetting how to hunt.

"People get lost out there sometimes," Igloolik's conservation officer, Theo Ikummaq, tells me. "What's troubling, though, is how long it's taking to find them." Five years ago, it would take less than twelve hours to find someone who went missing; today, it could take up to thirty-six. Rescue crews take longer to organize because young hunters don't listen to the CB radio anymore, whereas most elders run it constantly. "If it's not on Facebook," says Ikummaq, "young people have no idea what's going on."

The importance of hunting isn't just a matter of recreation. According to the 2011 census, the average annual income for Igloolik residents was $26,879, and the median was $16,768. Considering the average house in Igloolik holds 3.8 people—almost double that of Southern Canada—and that a load of healthy store-bought groceries costs more than twice as much as elsewhere in the country, hunting should be a viable option. But a 75-horsepower outboard motor can cost $16,000 at the local co-op—and that's not including the boat itself. It's no surprise that 80 percent of Igloolik residents said they regularly had difficulty finding locally harvested food, and 62 percent said they had run out of food completely in the past year. 
Nunavut also faces profound social problems, and, depending on whom you ask, the mine will either ameliorate or exacerbate them. The highest-ever high-school graduation rate in Nunavut was 40 percent, in 2010, and even Nunavummiut who do graduate require an extra preparatory year before attending college or university. A fifth of the territory's children are born with fetal alcohol syndrome. Major-assault rates are seven times the national average; suicide and sexual assault, ten times; homicide, twelve times. Drop a mine into one of the communities, says the RCMP, and police calls will increase by about 22.5 percent and prisoners by 35 percent; alcohol consumption will more than double. Or, at least, that's what Nunavut RCMP commanding officer Steve McVarnock says happened in Baker Lake after a gold mine opened near the community in 2010.

But Baffinland says its mine will help. Last summer, Nunavut faced a food-cost crisis that saw many Inuit protesting at local grocery stores. Hunters will be able to stop by the mine site as they cross through Mary River for fuel, food and shelter; with income from mining, employees' families will be able to afford to eat and hunt properly. Since first contact with Europeans, Inuit have been caught between two worlds. This time, Baffinland claims, Inuit can have a hand in choosing how their world gets developed.
BARRY TURNS TO ME. "Think we should keep going?"

We're standing barefoot on a pair of river rocks. In six days, we've camped on five different beaches and almost completely circumnavigated Foxe Basin. Barry wants to go home tomorrow morning, but today Airut saw a caribou antler through a pair of binoculars.  
We unload and eat a quick lunch of raw char. Then Barry and I set out with his cousin Dennis through the tidal flats along the coast. High spits run perpendicular to the shore, like the tines of a curving comb. Each spit is lined with ancient caribou caches—rock-pile pits dug into the permafrost where families traditionally stored excess meat. Bleached bones, mostly spines and jaws, are scattered on the ground. Between the spits, fast-flowing streams empty out from the mountains, spreading into miles of brackish marshland.

We walk along the spits until we come to a stream, which we boulder-hop across. When we run out of boulders, we take off our shoes and socks and wade. When the water gets deep, I answer Barry's question. "Think if we keep going we'll see caribou?"

"I think if we go back we won't see caribou," he says. "If we keep going we might see caribou."
Dennis doubles back across the stream in hip-waders and piggybacks us into the marshland on the other side. Suddenly, he falls into a squat.

"Tuktusiapi!" he whispers. Barry and I hit the ground.
"Two."
"Three."
"Four."
"Five."

We count off the silhouettes as they appear on the pink horizon. A mother caribou in front, followed by four calves. The mother stops to sniff the air. Then, together, all five turn and run toward us.

"KEITH BERGNER, legal counsel for Baffinland ... I'd like to pick up on a word you used, and the word was 'uncertainty.' I believe in discussing the caribou, you said, 'This is an area of uncertainty.'"

It's mid-July in Iqaluit, and the final hearings for Mary River have begun. The hearings are one of the last stages of the Nunavut regulatory process. Baffinland will summarize the main points of its twenty-one-thousand-page environmental-impact assessment. Then, eleven different government agencies will each cross-examine the corporation on its conclusions. There are about one hundred people arranged around a square of tables in Iqaluit's Cadet Hall. Less than a quarter are Inuit community representatives; more than a quarter represent Baffinland. Over fifty years, the face of the company has morphed from a man and his Cessna into a line of bored-looking consultants.

Right now, Baffinland is questioning the Nunavut Department of Environment's authority to state that the recovery of the North Baffin caribou herd is uncertain. "Surely," Bergner continues, "you recognize that while there may be a lack of scientific data, the Inuit of North Baffin know a great deal about the caribou, and that Inuit traditional knowledge has validity and importance. The government of Nunavut accepts the validity and importance of Inuit Qaujimajatuqangit"—traditional knowledge.  

Inuit Qaujimajatuqangit is Nunavut's sacred cow. Government departments require all Southern scientists conducting Northern research to explain how they plan to use traditional knowledge in their studies; it's also a requirement of environmental-impact assessments for development projects. Baffinland is trying to use traditional knowledge to challenge the government's assessment of the North Baffin caribou herd. But it's also doing something else. The company is trying to use traditional knowledge—a system of observation that assumes nothing in nature is certain—to create a certainty: that the caribou will survive.
Baffinland's railroad will cross at least fifty known caribou trails and calving grounds at Mary River, but, until a few years ago, the North Baffin caribou had never been studied directly. Scientists recorded hunters' observations sporadically throughout the sixties, seventies and eighties, and determined only that the herd was non-migratory and abundant—on the order of thousands. In 2008, Peter Hale, the government of Nunavut's manager of wildlife research, paired up with Baffinland and conducted an aerial survey, collared several caribou and monitored their movements. Hale determined that the population is now "not abundant," numbering perhaps in the hundreds. Additional research has been unable to produce a more specific count. The surveys were conducted by helicopter—and caribou are known to run from choppers.

So Baffinland returned to Inuit hunters, who told the company what their fathers said: caribou populations surge and decline according to a sixty- or seventy-year production cycle, possibly related to the natural regeneration of lichen, the animals' primary food. But there are few studies of lichen cycles on North Baffin Island. No one knows precisely how depleted the herd becomes in a low period or how abundant it becomes in a high period. Considering the caribou is a keystone species, this dearth of data is unsettling. When caribou decline, wolves, polar bears, ravens and seagulls starve; lemmings, seals and seabirds are over-predated. 
Airut says there used to be so many caribou at his old campground in Steensby that he would wake to the sound of pounding hooves, make coffee, reach for his rifle and take leisurely shots. Others tell me that when caribou passed by, there was nothing to be done except stand aside and let them run. Sometimes they run with their eyes closed. According to one woman, caribou have something inside them that just says, "Go, go, go," and nothing can stop them. 
Conservation officer Theo Ikummaq says the railway itself won't stop the caribou, but increased exploration, with all its helicopter traffic, might. Over the next few years, annual exploration permits in the area are expected to rise from three hundred to some three thousand.

ALL FOUR CALVES lie dead on the marsh floor. After removing the skin, each hunter prepares his calf in his own way. Barry cracks the legs at the joints, then twists off the head and empties out the chest cavity, stuffing the legs and edible organs—the heart, liver, lungs and intestines—back into the empty chamber. Dennis clears the chest cavity first and wrestles the legs off with more force than precision. The mother runs silent, widening circles around us.
Dennis cocks his rifle and props it on a boulder. He tells me to shoot if the mother comes closer, but the gun's too heavy and I can only focus fast enough to watch her run through my sight with every circuit. (Traditionally, Inuit wouldn't shoot a cow or the leader of a herd, but these are the first caribou the men have seen after almost a week of searching.) Suddenly, a shot comes from the far left. The caribou falls on her side, and Alex, another boy who accompanied us on the hunt, sprints to the body and stabs her at the base of the skull. By the time I get there, she's already stopped breathing.

"Marie heard the shots and she told us to come," Alex says; Aisa has joined us too. Alex rolls the animal onto her back and slits her open from chin to anus. "I haven't shot a caribou since 2007," he continues. "I hope I still remember how to do this."

The skin peels off like warm pyjamas. Alex is a good teacher, and he tells me what he knows about each of the parts as he pulls them out. The tailbone fat is the tastiest, so we eat some; the undigested lichen in the stomach is a delicacy, but he's not interested in trying it; the stomach bag used to be worn on the head like a shower cap, but nobody does that anymore, so neither do we. By the time Alex gets the legs off, it's dusk. Barry, Dennis and Aisa have already started back, carrying their kills, silhouettes forming a slow, hunched line.

Alex arches himself against a knee-high boulder. He's created a backpack out of the caribou's chest cavity, stuffed with the entire animal. The shoulder straps are sealskin rope strung through the caribou's shoulder blades. Alex is strong—he just returned from military service on Vancouver Island—but he can't carry this pack. He can barely stand up, and walks just thirty paces before collapsing on a boulder to rest. He hears rivers that aren't there. He weaves. At one point, the shadows of the other hunters pass in front of us, seemingly walking in another direction. No one says anything to anybody else, though, each concentrating on his own monstrous load. Later, we learn that the elders tried to come help us, but they couldn't cross the streams in the night. (It's been a month since the Airuts' first hunt, and darkness descends quickly in late summer.) So, for hours, they stood at the tents, flashing spotlights and iPods to guide us back to camp.

Finally, Alex collapses. We drag his pack up onto a spit, open up one of the old caches and roll the caribou inside. Then we pile rocks into an inukshuk on top so we can return to it in the morning, with help. At a stream, Alex catches his breath. "I should have known I couldn't carry that load." He takes a drink. "But I wanted to know how they used to do it."
On the way back, we listen to half of Neil Young's "Heart of Gold" on Alex's iPod and it feels sublime. Then we turn the music off and it's even better. The red-throated loons are howling for each other. When we scramble up the last spit and walk into camp, Barry greets us. He says, "The elders are pleased."

FOR ELDERS LIKE MARIE, supporting the mine is a sacrifice for younger generations who cannot live the way their ancestors did. But this support comes with misgivings. "We thought that Steensby was ours," says Marie, speaking to a nearly empty auditorium on the last day of Igloolik's hearings. "We thought it was our traditional hunting grounds ... and still today, there are many of us that go there to hunt. But, because of that, we need to know: are we going to be given good jobs? Are you sure you won't turn us away because we don't have enough education? It would be so sad if I had nothing else to give my grandchildren." 
Marie found work related to the mine—she sits on Igloolik's Mary River Project Committee, a seven-person group that liaises between Baffinland, the Qikiqtani Inuit Association and the community—but her sons didn't. Although pre-construction at Mary River has been underway since 2006, Matthew Airut says Baffinland hasn't acknowledged receiving his resumé. Another son, Johnny, is so frustrated that he also speaks at the final hearings. "I've been applying for work at the mine since the beginning, since 2006," he says. "I was told I was hired, and then I never heard back." In 2012, Baffinland hired over 150 people to work at its permanent camp at Mary River. Only three of them came from Igloolik. Some came from more industrialized Nunavut communities, such as Pond Inlet and Iqaluit; the rest were shipped up from more mining-savvy Southern provinces, such as Ontario and Newfoundland.
Still, Johnny doesn't blame Baffinland for not hiring him—he blames Nunavut for not preparing its workforce. In many communities, higher-paying mining positions quickly exhaust the existent pool of skilled workers, and economic-development officers worry that they cannot train new recruits fast enough. "Once our government knows how to plan properly," Johnny tells Baffinland at the hearing, "then you can come back."

The last speaker is the Airuts' niece, Celina Irngaut, a local artist. "We are working under assumptions," she says. "We assume that the dust from the ore is not going to affect how caribou eat. We assume that the environment is not going to be affected. But we want to be guaranteed that you're going to do exactly what you say you're going to do. Look at the dump," she goes on, pointing her arm in the direction of an ever-expanding beach of rusty metal and dead puppies. "When that was being built here, someone must have said, 'We'll do the monitoring.' But look at it now. It's leaking into the ocean."

Irngaut stands up to walk away, but when the Nunavut Impact Review Board chair thanks her for her comments, she twists back around. Aboriginal Affairs and Northern Development Canada, the federal department that has been paying for Mary River's infrastructure since 1962, has complete power to veto the NIRB's recommendation. So, Irngaut asks, what is the point of the final hearings? "Why don't you hold a plebiscite?" she asks. "There are people in this community who oppose this project."

"The NIRB process is set under the Land Claims Agreement," an NIRB board member answers. "If there were an article in the agreement telling us to hold a plebiscite, we would. But that's not in place. We are merely following the process that the Nunavut Land Claims Agreement gave us."

"Can't you change it for Nunavummiut?" Irngaut asks.
IN DECEMBER 2012, AANDC minister John Duncan approves the mine, subject to 184 terms and conditions recommended by the NIRB. They include the establishment of marine, terrestrial and socioeconomic working groups between Baffinland and government agencies, in order to monitor the long-term effects of the project.

Later that month, in response to slumping steel prices and slowing growth in China—the world's largest steel consumer—ArcelorMittal, a 70 percent owner of Baffinland, sells 20 percent of its stake in the company to Toronto-based Nunavut Iron Ore. Baffinland postpones building the railway to operate out of its Milne Inlet port to the north, near Pond Inlet. Iron-ore production—originally planned to start at 18 million tonnes annually—will start this summer at 3.5 million tonnes instead, with shipments beginning in 2015. The community of Pond Inlet calls for a second assessment of the mine's potential impact on North Baffin Island, and particularly on Milne Inlet's narwhal population. (Aerial surveys suggest more than a third of the world's narwhal population summers in Baffin Bay.) Construction on the Steensby port site is delayed indefinitely.

AIRUT ONCE CARVED HIS BIRTH into a walrus skull. In the carving, a young woman lies on two tiny caribou-skin mats on the floor of an igloo, while a man waits outside. The winter that Airut was born, in 1942, was a sparse one for North Baffin caribou. His parents had thin summer pelts, which they'd made into boots, but no thick winter skins for bedding. When Airut's mother went into labour, his father quickly built a one-person igloo and un-seamed his winter boots for Airut's mother to lie on. The boots became Airut's swaddling clothes.

On our last day on Baffin Island, the Airuts catch a bearded seal and boil the intestines for supper. A few of us sit around a plywood platter, and Airut asks Alex to translate something. "He says to tell you that everything's free here," says Alex. "In town, you have to pay for food. You have to buy a house and go to work every day. But out here, you can sleep wherever you want. No one owns the land and no one goes hungry. Everything is shared."

I ask Airut how it feels to know that his children and grandchildren will live in a different world from the one he knew as a child. He says, "When I go down south, I always see these beautiful, tall buildings and neatly painted roads. These people who are working on the mine, they're trying their best to make it beautiful." He goes on. "I know that it's time to change, but with that change comes other things to make life liveable. If my kids are not going to hunt, they're going to have to get a good education. And that education will enable them to get a good job. And that good job will enable them to eat. I know for a fact that we will never go back to the way of life that we used to have, where we took the whole animal. We ate the meat, used the blubber for fuel and the skin for clothing. That's survival, but being educated and getting a job—that's survival, too."