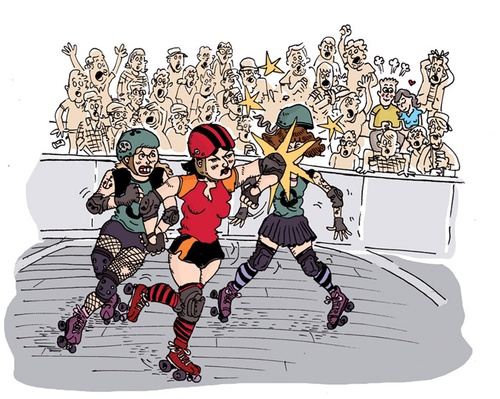 Illustration by Michel Hellman.
Ne Me Quitte Pas
When the Parisian leans against me on the bleachers, I feel like I am winning by 250 points.
The best Valentine's Day date I ever had was on February 15, which makes sense. Anyone who's been to a few parties, concerts or bus stops in Montreal knows that this city doesn't run on time. It gets nervous about something like a first date on Valentine's Day, so it shows up late to make like it doesn't care.   
My date is a twenty-year-old from Paris with short, dyed-blonde hair; she's half-Korean and her eyes are blue. Like everything else Parisian, she's striking. I can't tell which is better, her English or my French, but we talk almost exclusively in French, and our conversations are full of wordplay and confusion. I pull my clothes out of the dryer ten minutes before we're supposed to meet and I'm ten minutes late to Papineau Metro. "Je m'excuse," I tell her. "But I'm late to everything. I warned you." 
She laughs. "I was late, too. Just less late." 
We settle in for the forty-minute bus ride north to the skate park. We're going to a roller-derby game. Every pause in the conversation feels dangerous. She admits to having slept for only an hour the night before. I want to kiss her. Only a seriously deranged person would go on a first date on one hour of sleep. 
Roller-derby games, we discover, take place in an alternate universe—a giant party in the shape of an oval where everyone is friends with everyone else, even the fans from opposing sides. Between the two half-hour periods, young girls perform acrobatics with hula hoops. The whole crowd drinks Pabst Blue Ribbon. 
Neither of us knows anything about the rules, but Montreal's team, the New Skids on the Block, has Iron Wench, a smooth-skating jammeuse who seems like she might be the Gretzky of roller derby. The home squad wins by something like 250 points. When the Parisian leans against me on the bleachers, I feel like I am winning by 250 points. 
On the bus ride back, she falls asleep on my shoulder. I'm not sure how the date is going, but when we get off a strange thing happens: we are walking to her place without having to discuss it. She asks me if I'm hungry. "Yeah," I say. "Un peu." She invites me up.

Her apartment is on Champagne Street, which is a real street, somehow. It's on the third storey and has hardwood floors and there are five or six girls there, all talking in French. In the living room, we eat thin slices of toast with cream cheese. From the kitchen, someone says, "I find that capitalism is actually more violent than someone throwing a brick through a window."

She mentions that she has some rum. I think I know what she means. Rum is the secret password for not being awkward anymore. The rum is made from sugarcane. It comes from Martinique, smells like corn and is called Trois Rivières. She pours us a little too much, and mixes it with Oasis Tropical Passion. It tastes terrible but we drink it.

We wind up in her room; she pulls out some paper and we pretend to be artists, drawing each other. The apartment empties out. She pulls up a Jacques Brel song on YouTube. "Ne me quitte pas," Brel sings. He has the face of a scared ten-year-old.

As she looks for a new song, she leans on my thighs. I run my hand through her hair. The first time two shy people kiss is a cosmic miracle, a jammeuse nimbly skating through a split-second hole in a line of tough, beefy blockeuses.