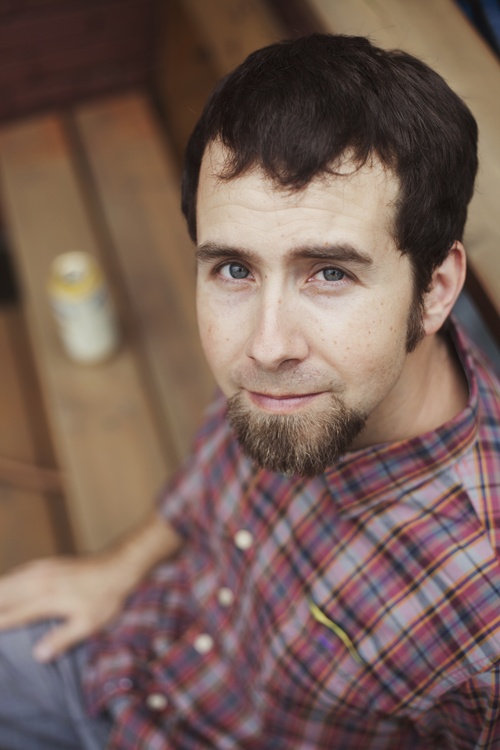 An Interview with Jeff Parker
The author on the Russian train ride that inspired his new non-fiction book Where the Bears Roam the Streets.
Jeff Parker tells a good story. You get the sense he saves them up to tell them. His language doesn't falter, his writing's got the telltale rat-tat-tat rhythm of someone who studied the plainspoken rules of journalism, which he did, another lifetime ago, as an undergrad in Florida. But it's not just that. While Parker's a natural raconteur, it's his talent for picking up the details that count and crafting them into riveting, voice-y narrative that makes his brand-new non-fiction book, Where the Bears Roam the Streets, such a great read. 

The book, which began, in 2008, as a project to document Russia's economic growth and the country's resurgence as a major global superpower, veered off course when Russia went to war with Georgia. This combined with the stock market crash of 2008 to seriously mess with Russia's boom and, consequently, Parker's project. But by then Parker had travelled from the United States to Russia to research his book. His buddy Igor, a gentleman Parker met either by or in St. Petersburg's Neva River in 1999, suggested, since Parker's plans had fallen through, that the two take a train from Petersburg to the south of Russia, to visit Igor's uncle, his long lost father's identical twin brother. (Of course he was.) On that epic train ride, between bribing cops, enduring Igor's deafening snores and trailing pyjama-clad hustlers to the samovars in the train's dining cart, Parker's book found its legs. Where the Bears Roam the Streets is not just a story about Russia. It's the story of a rich, if unlikely, friendship. It's the story of man named Igor.
Melissa Bull: You began travelling to Russia initially because of your work as the program director of Summer Literary Seminars (SLS), an international literary organization that was mostly based in St. Petersburg from 1999-2008. But you kept going back to Russia, even after the program stopped having a branch there. What was the country's appeal for you?
Jeff Parker: I just didn't understand it. I didn't understand how it worked. In the book I talk about the mystification of trying to figure out how to stand in line, about just trying to figure out how to walk down the street. There were just some rules governing the place that didn't make sense to me. And in the background of all that, I love Gogol; I love Dostoyevsky. So I was also attracted to this strange place I knew in fiction. 
Bull: I think the thing you manage to do very well with Where the Bears Roam the Streets is to make very personal anecdotes echo a larger political picture. The book is particular, and funny, but it's not just that. 
Jeff Parker: The biggest struggle in structuring the book was figuring out a way that Igor's story was told in a manner that was constantly reflecting the larger issues, and the bigger story of Russia in the past twenty years. The whole shape of the book is primarily a response to that question. If it was a novel, if I was free to take it wherever, it would have been a very differently-shaped book. But basically the answer to the question was essentially to make it a chronological trip narrative that covers our travels in the summer of 2009 in the middle of the global economic crisis and to sort of intercut that with all the other material. 
Bull: Were you worried at all that the narrative was too focused on Igor? 
Parker: No, the thing people were most interested in all along was the Igor story. Because there are a lot of good "Russia books" and documentaries that do this little person big picture thing, so I was hoping that this book would be a kind of less perfect example of that. Igor isn't some kind of everyman. He's this particular dude with this particular set of experiences. They happen to be representative of a lot of people's experiences. But at the same time they're really his own, and he's kind of a special fellow. I was really trying to tell his story, but one of the things that you map onto very quickly is that his story is very much a bro story. So one of the things I was thinking a lot about was the female experience of Russia over the past twenty years and it just so happened that his relationship struggles and writing about those lead me right down the path to talking about some of the things that I wanted to talk about. And not only his relationship struggles… he had issues of physical abuse in his childhood… he was kind of made by these things that led me to those other stories. 
Bull: Where the Bears Roam the Streets is sort of a combination of being an anthropologist-y type of deal and a very affectionate gesture to a friendship. Would you say that this book is a big hommage to your friendship with Igor?
Parker: That was the story I was trying to tell, the story of that friendship. It's the story of this unlikely friendship between two idiots who grew up on opposing sides of the Cold War. I travelled to Russia in 1999 for the first time—it was the first time I ever left the U.S. 
Bull: And this was for SLS? 
Parker: Yeah. So I went over there and I met all those writers. Like I remember this conversation I had with this crazy poet, Dimitry Golenko Wolfson, and he said, "I'm trying to write texts that cannot be consumed as products." And that blew my mind because I had just come out of an MFA program where everyone was actively trying to write books that they could sell to Random House. But the most important person I met there was Igor. It felt like all the intellectuals and artists I was meeting were taking their experience in Russia apart and thinking about it and writing about it. But Igor was living it. And he became the most fascinating person to me because he was living this experience everyone else I knew was deconstructing. So I just started watching him and interacting with him, and it just so happened that we hit it off as buddies, too.
Bull: Some of the moments you describe are just so specific that you'd have to have invented them if you hadn't written them down as they were happening, for instance at one point you say that Igor fell asleep at 8:38... so at a certain point you must have decided to start paying very close attention to what was going on around you. You must have started taking pretty copious notes.
Parker: I kept trying to write about Russia and nothing was really working. I started to intuit that if I was going to write about Russia I had to write about Igor. So I was taking notes here and there but then in 2008 that I started working on the book and then I always had a notebook. Sweaty, in the banya, covered in birch leaves with a notebook—
Bull: Ha! I never went to the banya when I was in Russia for SLS in 2007. But everyone came out of there looking very tired and very pink, I remember… So it's Ee-gor, not Eye-gor, right?
Parker: It's Ee-gor, yeah. Like Frankenstein.
Bull: Like in Little Shop of Horrors—"Feed me Igor…" At what point did you tell Igor you were writing about him? 
Parker: He knew I was writing a book; I told him right up front. And I published a piece about Igor and the banya in the Walrus. Some publishers contacted me about turning that piece into a book. But the idea was that I was going there to write a book about Russia's resurgence as a major global superpower and it was sort of the ego boost that translated all the way down to the man on the street from that. 
Bull: And then from there how did you happen on the trip narrative? Was that always the plan?
Parker: As soon as I got there the war in Georgia started and then the global economic crisis kicked in. I was basically flailing around for what the story was, and in the middle of that I started getting divorced. Igor lost his job. So I show up there in late May of 2009, he's unemployed; I'm totally distraught. I don't know what the book's about. It's unclear if Russia's about to collapse right in front of us… Igor knew I was writing a book and he was just like, "Let's go, I have an uncle in the south, let's go down there." I said, "Alright, let's go." And that was when it started to become a travel book. Before that I didn't know exactly what it was going to be. There are so many interviews I cut out of the book, so many great interviews with animal rights activists and LGBT activists and like all these really interesting people, politicians and artists—it all got left on the cutting room floor because the book became an Igor book.
Bull: How did your writing the book affect your interactions with Igor?
Parker: I think he really began to think of himself in a different way. We would be on the train and sitting in the banya and I would just be grilling him about his life, like detail by detail.
Bull: You ask Igor some very intense, meaning-of-life types of questions. What was the big one? What is your greatest sorrow?
Parker: What is your greatest fear.
Bull: I don't know if I could answer that question. Igor's answer is "loneliness," right? It's a good answer.
Parker: Yeah. It was really interesting and unexpected for both of us. 
Bull: Prior to writing this book, you've published a lot of fiction. Did you feel like this work was touching on your journalism background? Or would you say that your fiction is the true-to-life kind and that the process of writing this was close to that?
Parker: I was a crappy journalist for a while before I escaped that world. But all the fiction I've written has been stuff that was close to me. So in that sense, the process wasn't completely foreign. Though it is a very different problem. Because basically when if I'm writing fiction that's close to my life I'm just looking for the opportunities to explode the fiction. And in this book it was really more about looking for a story to come together in a way that kind of makes sense, that does the things stories need to do. So that was tricky. But luckily we kept bumping into those markers of Russian life: We kept getting in trouble with the cops, we kept running right smack into corruption.
Bull: Bribery comes up a lot in the book. It seems so prevalent, so obvious, so out in the open, which was surprising to me, Canadian that I am. I was like, "This is outlandish that you can do this?!"
Parker: It is strange for us, who come from these ordered civilizations where bribery isn't a frequent, day-to-day activity.
Bull: I don't think I've ever bribed anyone! George Saunders said of your novel, Ovenman,  "Jeff Parker is a writer who understands that voice is the doorway to all true beauty in fiction." Did Igor become that language appeal, that voice-y character for you with this new book?
Parker: Exactly, yeah, he did. And the thing about him that enabled him to be the hero or the anti-hero or whatever you want to call it about this book is that Igor is sort of a language savant. Because he's a barman and he basically learned his English chatting up foreigners behind the bar. And he's so much more natural that any language student. He just really has a nice feel for language and that enables him to communicate things he's seeing or feeling or hearing in profound ways, I think.
Bull: I was just in Russia that one time, but reading your book reminded me of all these crazy situations I found myself in when I was there that I had completely forgotten, like how difficult it was to haggle for bananas, or how waiters once cleaned my table with a dust-buster at a restaurant. And I really loved this scene where you guys are on the train and everyone is in their pyjamas suddenly. 
Parker: The train is its own culture. After a while you realize that it's a sleeper train and everyone's just getting comfortable but it's kind of a weird moment when you get on and all of a sudden everyone starts changing into their pyjamas. And they're wandering down the hall, and the men are barely dressed and the women are wearing nightgowns, the train attendant's doing this weird thing where she's covering the carpet of the corridor in a sheet that she'll like change and wash halfway through.
Bull: Do you feel as though you were always coming home with stories about Russia to tell people and finally you put them all in one place?
Parker: Yeah, it's definitely a nice vestibule of memories for me. But maybe even more than those crazy little memories that Igor and I share, from the cops shooting a hole in the wall of the banya to just being in a pool hall late at night with all those gangsters, one of my favourite chapters in the book is a story he told me about going to the UK. Igor thought he was going there for an internship at a cereal manufacturing company in a Western nation. And he even thought in the back of his mind that might stay there, you know—when he arrived there this guy he worked with offered to get him a passport for 500 Euros and he could stay. But he ended up getting exploited there and he really hated it. He made Muesli cereal for a month and he couldn't wait to get out of there. So much so that when he was leaving he bought a little towel with the flag of the Union Jack on it so that he could wipe his ass on it when he got home. It seems like a funny story on the surface, but you don't have to dig too deep to see the the confluences with the standard narratives of the time. Women were leaving the country in masses to marry foreigners, for instance. And that was his way out, the cereal. But it didn't work. 
Bull: So what does Igor think of the fact that someone wrote a book about him?
Parker: He was intrigued by the notion of being the subject of a book. There's one quote in there where he says, "I never knew I had an interesting life until I told it to you."
Jeff Parker's most recent book is Where Bears Roam the Streets: A Russian Journal (Harper Collins Canada). He is the author of the novel Ovenman (Tin House), and the short story collection The Taste of Penny (Dzanc). He co-edited the anthologies Rasskazy: New Fiction from a New Russia (Tin House) and Amerika: Russian Writers View the United States (Dalkey Archive). He also co-translated the novel Sankya (Dzanc) by Zakhar Prilepin from the Russian. He is the Director of the DISQUIET International Literary Program in Lisbon, and he teaches in the MFA program at the University of Massachusetts Amherst.
Where the Bears Roam the Streets launches in Montreal Saturday, June 14, 2014 at 7 p.m. at Drawn and Quarterly (211 Bernard Ouest). 
Follow Jeff Parker on Twitter @oparkero. 
Follow Melissa Bull on Twitter @melissabullet.