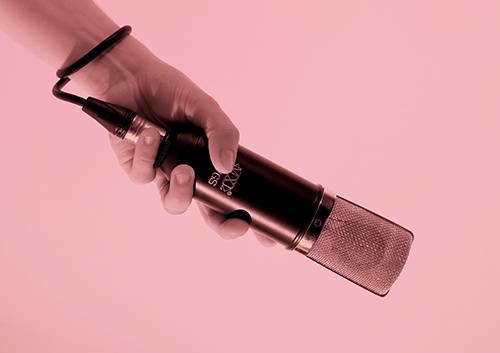 Photograph by Raphael Oullet.
Mic Drop
Festivals are being heralded as the savior of the music industry. But as Miranda Campbell writes, there's one big problem: women are being left out of the spotlight.
ONE WEEKEND LAST SUMMER, 135,000 people arrived at Parc Jean-Drapeau in Montreal to watch some of the biggest musical acts in the world. As Osheaga's headliners—including the Black Keys, Weezer, and Of Monsters and Men—took the stage, thousands of men and women of all nationalities, languages and ages gathered together, euphoric, to listen. On the final night, a man in a wheelchair crowd-surfed to the front of the audience during the Edward Sharpe and the Magnetic Zeros set, and was helped onto the stage by security. All through the August long weekend, Osheaga appeared to represent the pinnacle of a summer festival: great music, great people and great weather, culminating in innumerable perfect experiences.
But look closer, and things weren't so harmonious. Rapper Action Bronson, known for his misogynistic and violent lyrics in songs like "Consensual Rape," was initially booked as a headliner. Soon after, twenty thousand people signed a petition asking the festival to pull his spot, but the organizers didn't budge. Action Bronson eventually cancelled of his own accord, citing "travel issues." Over at the electronic stage, Indigenous powerhouse trio A Tribe Called Red closed out the first day of the festival with visuals spotlighting racist portrayals of Indigenous people in popular culture. Before they started their set at 10 pm, only two other people of colour had graced the Piknic Électronik stage that day. Maybe the most striking thing about Osheaga, though, was how unnaturally male it was.
Granted, the festival featured a number of standout female artists, including FKA Twigs, St. Vincent, and Florence and the Machine. But aside from this small handful of heavyweights, most of the bands that included women were clustered on the smaller stages—and only 28 percent of the total acts included any women at all.
Last year, 60 percent of Osheaga's attendees were female. But simply attracting a large percentage of women ticket holders doesn't create a female-friendly space. During Kendrick Lamar's set, camera operators turned their gaze to women in the crowd, flashing the image of a topless concert-goer. This seemingly encouraged a second woman to flash her breasts when the camera turned her way. The operator then circulated back to this second woman again and again throughout the show, though she remained covered up. These kind of babe-cam antics create clear dividing lines between performers and spectators: men are artists who belong onstage, and women belong in the crowd as spectators and sexual objects. It may not be as severe as the multiple sexual assaults at Woodstock '99, including when Limp Bizkit frontman Fred Durst incited the crowd to release their anger, but it hardly creates an atmosphere where women feel encouraged or inspired to make their own art or imagine themselves centre stage.
As summer festivals become increasingly big business, the discrepancy between the number of men and women artists booked is increasingly important. Album sales have been dipping, going from 29.3 million units sold in Canada in 2013 to 27.8 the following year, but concert revenues are up. A 2015 report from Music Canada estimated that festivals in Ontario alone earned $430 million in revenues in 2013; it also noted that increasing demand has led to an explosion of new festivals in Toronto over the past five years, including OVO Fest, Field Trip, Boots and Hearts, Bestival and WayHome. In an industry still scrambling to figure out how to get fans to pay for content, live music is being heralded as a saviour.
It is important to pay attention, though, to who is getting the spotlight and who is being forgotten. Last year, music blog Crack in the Road mocked up what the United Kingdom's Reading and Leeds festival posters would look like if they only showed the acts that included women. The posters went from listing more than eighty acts down to nine.
Little has changed in the last year. Osheaga 2016 has improved slightly—35 percent of its acts will feature at least one woman—but a significant shift towards gender parity is yet to happen. If Prime Minister Justin Trudeau can simply declare "it's 2015" to explain why he appointed a balanced cabinet—one that also included healthy representation from minorities and people of colour—why can't music festival programmers do the same?
CASUAL MUSIC FANS may be under the impression that there simply aren't enough women musicians to fill out the festival circuit. After all, last year there were 173 men splashed across the ninety covers of Rolling Stone, Billboard, Mojo and Q magazines. At the same time, only thirty-four women were featured. And the problem persists when it comes to critical acclaim. The 2016 Juno Awards nominees for artist of the year, album of the year, rock album of the year and rap recording of the year were all men—spurring Stars singer Amy Millan to create the hashtag #JunosSoMale.
Maud Salvi, executive director of Calgary's Sled Island Music and Arts Festival, describes the issue of gender imbalance in Canada's music scene as something of a feedback loop. She says that women aren't encouraged to play music the same way men are; consequently, women receive fewer opportunities to develop their careers. "[This] result[s] in male musicians becoming more famous and then more profitable, having larger audiences," she says. "All of this feeds itself."
While gender imbalance is clearly visible on stage, it's just as present behind the scenes. When attending festivals as a talent buyer to scout artists, Salvi is often one of the few women in her delegations. The same goes for the booking agents who pitch her bands: Salvi sees about one female agent for every five males.
The issue goes beyond stats and ratios. In a 2015 study of gender in creative industries, David Hesmondhalgh and Sarah Baker found that not only are there fewer women than men employed in the field, but the type of work is also gender segregated: men tend to occupy more prestigious roles, like director and producer, while women are assigned more routine work that requires "consensual and caring communication and coordination."
According to Evan Dubinsky, programming consultant for Pop Montreal, a historical lack of diversity at all levels of the music industry is what leads to a lack of women being promoted as performers. "It's like the Academy Awards," he says. "[The root cause] happens years earlier when people are reading scripts and they're green-lighting movies and deciding what actors and actresses to cast. It doesn't start or end at the Oscars."
Dubinsky notes that the cash-strapped music industry is averse to change, and artists who are similar to previously bankable stars are seen as safer bets. When something like the festival circuit is running smoothly, bringing in significant revenue, why add risk? This line of thinking is visible in the homogenous lineups that travel from city to city each summer. This year's Osheaga and WayHome lineups feature twenty-eight identical acts, for example—that's about a quarter of Osheaga and more than a third of WayHome's total performers.
This situation makes it difficult for up-and-coming artists who could use the exposure to get to the next level of their careers. It's also bad for fans, who just get more of the same. Over time, this focus on safe bets can lead to audience fatigue. Besides, as Dubinsky points out, there are no real safe bets in the volatile music business anyway.
INCREASINGLY, MUSICIANS THEMSELVES are working to improve representation in the music industry. I first met April Aliermo when she was working the door at an all-ages show called C.R.E.A.M. that she organized during Toronto's NXNE music festival last year. When I arrived, Hataw, a Filipino dance troupe made of up young women reinterpreting traditional styles, was busting their moves on the floor. Aliermo's lineup ranged from indie rock to punk to traditional Filipino music, and each act had female performers. The mix of people of colour, women and men seemed effortless, natural and welcome.
C.R.E.A.M.'s mix of diversity and styles made the show feel different from much of the rest of the programming I took in during NXNE. The title of Aliermo's showcase, a reference to a Wu-Tang Clan track ("Cash rules everything around me,") was pretty tongue-in-cheek, considering the door was pay-what-you-can and it's unlikely that Aliermo or the performers left with heaps of money.
Aliermo started playing bass in the Toronto band Hooded Fang in 2007 and has continued with her main creative partner, Daniel Lee, to form other groups, including Phèdre and Tonkapuma. Throughout her career, Aliermo has worked to prioritize diversity. "As a Filipino woman, representation is a really important aspect for me in art and in music and in everything because there's this dominant culture in all forms of media of straight white men," she says.
Aliermo also calls out this dominant straight, white male culture when necessary. In September 2015, she wrote an article for Exclaim! magazine criticizing Calgary indie rock band Viet Cong for its name choice. She outlined the still-vivid history of terror wrought by the Viet Cong in Vietnam, highlighting the contentious nature of four white men who have no socio-political connection to the trauma bandying the name around because they thought the Viet Cong were "bad asses." Aliermo's article went viral, leading to protests at Viet Cong shows, and the band later announced that they would change their name (it took members seven months to announce that they would be going by the name Preoccupations going forward).
While Aliermo says that it is great that diversity is increasingly on the public's radar, sustaining these conversations takes time and energy—it is uncompensated work that often falls to women and people of colour. "I still have a certain level of patience, and I'm a kindergarten teacher by training, but I don't want to do this," Aliermo says. "Like everybody else, I just want to sit in the studio and write and go on tour. I don't really want to be a spokesperson but I happen to be implicated."
THE MUSIC SCENE is just as white as it is male. Non-white artists, when they manage to break through, are often encouraged to embody racial stereotypes that are understandable to the dominant culture. When Alanna Stuart was coming up in the 1990s Canadian R&B scene, she says that her managers coached her to rid her mannerisms of anything that could be perceived as white. "My accent, my name, my image, everything was constructed to be perceived as Black American as possible," she says. This limited way of perceiving artists of colour goes back to the heart of the problem of who is seen as marketable and in what kind of way: what's seen as a safer bet and what's seen as risky. Today, with her band Bonjay—named for an expression meaning "good god" in her mother's native Grenada—Stuart is committed to blending and reinterpreting different genres and sounds, working with dancehall reggae, UK bass, indie and classic soul music.
While the weak Canadian dollar has translated into more local artists being booked at festivals in 2016, Stuart describes the lineups as "still pretty monochromatic"—she wonders what Canadian music festival posters would look like if every all-white act was removed.
Though she wants to see more artists of colour promoted, Stuart also says that it's equally important to move past the pitfalls of tokenism, where artists other than white men are included in lineups for the sake of ticking off a box. Rather, she argues that it's necessary to rethink the music system as a whole in order to develop a "healthy ecosystem" that promotes different ways of expressing art and music through diversity, rather than considering diversity an afterthought.
There are reasons to be optimistic. In February, Stuart organized a panel to discuss Black Canadian culture. During the panel, she noted that there is now more creative freedom for Black artists to express themselves on their own terms instead of being forced to market themselves to fit specific ideas. "It feels like we're at many arrival points where we feel empowered and enabled not to become a new version of ourselves, but put a full version of ourselves out there," Stuart said. The next step is to translate these full versions into full visibility and equal opportunities in the music industry.
DESPITE THEIR FLAWS, MUSIC FESTIVALS still offer one of the best opportunities for women and artists of colour to turn playing music into a sustainable career. In addition to providing more cash than typical shows (Dubinsky says that major festival headliners can sometimes pocket $500,000 or more), festivals also offer more exposure to large audiences. Knowing this, many festival organizers want to feature diverse acts, but remain wary of operating on a quota system.
Dan Seligman, creative director of Pop Montreal, says that he tries to build eclectic and diverse genres into the festival programming, suggesting that the festival would be boring if it only featured "one kind of music that looked and sounded the same." But he doesn't want to approach diversity with concrete requirements in mind. Instead, Seligman tries to create a culture at Pop Montreal where festival staff—everyone from interns to accountants to publicists—feels like they have a stake in the programming. Seligman says he encourages his staff to pitch ideas, broadening the list of potential acts beyond his own tastes.
Like Seligman, Salvi at Sled Island is hesitant about the idea of set quotas. At the same time, diversity forms part of what Salvi considers when she's cultivating her lineup. Working with festival manager Shawn Petsche, Salvi assembles a wish list of artists whom she admires and thinks would be a good fit for the festival. Once she starts booking artists from this list, Salvi reflects on how the mix is shaping up. "If it's still really imbalanced, we're definitely going to be like, 'How about we focus on female musicians and start to even things out?'" she says.
Still, Salvi emphasizes that music comes first—besides, no female artist would want to be booked just because she's a woman. "It shouldn't have to be because you want to fill a quota. But let's say we only have one spot for two artists that we like equally, if we're lacking woman representation, we're going to go for the woman," she says. Salvi says that the 2016 incarnation of the festival is the best it has ever been at working towards gender balance, with 42 percent of bands including female or gender non-conforming members. But, she says, there is still work to be done to get to a more even split.
It's difficult to say whether the public debate on gender diversity in music has led to changes. In 2015, only five out of twenty-eight acts at Ontario's Field Trip included female-identified or gender non-conforming members. This year, that number is more than half. But Aaron Miller, programming co-director of the festival, says that staff didn't specifically set out to promote women artists or choose acts based on a performer's gender. Rather, he says that the increased female presence in the lineup simply reflects that there are many great women touring and putting out records this year. "That ebbs and flows like everything else," he says. Miller explains that while Field Trip's programming always takes diversity into account, it comes down to grappling with the greater logistics of the music industry: "[It means looking at] who's on cycle, in terms of who's releasing music, who's available and is not elsewhere, who you can afford, who isn't on another competing festival," he explains.
IN HER ESSAY "PANDORA'S BOX AND THE VOLUNTEER POLICE FORCE," Rebecca Solnit comments on the long and ongoing work of feminism, and the tendency to discount this work when complete change has not been achieved. "It takes time. There are milestones, but so many people are travelling along [the] road at their own pace, and some come along later, and others are trying to stop everyone's who's moving forward, and a few are marching backward or are confused about what direction they should go in," she writes. Solnit argues that progress can be messy and non-linear, but once Pandora's Box is open, it stays open.
The Canadian music scene is now in this messy phase and issues of diversity are increasingly being discussed. While recognizing diversity, both in theory and in practice, is the inevitable destination, the road forward hasn't yet been completely paved.
Every Wednesday this past winter, I met with some of the future leaders of the arts world. For these young men and women—students in my creative industries seminar at Ryerson University—the importance of inclusion and equity in music and the arts isn't a question, it's simply the way things need to be. Whether it was discussing Coachella's and other music festivals' decisions to ban the wearing of Indigenous headdresses (students were unanimously on board) or European fashion house Kokon to Zai repurposing a traditional Inuit design in its product line (students were unanimously opposed), ethically engaging with and promoting diversity is a top priority when dealing with the business of art, at least for these youth.
Pop Montreal consultant Dubinsky says that many major well-established Canadian festivals are booked by people in their forties and fifties, and their way of thinking differs from the next generation coming up. "In the next five to ten years, those festival bookers are going to be people between twenty-five and thirty-five who grew up in an era where diversity was the most important thing," he says. As this new generation of men and women move into the top jobs, their intention to create change will possibly shift the whole field. But rather than just waiting for this change to materialize, music lovers need to continue demanding something more.