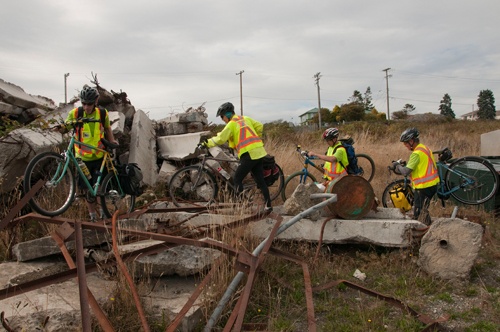 Photography by Matthew Powell.
Shake, Rattle, Roll
Andrea Bennett on the part cyclists will play in disaster relief after the Really Big One hits the Pacific Northwest.
On September 4, 2010, at 4:35am, a massive earthquake struck the South Island of New Zealand. The city of Christchurch underwent widespread damage: drinking water ran short, three quarters of the city lost power, buildings collapsed, roads cracked and storm drains heaved upwards. In one neighbourhood, the wastewater network failed, sending untreated sewage directly into a local river. Several major aftershocks followed, including one the following February that reached a magnitude of 6.3 and resulted in 185 deaths.
On the other side of the globe, in Victoria, BC—considered analogous to Christchurch in its building stock and earthquake risk—emergency management personnel took note. Rob Johns, then the Emergency Coordinator for Victoria Ready (Victoria's emergency management agency), travelled to New Zealand to witness the devastation firsthand. 
Johns had also visited Louisiana and Mississippi following Hurricane Katrina. In Christchurch, he noted that transportation systems, particularly on the first day or two of an emergency event, were often overloaded and damaged. "I started to think about other ways that we here in Victoria could move information and small equipment around the city," he says. 
As one of the thousands of Victorians who commute to work by bicycle every day—the city has the highest proportion of bike commuters in the country—Johns landed on a novel solution. He decided to explore how citizens could use their everyday, ordinary bicycles in post-disaster, specifically post-earthquake, situations. Overcrowded roads, split by cracks and flooded by broken water mains, could be navigated more nimbly by bike; bicycles could be used to haul food, water and emergency supplies; and cyclists could spread information where telecom networks had failed. 
South of the border, cyclists in Portland had started a grassroots initiative called the Disaster Relief Trials, described on their website as "a disaster drill in the form of a cargo bike competition." In July 2013, the City of Victoria tested the concept out for themselves. Joining forces with the Greater Victoria Cycling Coalition, they held the Tour de Disaster—part cycling rally, part disaster-training exercise. The inaugural tour welcomed thirty-nine cyclists. The top three finishers took just under two hours to complete a course that included wayfinding, hauling heavy cargo and successfully transporting two uncooked eggs. After the success of the first Tour de Disaster, Johns founded the city's Cyclist Response team (CRT) and held follow-up Tours in 2014 and 2015. In 2016, the CRT decided to run a closed course. I was granted permission to observe as a journalist. 
On a chilly morning last September, we convened just outside the Urban Search and Rescue Team's locked and gated training ground, located on Canadian Forces Base Esquimalt near MacAuley Point. The morning's thick, cold fog was beginning to dissipate, and just across Victoria's Inner Harbour, crowds were beginning to trickle onto the lawn of the Parliament building in anticipation of a visit from the Duke and Duchess of Cambridge. As we waited for the keyholder, Emergency Programs Specialist Jowett Wong, to arrive, I looked up Victoria's Earthquake Hazard map on my phone: we were standing between an area of moderate-to-high amplification hazard (an area where the topography "amplifies" the shaking) and an area of high slope hazard (prone to landslides). And if a tsunami hit, we'd be dangerously close to a wave that would wash away the visible shoreline.  
After Wong arrived, Sarah Hunn, who now leads the CRT, gave a short safety talk. Realizing the teams were one person short, she handed me a bright-yellow high-visibility vest, and I suddenly became a participant. 
There's a one in three chance that Victoria will experience a damaging earthquake sometime over the next fifty years. This stat can be broken down further: there's about a 10 to 15 percent chance that the Cascadia subduction zone megathrust earthquake—the Really Big One—will hit, and about a 20 percent chance that a damaging shallow crustal (on a fault line close enough to the surface to cause problems) or in-slab (deeper-down) earthquake will occur. The key word is "damaging": earthquakes happen all the time along the BC coast, and, in fact, across Canada. According to John Cassidy, the Head of Earthquake Seismology at the Geological Survey of Canada, 1,295 earthquakes occurred in Southwestern BC in 2016 alone—though only six could be felt by local populations. Most of these took place offshore, but others happened beneath Vancouver Island, the Georgia Strait and the Lower Mainland. 
In February 2001, an in-slab 6.8-magnitude earthquake hit the Puget Sound region, causing $2 billion worth of damage, injuring 400 people, closing two bridges, and mangling the air-traffic control tower at SeaTac airport. In 1946, a shallow crustal earthquake rocked the Courtenay/Comox area of Vancouver Island; two people died—one drowned after a wave consumed his dinghy—and damage, including road slumps, broken glass and crumbled brick chimneys, was extensive.  
But the last Cascadia megathrust earthquake took place much, much longer ago. Tom Happynook, the head Hereditary Whaling Chief of the Huu-ay-aht First Nations, recounted in a 2014 ShakeOut BC documentary that knowledge of this earthquake and its resultant tsunami has been passed down through the generations. First Nations settlements along the west coast of Vancouver Island were hit; one, with an estimated ten longhouses and five hundred inhabitants, was completely wiped out. "After the tsunami happened," Happynook said, "the tribes checked on each other to see what kind of damage [it] had done. When they got out to Anacla, they realized that there were no survivors. Nothing was left."
Indigenous oral history is backed up by the research of a Japanese seismologist named Kenji Satake. Japanese written records, including merchant logs and the accounts of military men and villagers, documented an "orphan tsunami"—a wave not preceded by shaking—that inundated sections of the eastern coast of Japan. One account, written by a village headman in Miho, recalls seven powerful waves, each with "the speed of a big river," inundating the shoreline between dawn and late morning. Linking these records with work done by paleogeologists, Satake produced a precise date for the last megathrust earthquake, which correlated with Indigenous oral history: January 26, 1700.
When the Really Big One struck in 1700, at an estimated magnitude of 9.0, it wrought havoc in Japan, and on a 1,100-kilometre stretch from the northern tip of Vancouver Island all the way down to northern California. The next time it strikes at that magnitude that same region will—as Kathryn Schulz detailed in her Pulitzer-prize-winning New Yorker article—"suffer the worst natural disaster in the history of North America." According to Schultz's math, these subduction zone earthquakes occur every 243 years, meaning we're currently overdue.
In the US, FEMA projects nearly thirteen thousand resultant deaths, twenty-seven thousand injuries and one million displaced residents when the Really Big One hits. In British Columbia, the provincial government has modeled worst-case casualty scenarios for Vancouver and Victoria based on projected shallow crustal earthquakes—not the Really Big One—at 7.3 and 7.0 magnitude, respectively. "First responders and medical facilities will be overwhelmed," warns the province's 2015 Earthquake Response Plan. In Metro Vancouver, the province predicts just under ten thousand dead and 128,000 injured; in Victoria's Capital Regional District, over 1,400 dead and over 18,000 injured.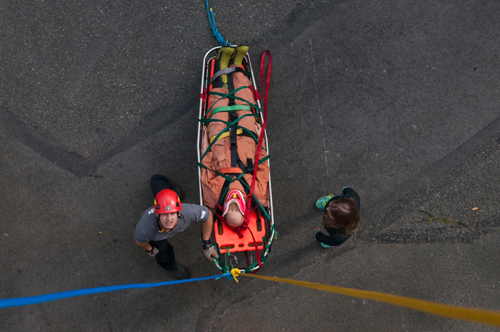 Sarah Hunn, Victoria's Cyclist Response Team Lead, designed our day's activities to mirror what the CRT would be doing after a major earthquake hit Victoria. She explained that participants would be completing a series of tasks, one by one, including visiting two of the city's sea canisters to pick up survival materials; completing a neighbourhood damage assessment; trying out some first aid and rope techniques with the Urban Search and Rescue team; and navigating an obstacle course. Hunn also explained that while the past year's Tour de Disasters had been timed, solo rallies, this year's would consist of two teams of four, working together. "We're never going to send a volunteer off by themselves," she'd told me in an earlier interview. "So we want to practice our team-building." 
About forty-five minutes after I donned my safety vest and cycled across the city with my new CRT teammates, I found myself sandwiched between Matthew Powell, our team lead, and Brent Woods, a military veteran. Together, using ropes and pulleys, we hauled a two-hundred-pound mannequin two stories up an open-air fire tower. 
Clustered together on the steps of the tower, Powell, Woods and I pulled rhythmically against the winch until the peach-coloured head of the mannequin came into view at the edge of the tower's platform. "Hold!" hollered Simon, the search-and-rescue expert leading the exercise. Our mannequin had gotten stuck just under the lip of the platform. 
In the excitement and exertion of this challenge, it was easy to forget that the no-necked plastic dummy was meant to represent a person—one who needed to be lifted up and out of danger after an earthquake had rocked the city. Twenty minutes prior, we'd learned how to strap him down to an orange C-spine board—the flat, oblong immobilization tool you see in swimming and first aid classes—and then secure him into the basket, diamond-lashing green webbing from his boots up to chest. ("He's going to be unconscious," Simon told us, "because that's really so much easier to work with.") 
Directly across the street from us, visible from our perch, was an auto shop, a bath and kitchen store, and the Bay Street Armoury. I tried to picture what it would be like if the tower, and the city around it, started to shake: sections of the armoury's castlegated roof cracking and tumbling to the ground below, traffic grinding to a halt, pedestrians looking for cover. I tried, but it didn't seem possible. Our manmade environment seemed permanent, infallible. 
Eventually, Simon and a teammate, with the help of another search-and-rescue person on the ground, loosened our unconscious survivor from where he'd gotten stuck under the platform, and repositioned the basket so that we could haul him over the guardrail at the side of the tower. As Simon debriefed us—we'd done a good job, if a bit herky-jerky on the rope at times—the mannequin lay in repose, his coveralls and yellow rainboots intact. 
In the opening scene of 10.5, a cheesy 2004 action movie, a mountain biker speeds wobbily down a Seattle sidewalk as a newspaper delivery man sets out the morning papers. Moments later, the newspaper boxes begin to shake open. Sirens go off. The music shifts abruptly. The cyclist is now navigating rapidly heaving, yawning-open concrete, looking behind himself in disbelief. Cut to the earthquake command centre, where handsome nerds in khaki estimate the strength of the quake on the Richter scale. "6.5," yells one scientist. "6.8!" The cyclist narrowly avoids a fire hydrant burst violently from its base, and two cars collide. The earthquake hits 7.4; the cyclist avoids getting crushed by a falling sign, hops a car, navigates some more heaving, steaming cement. He powers through collapsing construction scaffolding and up a flight of stairs; he adjusts his sunglasses and watches as a utility pole falls over, sparking, and crushes an older man's car. He has come to a stop directly underneath the Space Needle, which, of course, starts to crumble under pressure. He steals glances over his shoulder as he pedals, hard, out from under its shadow. Will he make it? (He will not.)
When San Andreas came out in 2015, Alison Bird, an earthquake seismologist with the Geological Survey of Canada, went to see it in theatres with colleagues. Like 10.5, it portrayed a wholly unrealistic earthquake scenario. "The Cascadia megathrust earthquake is going to be bad enough," she says. "They didn't need to make it worse." 
In the megathrust earthquake, says Bird, Victoria will experience about three to five minutes of strong shaking, and a tsunami will be produced mid-ocean somewhere between British Columbia and Northern California. "It's the vertical motion of the ocean floor which generates the tsunami," Bird says, "and that pushes that whole water column—it's a significant amount of water, an incredible amount of water—up, and that ripples out, both across the Pacific Ocean and towards our coastline." 
A tsunami probably doesn't look the way you think it will. Perhaps you picture something like Katsushika Hokusai's painting "Under the Wave off Kanagawa"—a massive curl of water, its crest like fingers reaching for the shore. From interviewing earthquake geologists and watching footage of the 2011 earthquake in Japan, I've learned that, in reality, it's not the height but the force that is incredible; it looks as if the entirety of the sea is being pushed sideways, chewing through boats and cars, moving with the thick energy of a mudslide rather than the methodical crest, crash and relief of normal surf. 
After the megathrust earthquake, the first wave to hit Canada will inundate areas like Ucluelet and Tofino, fifteen to twenty minutes after shaking begins; Victoria will see its first wave about an hour after that. Power will go out; cell towers and internet will be down; the city will be without running water and sewage for as long as two to three weeks. Older gas lines could rupture and ignite. Almost one-fifth of the city's buildings could receive extensive damage. Soft ground under roadways may buckle, leaving major roads damaged and out of service, or only partially functional, for weeks or even months.  
Though a shallow crustal earthquake could cause just as much—or more—damage as the megathrust earthquake in Victoria, seismologists such as Cassidy and Bird consider the megathrust earthquake Southwestern BC's overall worst-case scenario. Following both kinds of earthquake, aftershocks will continue to rock the region in the following days, weeks, months and years, but it's the megathrust earthquake that will cause widespread, catastrophic tsunami waves, and burgeoning science posits that the megathrust earthquake could even trigger subsequent shallow-crust earthquakes along fault lines. 
Moreover, as Bird points out, when the Really Big One hits, we won't be able to rely on nearby communities and cities to ship in their disaster response personnel for support. "The fact that it impacts the States means that we can't rely on them for assistance," Bird says. "We're really on our own." 
Alex Page was five and half when the Loma Prieta earthquake struck California in 1989. Page, who lived in Santa Cruz, had just ridden his bike home from school and was sitting in front of the TV watching cartoons when the screen went black. "Moments later," he says, "the rumbling began." Page's house began to shake; shelves cleared themselves of jars, teapots and ceramics, which smashed on the floor around him. As he ran for safety, Page's sister joined him, wrapped in a towel—she'd just gotten out of the shower. 
The Loma Prieta flattened buildings, triggered landslides, and killed sixty-three people. Page's family, worried about the structural integrity of their home, slept outside for several days. Page's father, who worked downtown in a brick building he owned, was never permanently allowed back into his third-storey corner office. Instead, it was fenced off and inhabited by squatters, and it eventually burned down. When his family finally began sleeping indoors, Page was terrified, and slept in the doorway of his parents' room for weeks.
For Page, the earthquake was a landmark event. The downtown Santa Cruz of his childhood is populated with abandoned buildings, open lots, ruins and construction; the earthquake entered the "collective consciousness" of his city, shaping the community for decades. 
Years later, while earning a master's degree in community and regional planning at the University of Oregon, Page felt his experiences and interests colliding—he decided to focus his thesis on the Disaster Relief Trials and, more broadly, how cargo bikes had been used in communities struck by natural disasters. 
In one example, Page found a zine that included a first-hand account from the 1995 Great Hanshin Quake in Japan. Richard Masoner, who worked for a telecommunications company, joined the company's crisis management response team and was dispatched from Tokyo to Osaka. The team used heavy-duty cargo bicycles to travel in and out of earthquake epicentres. 
"The cargo bikes saved us four days' travel… because we could traverse the narrow streets, use the footpaths, and bypass obstructions, debris and obvious danger zones," Masoner later told Page. The team dispensed two hundred emergency cellphones to government agencies and relief organizations in and around Kobe, which, as Masoner describes in the zine, "looked like a war zone." The cargo bikes allowed him and the rest of his team to transport the phones. The bicycles, Masoner writes, were "essential." "There were no taxis, no cars, no gasoline, no train service." Other relief efforts in Japan used bikes to deliver food, water and medical supplies.
Bikes have also been used similarly in the United States. Following Hurricane Gustav in Louisiana, according to the zine, cyclists used bikes to check in with neighbours after a storm that left their city feeling as though "the clock had been reset to the eighteenth century." The Atlantic's CityLab reported that in New York, following Hurricane Sandy, forty cyclists rolled out to Far Rockaway, Queens, loaded down with flashlights, diapers, blankets and coats. 
For his thesis, Page also observed Eugene, Oregon's first Disaster Relief Trial in 2013. Unlike Victoria's government-organized Tour de Disaster and CRT, communities on the American west coast have tended to form their own grassroots bicycle resilience programs—though FEMA has recently begun to take note, and is considering the possibility of supporting or partnering with the Disaster Relief Trials. Page found that neighbourhood-level response, which the DRTs encourage, is extremely important during disaster. This response, he writes, "is the first wave of relief for people, and it is the fastest and most effective response." 
When disaster strikes, Page says, survivors don't typically shut down and close off from one another; people tend to band together and pitch in, in whatever way they can. "I know what I need in my house, garage and basement, and I've got the capability to roll my bike out of the shed, load it up with supplies and shelter," he says. "I know where and how to plug myself into the community response."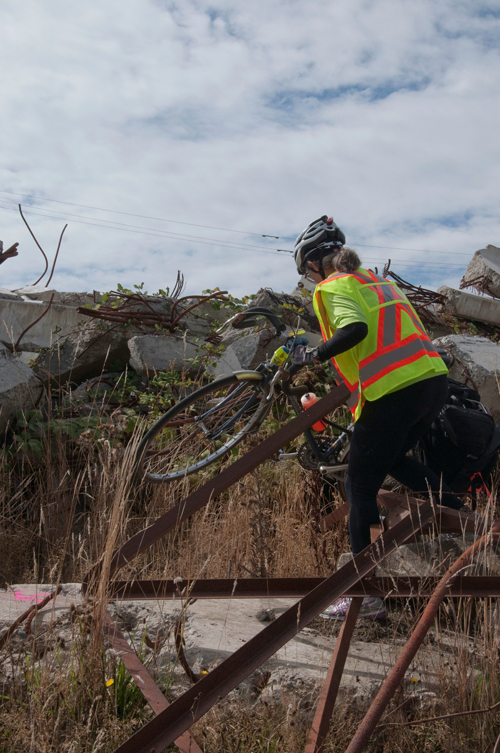 The fire tower behind us, I follow my teammates back to the Esquimalt base where we began the day. We hitch a trailer to Powell's road bike and proceed to one of the city's sea canisters at Banfield Park. The city has over twenty of these twenty-foot-long, corrugated metal containers scattered in strategic locations, mostly at parks and in schoolyards, containing supplies like cots, blankets, hand tools and generators. After the earthquake, these could prove invaluable additions to residents' personal supplies, and provide a way to keep survivors warm and safe. The city is currently considering adding bladders and tap systems for water distribution.

When we reach Banfield, we meet two Emergency Social Services volunteers, Margrit Wohlwend and Jane Bond. Our goal for this leg of the tour is to pick up blankets—something Wohlwend and Bond have distributed to residents and hotel guests displaced by building fires several times during their tenure—but the key Hunn gave us doesn't work in the sea can's lock. After several minutes of struggling, and radioing back to base, we give up, and Wohlwend and Bond send us on to our next task. 
"En route to your next destination," Bond reads from a piece of paper Hunn has given her, "you'll be radioed by EOC [Emergency Operation Centre] about an unconfirmed report of damage at the intersection of E&N Rail Trail overpass and Hereward Road." 
When we arrive, we do what the CRT refers to as a "handlebar assessment": we take a scan of our area, recording infrastructure like transformers, storm drains, fire hydrants and bridges, all of which could be crushed, downed or broken in an earthquake. 
Brent Woods, the veteran, has been whistling classic rock tunes while we cycle and guiding us through the city by memory. He takes the lead as we draw up our inventory. In a neighbourhood of modest, single-family homes, we find five transformers, two storm drains, one substation, one bridge and one fire hydrant—liabilities and assets. This information, like Woods' recall of city routes, will be a resource after the earthquake.
We return once more to the base for our final activity: the obstacle course. The course is meant to prepare us for what we'll face post-earthquake. Some imagination is necessary. "There's going to be big holes in the ground," Hunn tells us. "Brick facades are going to be falling off. There's going to be a lot of rubble." She gestures to spray-painted marks on the ground: a zig-zagging line is meant to represent a crevasse and an encircled "H" is a hole. We are to follow the spray-painted arrows, keeping each other in our sightlines. "There are real hazards as well," she adds. "There's broken glass. If you see any cables, assume that they're live."
We follow the arrows over a tangle of thorny vines, which could easily puncture our tires, flanked by rusted I-beams and rebar on our left and an overturned white minivan on our right. We eventually need to dismount to carry our bikes—the route curves back around through the I-beams, over some discarded concrete slabs and more vines. It's a scrap-heap simulation of earthquake apocalypse.
We ride through a stretch of grass punctuated by rocks and chunks of concrete to reach another area where we'll need to dismount from our bikes, lifting them over an iron tube, through some fallen tires, and under a fence that's been constructed out of nailed-together wood and a leaning pool ladder. After navigating these obstacles, as well as more blackberry brambles and a junk pile, we finally reach the end of the obstacle course. 
After we cross the finish line, Hunn, Jowett Wong and the volunteers from Emergency Services examine my teammates' go bags, assigning them points for packing disaster essentials such a map of Victoria, a first aid kit, basic bike tools, a flashlight or headlamp, dust mask, emergency blanket, whistle, work gloves, latex gloves, sunscreen, zipties, Ziploc bags and hand sanitizer. Finally, we're tasked with practicing a flat fix—a skill that will come in handy when the ground is covered in crushed masonry and broken glass. 
The effect is a little like the difference between a pop-up book and reality. We've gotten a quaint taste of what it might be like to navigate through the kinds of obstacles we'll face if Victoria's earthquake impacts the city as Christchurch's did in 2010, and we've gotten a simultaneously reassuring and disconcerting sense of how prepared—or not—we might be. 
In British Columbia, public outreach programs like PreparedBC emphasize the importance of individual self-preparation, including familiarizing yourself with nearby hazards, building an emergency kit and developing a household or business emergency plan. While PreparedBC advocates a seventy-two-hour self-sufficiency window, Sarah Hunn says it's probably best to prepare for at least a week. 
But Alex Page believes we need to refigure our approach to natural disasters. While individual preparation is important, collective resilience is essential. "A community," he says, "should have multiple plans in place for stabilizing after a natural disaster." Along with governmental plans and personal plans, neighbourhood and community connections can make all the difference.
Alison Bird also encourages us to get to know our neighbours. "Who has medical training? Who might live alone and may have physical mobility issues and need to be checked on?" she asks. "Those sorts of things are so important. If the neighbourhoods are resilient, the whole community is resilient."
Rebecca Solnit's 2009 book, A Paradise Built in Hell, takes this idea even further, sharing moments where communities have successfully banded together post-disaster to feed, clothe and house themselves and their neighbours. In 1906, after an earthquake and subsequent fires demolished huge swathes of San Francisco, citizens started initiatives like the Mizpah café, sharing food from grocers and co-cooking government rations to make sure no one went hungry. "Horrible in itself," Solnit writes, "disaster is sometimes a door back into paradise, the paradise at least in which we are who we hope to be, do the work we desire, and are each our sister's and brother's keepers."
In Victoria, Jowett Wong got involved with emergency management out of a fear that most of the people around him weren't prepared for a disaster they knew would arrive. He volunteered for seven years before taking a paid leadership position with the city. "I realize you can't save everyone, but you want to do something. This is me doing something," he explains. 
Wong is aware of just how much difference the city's volunteers will make, collectively, when disaster strikes. "Of course there are police, fire and ambulance," Wong says. "But the urban search and rescue team, the emergency social services team, the bike team, the radio teams—they will really bolster our response capability."
The Disaster Relief Trials in the US and the Tour de Disaster in Canada underscore the role camaraderie will play after an earthquake—it isn't bikes, exactly, that will save us. Rather, it will be what they've taught us about our ability to come together and take care of each other. As Alex Page suggests, we learn to engage in mutual aid instead of waiting around for charity. 
In Victoria, a city where it's not a matter of if but when the earthquake will hit, bicycles are obviously not a panacea for the destruction that will follow. They're one tool that community members can use to empower themselves and join forces with their neighbours—to rally together and build community, to understand what skills and equipment each person has to offer. When we prepare and volunteer, we demonstrate a desire to help people instead of being helpless; we feel empowered, our communities become more resilient, and we have a better chance at surviving the inevitable.