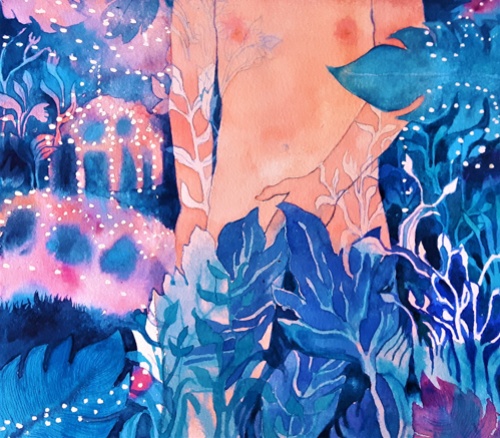 Illustration by Sara Khan.
Gilding the Willy
When bodies are used as brushes, writes Mica Lemiski, it's better to be the artist than the muse.
When Brent Ray Fraser squirts a tube of black paint onto his penis during a Ladies' Night strip show, he's only an arm's length away from where I'm perched on a coveted perv-row stool. His groin looks like the unfortunate target of a squid-inking. The Wednesday night bacchanalia—disco balls, shiny poles, purple light that electrifies the dryer lint on my tights—is so overwhelming that I momentarily fail to notice the canvas being set up stage-left.
Once I see the canvas, I see the woman beside it. She's in her forties or fifties, wide-hipped, wearing the kind of non-outfit better suited to buying emergency toilet paper than a night out at Brandi's Exotic Show Lounge. An outsider among tiara-wearing bachelorettes, she blushes as Fraser directs her towards an onstage chair, where she sits and waits.
He begins to paint.
Rubbing his penis against ...