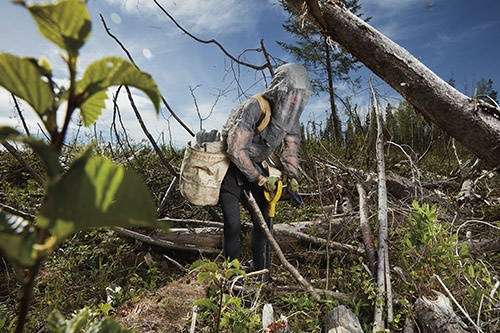 Photos by Rita Leistner.
Stuck in the Mud
For women in tree-planting, gruelling labour is the easy part.
A few years ago, a woman named Bella was deep in the woods of interior British Columbia. She was helping set up the first of many bush camps where she would spend her summer—her fifth season of tree-planting. She knew what needed to get done before she could plant her first tree. There were trailers to unload, tents to build and pits to dig out behind the kitchen trailer for six outhouses. There was a water filtration system to connect, electrical cords to bury and fridges to lug into place. 
As a group prepared to set up one of the mess tents—a huge canvas structure where twelve-person crews could gather for meals—Bella heard a few male tree-planters debating how the poles were meant to fit together. But when she told them how to do it, they didn't even glance her way; it was like she "hadn ...