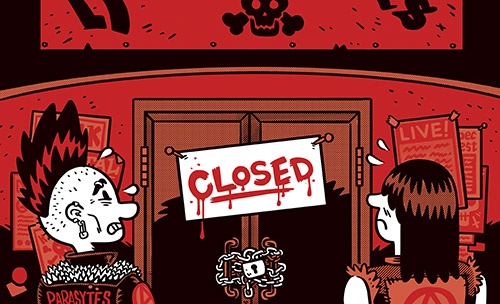 Illustration by François Vigneault.
Zoned Out
Music put Montreal on the map, writes Adam Kovac, but the city isn't returning the favour.
The skulls grin as Co-op Katacombes gets torn apart. They jut out from the liquor shelves behind the bar, cover a pillar on the dance floor and are painted on the walls. For thirteen years, their empty eye sockets have peered at the stage while thousands of bands covered it with sweat and blood, literally. Now there's no thrashing, only a handful of people milling around, deconstructing the sound system.
People may think of Montreal as a rock city, or ­maybe a jazz city, but its metalheads have made a mark, too, fostering major homegrown bands like The Agonist and Despised Icon. Last year, city council proudly declared Montreal a "hub" for metal in a unanimous motion. 
It was ironic that just a few months later, in October, owner Janick Langlais announced the imminent closure of Katacombes, an institution in the metal scene. A week after a farewell New Year's Eve party, she's supervising its tear-down. 
Langlais, with her green hair and double-pierced lip, pioneered Katacombes's dungeonesque environment at this building on a lively—but not in a tourist-friendly way—strip of St. Laurent Boulevard. Down the street sits iconic burlesque club Café Cleopatra, with its old-school bright lights and retro marquee promising stripteases; this is Montreal's traditional red-light district. Nearby, grimy Foufounes Électriques flies the punk flag.
"Once we're out of here, it's going to hit me hard," Langlais says. But she's been through something like this before. She helped found Salle de L'X, an all-ages underground spot that was about four blocks east on Ste. Catherine Street until it closed in 2005 (its building is now owned by the Church of Scientology). 
Go west again, past Katacombes, past Café Cleopatra, and you'll reach the abrupt end of what was once the Latin Quarter, clinging to the last signs of the ­grittiness that once earned Montreal the nickname "Sin City of the North." 
You'll enter the fluorescent sterility of the "Quartier des Spectacles," as municipal bureaucrats call it. The ­neighbourhood, rebranded as the city's primary entertainment district, has been transformed to serve ­Montreal's shiny new title: "Festival City." This part of the district was purpose-built for corporate events like the ­Montreal International Jazz Festival, where headliners play to hundreds of thousands of people in a family-friendly environment. About eighty cultural venues fall within its neat boundaries, as city planners point out—a mostly francophone dramatic theatre, the enormous Place des Arts with its stages for operas and ballets. The city has funnelled $200 million into the tourist district and the money, it seems, keeps flowing: a $74 million public square will open there this summer. 
Montrealers might not be so bothered by this, if only they could enjoy their own music scenes in peace. But many venues beloved by locals, downtown and scattered through farther-flung neighbourhoods, have twisted themselves in logistical knots trying to stay open. Their owners say they constantly battle the city, even as it says it supports the arts. Worse, many have failed, closing permanently. 
The Quartier des Spectacles is not just a place, after all, but a theory: that you can centralize culture, dictate how and where it happens. But the city may have forgotten one detail. Who will appear on the headliner stages when the up-and-coming acts have nowhere to grow?
Sitting at her bar, wearing a black Katacombes hoodie, Langlais sounds a lot like the thousands of Montrealers kvetching about how hard it is to find an affordable apartment these days. And this was, in fact, essentially what went wrong for Katacombes; like the majority of independent venues, it rented its space. By this year, monthly rent and business taxes were up to around $7,000 and $6,000, respectively. 
Venue economics are complex. Katacombes was a pay-to-play venue; bands or promoters would rent the space out for a night, but the sum was just a few hundred ­dollars. The bar lived, and ultimately died, by liquor sales. Metalheads are a notoriously thirsty bunch, but even so, Langlais found her margin steadily thinning, her stress rising after bad nights, when she estimates that drinks would bring in as little as $400. After two years debating whether Katacombes could carry on, she ultimately couldn't find a way around the math.
Langlais held out a relatively long time; nearby Café Chaos, which boasted a similar ethos and clientele, went under in 2014, the same year downtown punk space Cabaret Underworld called it quits. Now, you can count the number of venues dedicated to heavy music on one hand.
About a half-hour walk north of Katacombes, another stretch of St. Laurent is Montreal's modern-day musical nerve centre. In the early 2000s, tattooed, Pitchfork-­reading indie-rock fans began milling around on a single block just above Villeneuve Street—except at the time, the term  "indie-rock" wasn't yet common, and that block would play a big part in making it so. "­Arcade Fire...played multiple shows at the Casa in front of, like, four people," says Mauro Pezzente, who with his wife, Kiva Stimac, co-owns three venues there. "Win's singing was pretty bad," he recalls of the band's Win Butler. 
Pezzente is a local music legend, co-founding post-rock pioneers Godspeed You! Black Emperor before going on to open venues.The thing is, he says, back in 2000, the plan was simple. "Kiva and I just wanted a small place—a nice little bar, a vegetarian cafe, you know, everyone's happy," he says. Casa del Popolo opened that year, a narrow bar-cafe with a tiny stage and a patio in the back alley. Rent was $1,200 a month.
Now, at least to appearances, the couple has an empire. Casa, as locals call it, has taken over the unit next door to create a dedicated concert space. Upstairs are the company's offices, while the third floor of the triplex has become a low-cost hotel. Across the street they have La Sala ­Rossa, a bigger concert hall, and the Spanish restaurant beneath it. Down the street is a third venue, La Vitrola.
Appearances are deceiving. Casa's rent alone (including the adjacent space) has jumped tenfold, to about $12,500. As at Katacombes, maintaining a workable margin "is a struggle," says Pezzente. But what's even less obvious to outsiders is that most of this came into existence purely to get around zoning rules.
First was the fire-exit issue; Casa had one back door, but Pezzente and Stimac were informed they needed two. So they took over the adjoining unit for the sake of its back door. Then, when an office tenant upstairs left, they took over that floor, too, to keep their landlord happy and to make sure they didn't run afoul of a rule about ­venues touching residential space. They officially made the floor commercial and covered the new taxes.
Finally, the couple took over the third floor for similar ­reasons. "It wasn't like we had this dream of renting a hotel," Pezzente says. For a while, they rented it to performers, Airbnb-style. But zoning rules eventually demanded that Pezzente and Stimac renovate and ­create a fully licensed two-star hotel. That's not to mention ­moments like a liquor-licence crisis, when "morality squad cops" insisted that vegetarian protein at Casa couldn't count as a meal that would justify serving a drink, Pezzente remembers. "You'd get into these whole other political arguments about, you know, two hot dogs and French fries is a meal, but a tofu sandwich is not a meal." He's not being sarcastic; Montreal police really do have a unit called the "morality squad." 
The empire grew; by then, the couple had also realized they would only survive by juggling multiple venues with different cash streams, staying one step ahead of rising rent and unforeseen emergencies, rather than seeing each as an individual business, says Pezzente. "If I did that, the Casa would've closed ten years ago."
In 2018 alone, two nearby indie-rock institutions did close: Divan Orange and Club Lambi. A third, Le Cagibi, was forced to move and can no longer host shows. And the scattering of the scene isn't limited to venues. In a residential area a half-hour walk northeast of Casa, Jon Weisz sat in January in a ramshackle office space under construction, arguing on the phone with an internet provider about getting hooked up. Weisz's thirteen-­year-old concert promotion business, Indie Montreal, left the Plateau after the landlord ended its lease.
It's rarely obvious how to save a small music venue, ­because the problems they face are complicated, including a changing culture—"virtually no one" is willing to pay cover anymore for bands they don't know, complains Weisz. Nick Guerin, the booker for downtown metal ­venue Piranha Bar, says older crowds still turn up for gigs but younger generations are more interested in dancing to electronic dance music or staying home. (Piranha Bar, also looking for alternative revenue, has lined its bar with video lottery terminals.) 
Then there are more frustrating cultural divides, including ones city planners have helped along. Les Bobards, an intimate venue near Casa—on St. Laurent, a main drag—was inundated a few years ago with noise complaints from neighbours, ultimately closing in 2015. The story repeated the next year at Inspecteur Épingle, an eastern-Plateau landmark that had been around for three decades. In an interview with Eater Montreal, owner Matthieu Boudrias guessed that many of the complaints were from Airbnbers who'd flooded the area. "I'm here for twenty-five years, but someone here for two days can complain and shut us down," he said. 
Such incidents have been surprisingly common. Divan Orange, also along St. Laurent,was an infamous case; it was hobbled in 2014 when a neighbour on the third floor of its building made eighty-five noise complaints in a two-month span, resulting in $18,000 in fines, says Julien Senez-Gagnon, a former member of the venue's management team. Divan Orange was well known for taking chances on lesser-known bands, helping launch acts like Patrick Watson and Coeur de Pirate.
In the Plateau, small venues have partly been victims of their own success. When they open in low-rent areas, places like Divan Orange help draw in a new brand of renters and tourists. Gentrification can't only be chalked up to yuppies wanting to be close to the cool kids, but the end result is still deadly for low-margin businesses: prices go up and the neighbourhood becomes hostile to the institutions that attracted visitors to begin with. 
But the new squeeze is also a result of municipal decision-making, especially in some areas; ask Katacombes, for example, if skyrocketing local rent had anything to do with the imposition of the Quartier des Spectacles. 
In many neighbourhoods, a two-punch development effect has also cut down on viable commercial spaces. First, rising rent and competition from online retailers forces small businesses to close. Then those vacant storefronts are often either left empty, with a hugely jacked-up asking price, or are snatched up by condo developers. 
It's not that the city set out in a "conspiracy to bring everything to the Quartier des Spectacles," or to discourage small venues, says Will Straw, a McGill professor who studies Montreal's changing nightlife. It's that these spots "are more or less off the radar" of those in charge.
Underlying problems aside, venue closures often seem to be cases where the city had a chance to step in. ­Divan Orange's collective approached municipal officials, floating the idea of a citywide change in noise regulations for bustling streets like St. Laurent. But the various crises were complex, says city councillor Christine Gosselin, who was involved in many of them as a Plateau borough councillor from 2013 to 2017. Divan got a stopgap, $50,000 in grants, she says—an "extraordinary," rare measure. But the venue faced a variety of long-term complaints that needed serious business strategizing to solve. 
In the densely populated city core, compromises aren't easy, Gosselin says; for example, commercial arteries are often "where people with less money will live," she says. "So then do you want to say that people with less money are going to have to put up with more noise? Which is bad for your health?" The real solution, she says ­bluntly, is to properly soundproof and install emergency exit doors in small venues, keeping patrons out of the alleys. But that requires "substantial investment."
She still calls the closures heartbreaking. "The city was too slow in recognizing the social and cultural value of these places," she says, "and as a result, many of them were lost that might have been saved."
Pezzente praises Gosselin, but when asked if the city overall has helped him stickhandle through problems, he gives a flat "no." He and Stimac have their own looming noise threat; the owner of the building next to Casa is adding a roof extension, which will someday bring new tenants with their own right to complain. When venues move into a space, they must go to great lengths to work around existing neighbours, Pezzente says, but "it doesn't work the other way around."
Just a few years ago, Spin magazine and the New York Times were hailing Montreal as the centre of the music universe, with its pioneering sounds and sheer number of homegrown acts. It felt like the world finally saw Montreal how it saw itself: urbane and full of joie de vivre. 
But regardless of global hype, locally produced music has always been integral to Montreal; it can be the tenuous peace between the two solitudes. While anglophone acts like Basia Bulat, Plants and Animals and Leif Vollebekk receive international acclaim, French-language bands are fiercely loved and promoted within Quebec. Whether it's Loco Locass in hip-hop, Marie-Mai in pop or punkers Groovy Aardvark, music is seen as a defence against the Americanization of one of North America's most unique cultures. With limited audiences in the rest of Canada and the States, these acts rely on small venues across Quebec to find their voices. 
The scene is also a question of raw eco­nomics. The Jazz Festival attracts 2.5 million people each year, and the three-day rock festival Osheaga brings in up to fifty thousand people per day, roughly 70 percent of them from outside Quebec. Festivals in the Quartier des Spectacles alone bring in more than $100 million annually. But Weisz and Senez-Gagnon say a healthy scene is like a game of Jenga: pull out support for those at the bottom and the whole thing can come toppling down. Sure, international acts like Taylor Swift or Stevie Wonder would still play the Bell Centre, even if every single small venue across the city closed. But the world's biggest stars didn't start out fully formed; they grew in small venues, says Senez-Gagnon. Just as importantly, to generate an audience of lifelong listeners, you need to draw people into local scenes when they're young. Not to mention that many audiences, including tourists, want a more intimate experience than festivals or stadium shows offer. 
Small-venue people have new proposals. Weisz wants live music venues to be eligible for grants like those the Montreal Council for the Arts offers to theatres. Senez-­Gagnon would like to see tax breaks for small clubs.
But he isn't optimistic: small players don't have ­money to lobby. "The rules are always dictated by the big players," he says. That gap keeps growing, as the small-scale scene gets poorer and music powerbrokers get ever more mammoth, with the city's decisions helping them grow. Evenko, the promoter of several big summer festivals, benefited from city-funded renovations to Parc ­Jean-Drapeau, the site of Osheaga. Weisz notes that Evenko is partnered with the even bigger promoter LiveNation and is owned, along with the Montreal Canadiens, by the ultra-rich Molson family. The company runs huge local venues, including the hockey arena. "There's just no chance that small venues, even if they band together, can ever have that kind of a kind of political weight," he says.
Weisz warns there's a shorter deadline than it may seem to keep small venues healthy; without changes, up-and-coming artists "won't be touring in five years," he says.The problem isn't isolated to Montreal. Weisz has been in touch with promoters and in-house club bookers from Texas to Australia whose scenes are also struggling. 
But other places have also taken steps that ­Montreal could emulate. In the UK, small venues will benefit from a new tax rate reduction. Toronto, in December, followed several European cities in appointing a "night economy ambassador" tasked with improving nocturnal transportation, negotiating extended-hour licenses for bars and mediating disputes such as noise complaints. 
In November 2017, Montreal announced it was forming a committee to look into the independent music scene. A city employee has spoken to Langlais and Weisz for a study on venue closures, but a spokesperson told Maisonneuve nobody was available to comment on it. (Gosselin says the study is serious, a sign that the city now "does get it, it does understand...the question is, have we lost so much that it's a moot point?")
Langlais says the city also suggested small venues form an association to advocate for financing.But Weisz has already done this—last year he founded a nonprofit, Scènes de Musique Alternative du Québec—and the advice is redundant on a deeper level, too, since Langlais created a similar group a decade ago. It didn't change a thing. "We need a table de consultation, with all the representatives at that table," she says. 
Last year, singer-songwriter Martha Wainwright—the daughter of Kate McGarrigle—bought a former restaurant in the same Parc Avenue building that head­quarters Pop Montreal, one the city's trendier festivals. She converted it into Ursa, a throwback venue-­coffeehouse. Wainwright, who spent years in New York, "was back in the neighbourhood I spent my teenage years in," she says, but she wasn't fully aware of how much it had changed until locals started responding: "'Thank you for doing this, thank you for doing this,'" she recalls. 
It's hardly necessary to explain the difference between the Quartier des Spectacles and a neighbourhood ­venue, says Pezzente. Downtown, "there's no people living there," he says, no regulars who might say "my friend's playing tomorrow night, or I'm playing tomorrow night," he says. "It creates this mystique." 
Katacombes, for example, had character; there was no mistaking it for any other bar. All its accoutrements have now been auctioned off. But Langlais smiles when she talks about it. "I would have never thought that I would have these artists playing my venue," she says. "We had a lot of fun, a lot of good memories...it was just, like, a very awesome place."