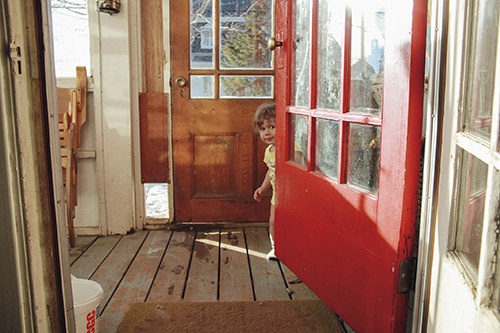 The New Privileges
Writing from Quebec. Translated by Melissa Bull.
Originally published in the "Letters From Quarantine" series from Beside Media, April 2020. Reprinted with permission.
Upon leaving the house, the same three choices invariably arise. Walk east to the dead end. Then dip our feet in the new rivulet carved out of the riverbed. Pick some rocks—shiny ones—and toss them into the wagon's viscous crannies.
Head west on our bikes. Take the 132 a little farther up to the bridge that crosses the Bourret River. From there, look at what remains of the old mill and guess how many springs it will take for the building to be carried off by the torrent. 
Cross the street, head north to the boat launch to observe the snow geese's noisy reunion on the banks of the St. Lawrence River.
No, we're not all equal when it comes to quarantine. Never before have I so measured my luck at having these three options each day. Not everyone has streams to throw rocks into or geese to watch in wonder.
Eight years ago, I ran aground here, in Les Fonds: burned out, pregnant and unemployed. An explosive trio. Convinced that the only things that would save me were a view of the horizon, proximity to nature, and canning vegetables harvested from two recently planted gardens. And baking.
I was wrong. In Les Fonds—this enclave along the St. Lawrence, propped up in the hollow between two branches of the 132—I began to feel a sneaking sense of captivity. Traumatized by simple domestic tasks, I had the sensation of repeating my mother and grandmother's motions indefinitely.
The anxiety only subsided completely when I pursued a career I loved, journalism, and began making a decent living as a freelancer. With my family and garden in treasured balance. A positive trio.
I had gotten into the habit of calling longtime friends after my bouts of anxiety. People often three times my age, who I'd met on assignment, or while moving houses. Their stories, the inflections of their voices and their perspectives were reassuring.
Listening to them did me good. With the pandemic, many of these friends have become anxious, as much from the possibility of being indefinitely confined as from the fear of catching the coronavirus. So now it's my turn to return a little of the comfort they so freely gave me.
Paula's heart is heavy. Being isolated in her small apartment in Saint-Édouard-de-Lotbinière is beginning to weigh on her, even if she is a self-proclaimed eighty-three-year-old hermit. She can't bear to watch her brother disinfect her door handles, after dropping off her groceries on the landing, without being able to hug him. Over the phone, she bursts into tears.
Still, Paula considers the pandemic a stroke of luck, an unexpected opportunity to reassess our way of life. "Deglobalization—that's what will save the planet!" she says to me, optimistic. She looks back on a century of environmental destruction and tells me about the not-so-distant past when every near-self-sufficient family assured their survival in the countryside.
"I'm not talking about when Christopher Columbus was alive, I mean in my father's time!" she says before cutting the conversation short to watch Trudeau's press conference. "Call me back soon, Eugénie. If only you knew how much good it does me to talk to you." I hang up. Downstairs, my youngest coos on the other side of the door. 
Outside, we negotiate which of our options to take. It will be the rivulet.
Since the beginning of quarantine, Les Fonds has become a privilege. Working from home suddenly an option, though my employers were reticent prior to the pandemic. One of our two cars has become completely useless. The village, two kilometres from here, seems distant. Each house has shuttered its doors, become an impenetrable fortress. The fear of the other sets in, insidiously.
Even if deglobalization is neither possible nor desirable, what Paula teaches me is to cultivate our autonomy and our capacity for happiness. It's children who are masters of this game.