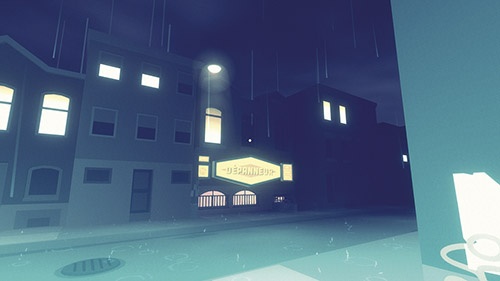 Virtually Normal
As going into the real world loses its appeal for Chloë Lalonde, a new game brings life's mundane routines to her screen.
The streets of the Plateau are rainy and dark, the only light coming from a basement dépanneur across the street. As I push open the door, a shopkeeper greets me with "Bonjour." Inside, the store is peaceful—the surfaces crowded but clean, no other customers in sight. I walk the aisles mindlessly, taking my time as I pick up and put down items I don't need, grab a complimentary coffee and day-old pastry as I watch the shopkeeper ring up my purchases. 
This trip should be cause for anxiety, I know, or at least a bit of guilt. I've already made a series of missteps under the new social distancing rules: shopping for non-essentials, touching stuff without a second thought, standing too close to a stranger. 
But at this moment, there are a few other things to feel weird about, too—the eerie music in the "dep," the strange purple hue to everything in the room, the shopkeeper's glowing eyes.
I'm not really at the dep. In fact, I haven't even left the house. I'm at my parents' place in Laval, playing Dépanneur Nocturne, a new game from the Montreal indie video-game studio KO_OP. Dépanneur Nocturne is one of several "atmospheric walkabout" games designed by the studio. In it, you are a "creature" making a casual late-night trip to the store. It's finally making its debut, after two years of playtesting; it's just a coincidence that it's ready at a time when real-life outings are suddenly anything but ordinary.
With our physical worlds condensed into the insides of our homes, people keep grasping for impressions of the outside world, often through Zoom, or TikTok, which has a niche collection of homemade videos based on your location. Museums and galleries have turned to online exhibitions, either by releasing top-notch press photos on social media or creating virtual spaces to explore. 
But letting people live virtually is something video games specialized in long before Covid. Now people are turning to them, but a certain kind of game seems to be  appealing in particular: ones like Animal Crossing, where you create a cozy home in a village populated by cute animals, or The Sims, where you create a family and again, a cozy home. People have argued that games like this are drawing people in right now because they give players a sense of control over their surroundings, even if their simulated world has a supernatural or anthropomorphic twist. 
Deps are a uniquely Québécois phenomenon—each with a collection of junk, essential items and hidden treasures—and the dep trip is a beloved local ritual, however mundane. Under quarantine, of course, this kind of pleasant, pointless lingering is not only logistically impossible but highly discouraged. In the game, though, when I began to feel like I was done for the day, ready to head home, I would find something else to take me in a new direction. It's like a choose-your-own-adventure book—but there isn't a wrong or right way here, no dead ends.
The two-dimensional streetscape of Dépanneur Nocturne could easily be Rue Marie-Anne, complete with construction and graffiti. It's quintessentially Montreal, and the game is fully bilingual, weaving in and out of English and French. It's designed to be played through within an hour or so, and there are various ways to move through the space, making each game slightly different from the last. The ATM is always broken, and sometimes the cat moves around. But depending on how badly you beg to use the dep's bathroom, or how much time you spend browsing, the shopkeeper might nudge you in one direction or another.
It's not exactly like a true dep experience, and not only because the Montreal of the game is a pixelated, "low-poly" world, as game-maker G.P. Lackey writes in his online biography—a term that refers to the way some designers create intentionally vague or blunt 3D computer graphics. The dep itself is also pretty sparse and orderly, almost minimalist, not cluttered and kind of gross like most real deps. The quirky, mystical shopkeeper greets you immediately, when in real life you might get a nod and a wave, at best. (Though the last time I popped into a real one for beer, mid-pandemic, the person behind the counter was friendlier than normal, grateful to see another human). There are also more obvious reminders you're in a digital world, like when you learn the shopkeeper is really a salamander-person named Eugenie.
Even so, Dépanneur Nocturne, with its waves of menacing darkness and pastel colours, brought me back to the store I used to visit as a kid in the suburbs, clambering up some guy's driveway and wandering into his basement-turned-dep to buy candy by the piece. Creepy, I know. I miss it. 
I should, in theory, always be craving the outside world. But sometimes when I'm out, I find myself getting annoyed, looking forward to being back inside on my computer. To let myself fall down rabbit holes, mindlessly scrolling the internet… 
All aspects of my work and social life have gone virtual. My growing technology dependency is actually making me slightly repulsed by the non-online, I find. Whether the pandemic is conditioning me to feel a fear of groups of other people, or worrying about germs in public spaces, it makes me cringe. 
In the online world, I can exist without fear. But aside from that, Dépanneur Nocturne appeals to the version of me living in isolation—its monotony, repetition, strangeness, slowness. Playing it feels like another reminder to slow down, to notice and appreciate the little things, to look for the stories behind the objects around you. 
It's also pleasantly, absurdly low-stakes. At one point, I couldn't figure out how to hold onto an object and complete a secondary task. As I dropped things like coffee cups on the floor, Eugenie chastised me with disapproving comments: Clumsy huh? Careful now. Okay, was that really an accident? Being teased by a virtual stranger is not ever something I would have thought I'd enjoy, or would seek out, or would make me feel alive; quite the opposite, really. But things are different now.