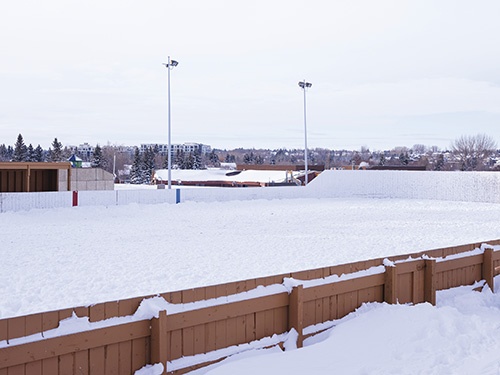 Photography by Kyler Zeleny
A Shot Not Taken
Hockey is a way of life in Curtis LeBlanc's hometown. But what if you're pulled in another direction?
In my hometown of St. Albert, Alberta, the Sturgeon River at the heart of the city freezes over for what feels like the better part of every year. During those thankless prairie winters on Edmonton's northern border, you'll always see a few skaters on the river, or a game of pick-up hockey carving up its white surface. Beyond the Sturgeon itself, you'll find thirty-five separate ice rinks.

There are a combined twenty-nine sheets outdoors, including the boarded rinks and the social rinks, where the white phosphorous lamp posts stay lit well into the night, small oases of light in the snow-swept fields. Add another three arenas and the ice sheet in the large leisure centre, and two additional smaller arenas, and you'll arrive at the final number. 
St. Albert has always been a hockey town, thanks in part to the sub-zero temperatures it sees for about ...