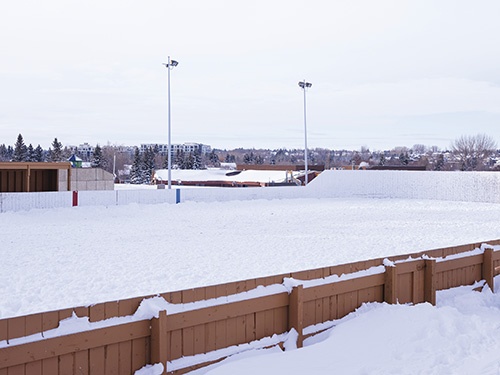 Photography by Kyler Zeleny
A Shot Not Taken
Hockey is a way of life in Curtis LeBlanc's hometown. But what if you're pulled in another direction?
In my hometown of St. Albert, Alberta, the Sturgeon River at the heart of the city freezes over for what feels like the better part of every year. During those thankless prairie winters on Edmonton's northern border, you'll always see a few skaters on the river, or a game of pick-up hockey carving up its white surface. Beyond the Sturgeon itself, you'll find thirty-five separate ice rinks.

There are a combined twenty-nine sheets outdoors, including the boarded rinks and the social rinks, where the white phosphorous lamp posts stay lit well into the night, small oases of light in the snow-swept fields. Add another three arenas and the ice sheet in the large leisure centre, and two additional smaller arenas, and you'll arrive at the final number. 
St. Albert has always been a hockey town, thanks in part to the sub-zero temperatures it sees for about six months of the year. It was originally a Métis community, and Joe Benoit, likely the first Métis player to lace up his skates in the NHL, was born there in 1916. Hall-of-Famers Mark Messier and Jarome Iginla played in the city when they were young, along with several other professional players who grew up there.
Though it grew into a more affluent white-collar city during Alberta's oil boom, St. Albert's roots—and its culture—were still in the rich black soil of the farms that surrounded it, and the long hard winters when there was nothing going but hockey, whether you watched it or played it or simply talked about it in passing with everyone you met. Plus, the new wealth in town meant many people could invest in the best training and equipment possible for their children.
I remember learning to skate on St. Albert's outdoor rinks, first clutching a light plastic chair in front of me for support, and later with a wooden Sherwood stick in hand, getting down the basics of passing with my father as we sent an uncracked egg back and forth to each other along the ice, handling it ever so delicately, so it wouldn't break.
My father has lived in St. Albert for his entire life. Growing up with eight sisters, his quiet demeanour and delicate francophone frame never lent itself to the prairie machismo that has always been typical of the town. Instead, on my dad's side of my extended family was a troupe of elegant, gifted dancers. All of my paternal cousins around my age danced competitively—tap, jazz, hip-hop, lyrical, ballet. They teamed up in duos and trios to perfect their choreography and perform their routines in theatres and conference halls in the region, where the crowds, albeit different, rivalled those at even the busiest minor hockey game.
My younger sister and older brother always showed a stronger connection to that side of the family. They were smaller than me, more nimble, whereas I would be the tallest one in the family by several inches before I even started high school. It came as no surprise, then, when both of my siblings took up dance.
Growing up in the nineties and early aughts, I spent more time at Festival Place in the nearby community of Sherwood Park, where all the suburban dancers from in and around Edmonton faced off in front of hundreds of familial fans, than I ever did in the bleachers of Akinsdale Arena watching minor hockey. Seeing my brother and sister on stage, either watching their tap shoes clattering on the hard black surface, or ballet slippers brushing the floor in ghostly streaks, I was transfixed. I craved that combination of rhythm, grace and raw sound. I wanted to move in perfect unison with a group of my peers, to shape my body and its movements to music.
My parents never showed a preference for what the three of us chose to pursue in our spare time. My dad couldn't afford to play hockey growing up, but he watched the occasional Montreal Canadiens game with my pépère on Hockey Night in Canada. So long as we got good grades and stayed out of any serious trouble, we were free to enrol in whatever made us happy.
Unlike my brother and sister, I was a picture of my mother. On her side of the family were Scottish kilts and rugby kits and a lengthy military tradition, conversations around the Easter dinner table about how best to adjust your rifle sights. One Christmas day in my grandparents' basement on Edmonton's north side, my uncle taught me the technique of holding my breath to steady my aim with the fully-automatic Nerf gun I got as a gift from my godparents.
Then there was Kelly Buchberger. If the family had one of those coffee table genealogy books, Kelly would be the one on the cover. He is my mother's cousin, but I've only ever had the opportunity to meet him a few times in my young life, as his NHL career kept him on the road and eventually brought him stateside. He was a hard-nosed forward for the Moose Jaw Warriors of the Western Hockey League before being drafted by the Edmonton Oilers in 1985, where he'd go on to play twelve seasons and eventually earn the honour of team captain. He won two Stanley Cups in Edmonton, the first in 1987 with the legendary Wayne Gretzky and the rest of the Boys on the Bus.
Buchberger was the epitome of a hockey player: scarred-up, gritty and fearless on the ice. What he represented was as close as one could get to a state of transcendent masculinity on the prairies. He was our family's incarnation of the Canadian boyhood dream. That was the idea that almost all my friends and peers—it seemed like every boy my age in Canada—had subscribed to. To that dream, through one family's influence and no part of the other's, I became irrevocably tethered.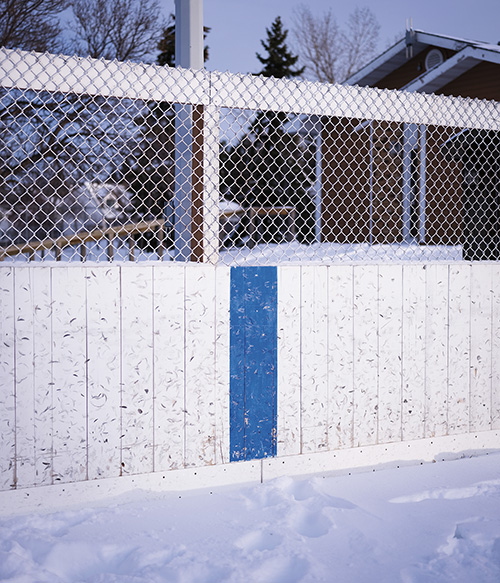 I signed up to play at seven years old, in my third year of eligibility for minor hockey. I was late to the game for a local kid and, at eight years old, my power skating fundamentals needed some serious work. Still, I was only going to wait so long before I heeded the local rallying cry and laced up with most of the other kids. 
Talent, I lacked. As a player, I was replaceable, a grinder who could hardly take or make a pass or raise the puck off the ice. I took up goalie at age ten because I was drawn to the solitary, almost bookish nature of the ­position.
I didn't know it then, but embracing goaltending would reveal some of the earliest markings of my mental illness. I was dealing with a budding obsessive-compulsive disorder and every goal I let in amplified my feelings of worthlessness and failure. I would cry through entire periods, sometimes entire games, unable to abandon the net as the only goalie dressed on the team. Hockey culture is not empathetic or forgiving. My coaches and teammates expected me to "get over it" before inconveniencing everyone with an equipment change.
I had an ally, though, in those teary-eyed early days. An assistant coach on the team had some experience playing goalie. He became my mentor during those Saturday morning practices and late Friday nights, thirty minutes north of home in Legal, where an hour of ice time could be had for a better price.
While the team gathered for battle drills and breakouts on one end of the ice, the goalie coach and I would get comfortable in the opposite crease. He was a quiet and reserved person, a lot like my own dad (who almost always got suckered into being team manager), and nothing like the head coaches who, as I think back on it, probably only volunteered for their positions as an opportunity to berate children who weren't their own for a change.
It was in the solitude of the net, under the eye of this man, that I found what I loved about goaltending. I was a smart kid, good at telling stories and even better at math. The position required an understanding of angles and optics, an ability to process the positions of ten players at any given time, to anticipate where the puck would be through their eyes and movements. After I hit my growth spurt around eleven, and with this newfound pride in my abilities that had me practicing more and more in my own free time, I ended up playing on more competitive teams.
Better teams also came with rising expectations. During one tournament, I came down with a bad flu. As the starting goaltender on the team, I felt an enormous sense of duty to always be on the ice—my replacement would have had little to no experience, leaving us undeniably shorthanded. I played four games in four days, moving post to post, down into the butterfly and up again, sweating bullets under my bulky kevlar chest protector.
The extra exertion landed me in the hospital with what doctors called a viral-induced asthma attack. I could hardly breathe and was put on oxygen in the emergency room. When I was finally sent home at 3 AM, my nose bled for hours and I cried, exhausted and begging for sleep. For the next two weeks, I was more or less bedridden.
I was learning hockey's tradition of bodily sacrifice firsthand. It was just one more strand in the tangled web of masculinity, where risky behaviours will lure you in, but the outcomes are so often detrimental mentally and physically, and mostly at your own expense.
What good can come of strapping knives to the feet of pubescent boys and sending them out to compete in a high speed, full-contact sport whose pinnacle actually encourages fist fighting?
Back when I played, body checking was introduced to minor hockey across Canada in the peewee bracket, for children aged eleven and twelve. It was in those first years of full-contact that players truly felt the freedom to replicate the gameplay that they saw at the professional level, to enact the predatory hitting practices and fisticuffs that had long been enshrined as a most crucial and entertaining part of the sport by pundits like Don Cherry in his tacky Rock'em Sock'em Hockey VHS tapes. That's what it was—entertaining—right up until you found yourself bleeding on the ice as a player, or bearing witness helplessly from the stands as a parent.
Before we were actually encouraged to hit in organized sport, we mimicked these behaviours in other aspects of our hockey worship. In the early aughts, near the end of a long string of first or second-round Oilers playoff losses at the hands of the Dallas Stars, a large group from our elementary school had gathered on the playground to show our support for the local club. Oilers fandom was practically required in St. Albert, and to demonstrate otherwise was a dangerous endeavour.
One classmate learned this the hard way. He stood in front of the mob with their picket signs and flags and tinfoil Stanley Cups and shouted, "Go Dallas!" Then, almost routinely and with the expressionlessness of cops at a human rights protest, a group of kids proceeded to surround him and knock him to the ground, beating him repeatedly with their winter boots and mittened fists.
He ended up in the nurse's office, bloodied and wheezing. The vice-principal led an inquiry, questioning aggressors and bystanders alike. The school administration's search for understanding would go on for months, but we all knew what had transpired. There was an unspoken code in town and it had been violated—then dealt with in the way most appropriate to the matter at hand.
Violence aside, as I tried to master the intricate footwork of a goalie, I was finding the music in my own position. To move cross-crease from one post to the other in a flash, to keep up with attackers and adjust angles while skating backwards—it all requires the unique flat blade of a goalie skate and the subtle yet forceful choreography to apply it at will.

Peter Pocklington, the one-time owner of the Edmonton Oilers, called Wayne Gretzky "the Nureyev of sport, the superstar's superstar." Retired goaltender Ray Emery enrolled in ballet for rehabilitation purposes after what many assumed would be a career-ending hip surgery, and he managed five more seasons at the highest level. Many top-tier hockey players have signed up for figure skating at a young age, which they have said improved their balance and the finer points of their skating.
While, at practice and camp, I rehearsed the C-cuts and T-pushes that would be my glisser and élancer, at home, I went through a routine of improvised barre stretches that allowed me to drop into a full split at the slap of a puck. Those parts of me that had pushed and pulled against one another were beginning to work in unison towards a common goal.
I still felt that same longing to dance at my siblings' competitions and shows, but to excel at hockey was invigorating and enticing. In so many ways, it was what was expected of me by what seemed like everyone beyond my immediate family.  If I could take that discipline and grace and translate it onto the ice, maybe it could be enough to reach a compromise between what felt like my authentic self and the person I was performing.
Pocklington's comparison of Gretzky and the Russian ballet legend is apt not because it illuminates the inherent artistry in hockey, but rather the measured expression of the best to ever play the game. For the hundreds of heavy-hitters and runaway freight trains at the highest levels of hockey, there are those few on the ice who move with the arresting, obscene grace of our most ethereal artists, who bend and shape the game to the silent music at the boundaries of the natural world. There are those who play—and there are those who dance.
The summer before my last year of minor hockey, when I was twelve, I tried playing lacrosse, a popular offseason sport for hockey players in Canada. The game took regularized teenage violence to a whole other level. My dad couldn't stand watching me get sandbagged up and down the concrete floor. He paid me $100 to never play again.
But his dream of watching me live a violence-free life was not yet to be. That fall, when hockey teams were selected, I found out I'd be playing B1, the highest level outside of A hockey there was. Our coach was the former bench boss of the local Junior B club, the St. Albert Merchants, where one or two players might get a look at an NHL training camp and it cost $10 to watch a game. In his mind, he had never stopped.
He demanded from us a level of physical conditioning that never mattered to my previous teams. In the locker room, he cultivated a severe atmosphere meant to heighten our focus and desire to compete, at the cost of the joking and small talk that had often been a refuge for me when I was immersed in that jock ethos where I never felt I belonged. We would get chewed out by our Merchants coach during intermissions when he felt we weren't giving it our all, and the toxicity spilled over into the general team environment.
During Edmonton Minor Hockey Week, a massive event that brings together teams from around Greater Edmonton in most age groups, one teammate got hit from behind and crumpled to the ice. As the trainer tended to him, the volunteer parents at the timeclock left it running so the game could finish on time. This was a tournament rule because of the sheer magnitude of the logistical undertaking, as every ice sheet in the city was being used at every reasonable hour of every day. We were behind on the scoreboard at that point, not used to losing, and the red digits of the clock were counting down.
Whether the boy's father felt the ticking time was an insult to his son, who was labouring for air behind the net, or if he didn't want anyone to view the impending loss as a result of his boy's perceived weakness, he climbed down the stands, busted into the scoring booth, and assaulted the timekeeper until the scoreboard went dark. Parent brawls and other violent outbursts aren't uncommon in a minor hockey setting. The aggression performed on the ice is legitimized and celebrated—and that rises like a fine mist over the plexiglass boards to intoxicate the parents and fans.
The stakes of winning hockey games at thirteen years old, even though none of us even had a hope of making it to the big show, never made sense to me. I became the disgruntled outcast in the corner of the dressing room, at odds with the entire operation, yet still crucial to its success.
The tension came to a head in our final practice before the playoffs. Coach perceived our effort level in the first few drills to be lacking, so he bag-skated us. Ten laps around the rink, some form of humiliation in store for the last to finish. In those days, the average adult goalie wore roughly fifty pounds of equipment. My pads were bulky and my skates weren't made for the explosive vertical acceleration forwards the defensemen were expected to achieve. Suffice to say I came in last—by a lot.
The coach ordered me to centre ice and had everyone take a knee in a circle around me. I was told to do push-ups until I couldn't anymore. I managed only one or two in my heavy gear. Then I lay there, surrounded by my peers, my breath cold and white as I exhaled into the surface of the ice.
I was exhausted and humiliated. I had been pushed to my physical limits, at what will always probably be the peak of my athleticism, and I fell short. But more than that, I was indignant. Hockey culture would always give me another reason to feel inadequate, another arena or locker room for me to feel like an imposter in. I was done.
I played out the rest of the playoffs with my team and we went on to win the division championship. I didn't care. I didn't feel the need to tell my parents about what had happened, or protest to my coaches anymore. They owned and operated a world that I no longer wished to occupy. I already had one skate off the ice.
That spring, I signed up for tap dancing lessons. After so many years of admiring my brother and sister on the stage, I wanted to join them. At the age of fourteen, after four seasons of acrobatic play between the posts, I was as flexible and quick as I would ever be. I had the intangibles, the rhythm and the drive.
On the day of the first lesson, when my mother pulled up in our candy apple red minivan to drop me off at the studio, something stopped me cold. I couldn't get out. I stayed in the passenger seat and we drove away.
I had already gone too far down a path that I was convinced my entire world deemed to be incompatible with this other desire.  I didn't know how to make my way from cold-blooded netminder to elated athlete-artist in beautiful shoes.  In one way, I lacked the courage of my convictions. In another, I never felt the choice was truly mine to make.
I would return to hockey in various smaller ways, always less invested than I was only hours before I collapsed in the middle of that rink. I never played goalie again. To this day, I'm resentful that I spent my early childhood in a pursuit that constantly made me cry and doubt my worth.
Was I fated to play hockey? Was it somehow etched into my DNA by one family bloodline, an expression of my genetic composition? More likely, I was just another cheap knock-off produced by one of our country's countless factory towns. In places like St. Albert, where the expectations of young men are so uniform, so predetermined by a rigid cultural history, we're not so much born to play as we're expected to be one and the same.
Curtis LeBlanc is a poet and writer living in Vancouver, BC. His debut novel, Sunsetter, is forthcoming from ECW Press in 2023. He is the author of Little Wild and Birding in the Glass Age of Isolation. He is currently at work on a hockey memoir.