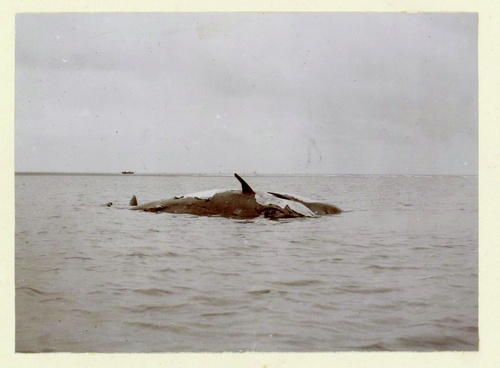 A beached whale off the coast of France, circa 1900. Rijksmuseum, Amsterdam.
The Sum Of Its Parts
When a blue whale dies, asks Allison LaSorda, are we grieving for the animal or ourselves?
An aerial image of a blue whale carcass that washed up on Crystal Crescent Beach arrived on my phone with a text from Noel: You could go see this. It's near you. The photo, embedded in a news story, looked like a painting: an unmistakable whale shape, languid and whole and wrong against dark waters and pebbled shoreline

I found myself hurriedly changing into pants and arriving at the beach within minutes. The parking lot was empty and appeared as an entrance to the abyss. In central Nova Scotia, Hurricane Larry had brought in fog with its storm, and little was discernible beyond the edges of the path. A few others arrived around the same time; when we made our way onto the beach, scanning the area, an older, grey-haired man holding hands with his wife asked if I knew where the whale was. I said I didn't ...