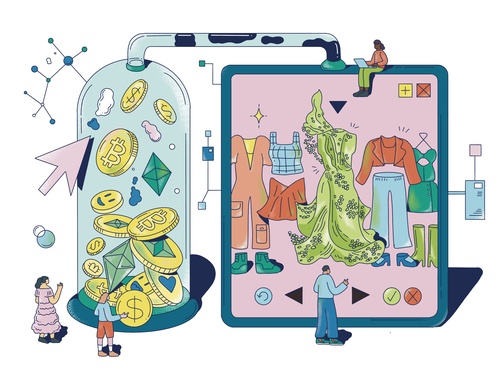 Illustration by Kathleen Fu.
À la Modem
As fashion moves into Big Tech's metaverses, digital clothes are feeling a little last season.
One sunny afternoon in 2017, while traipsing through London's ritzy Mayfair neighbourhood, I happened upon a line of young people patiently queueing behind a velvet rope. Puzzled, I searched the throng for clues when I finally caught a glimpse of the front, which was flanked by bouncers. At 2 PM on a Saturday, these kids weren't lining up for an exclusive nightclub, but waiting to enter the Gucci store, which was rammed at full capacity. Curious, I took my place in line to see what all the fuss was about. Ten minutes later, I entered a 20,000-square-foot, two-floor  space bursting with racks of floral blazers, seventies pastel tailoring and tiger-embroidered, fur-lined slippers. I was in an absolute museum of maximalism, and its visitors were treating it with all the reverence a museum requires.
Then-creative director Alessandro Michele helped transform Gucci into a global powerhouse, exploding the brand's popularity with younger generations. In May of 2021, Gucci tried to translate this frisson into a virtual experience with the Gucci Garden, a two-week-long digital Gucci store and exhibition on Roblox, a gaming platform used by over half of American children. In this virtual rendering inspired by Michele's designs, computer-generated surrealism supplanted real-world opulence. Genderless, featureless mannequins walked around chaotically-colourful rooms packed with pixelated texture packs: one contained a pool in reference to Michele's 2020 Gucci Cruise collection, complete with a balloon arch and a disco ball; another, a garden with floral couches flanked by improbably vibrant vegetation. Against the glamour, background graphics chopped in and out like an open-world game from the early 2000s. In some of the rooms, digital clothing and accessories hung on on the virtual sequin-adorned walls, available for players to purchase with a simple click.
One of the hot items on sale was a virtual version of Gucci's popular Dionysus purse, a structured handbag featuring a U-shaped tiger-head clasp and a giant embroidered bee. The product was available for one hour on the first day of the exhibition, for 425 Robux, Roblox's currency, equivalent to around $8 CAD. Much like in real life, opportunistic resellers immediately began flipping the virtual bag on the platform to make a quick buck from users who missed out. But no one anticipated that someone would eventually pay the equivalent of $4,115 USD for one of the digital bags, exceeding the price of the material item by over $1,100 USD—all without the free champagne or attentive service of an IRL shopping experience. The bag is also worthless in real life.  "Remember: this Roblox purse is not an NFT and thus has no value/use/transferability outside the Roblox world," tweeted Reddit co-founder Alexis Ohanian after news of the sale shocked the tech and fashion worlds, referring to the fact that the bag existed exclusively on Roblox and could not be traded or resold on the blockchain with a cryptocurrency, like other expensive virtual mementos often are. "Yet it's worth more than the physical one."
More than 20 million players visited Gucci Garden. It was such a hit that Gucci decided to set up camp on Roblox permanently with a virtual shopping space called Gucci Town, described by the century-old luxury retailer as "a place to discover more about the House and its heritage, as well as to express one's own individuality and connect with like-minded individuals from all over the world." There, players can visit the central garden, stop at a cafe and shop at a virtual Gucci store to accessorize their digital selves—which in Roblox, are often blocky, LEGO-headed figures, a far cry from Gucci's usually well-heeled human clientele.
Roblox is one small part of the metaverse, which is still nascent and difficult to define. The term refers not to one specific technology or product, but to the combination of augmented and virtual reality (AR and VR) to create 3D digital environments. It can encompass everything from experiences with VR headsets like Oculus to massive multiplayer video game worlds like Fortnite to Meta's attempt to create immersive digital social scenes. Broadly speaking, the goal of tech companies like Meta and Microsoft in this space is to facilitate virtual worlds that emulate, or accentuate, our physical reality. Tech investors and commentators have showered the concept of the metaverse with excited hype in recent years, as well as wary critique, but the pace and scale of the true adoption of virtual reality outside of gaming is unclear, as are its actual capabilities.
The fashion industry, however, seems to be diving avatar-first into the metaverse as something that can open new avenues for brand awareness, creative expression and revenue growth. The value of the sector has been steadily growing; investment bank Morgan Stanley predicts that the market for luxury fashion in the metaverse could reach $50 billion USD by 2030. According to consultancy firm McKinsey, global spending on virtual assets as a whole, including cryptocurriencies, NFTs (non-fungible tokens, or unique digital assets that are impossible to replicate) and other digital products, will hit at least $135 billion USD by 2024. In 2021, spending on these assets totaled $110 billion, of which fashion accounted for 30 percent. Luxury retailers like Gucci and JW Anderson put on virtual fashion shows, while upstart digital fashion brands offer exclusively virtual clothes as novel mementos. Balenciaga created a collection with Fortnite, and joined Thom Browne and Prada in launching garments on the Meta Avatars Store, allowing users to customize their 3D avatars on Instagram, Facebook and Messenger. Now, your avatar can boldly don one of Browne's signature shrunken suits, complete with the four white stripes around the left arm and leg, paired with a cardigan and longwing brogues. Etro, Tommy Hilfiger and Roberto Cavalli have all shown collections in the Metaverse Fashion Week, which ran for its second year this March and is hosted on the NFT-driven virtual platform Decentraland. Even the prestigious New York fashion institution Parsons School of Design partnered with Roblox to educate the next generation of talent about designing fashion for the metaverse.
Emerging designers and digital fashion brands are getting in on the action too. The young New York–based brand Cult & Rain, for example, designs digital clothes that "[merge] NFTs with exclusive physical redeemables," or internet-speak for real clothes. Digital brands, like the Fabricant, Kai Kai and DressX, don't even sell physical garments. If customers want to try on a physics-defying swirling green dress from Kai Kai that can "disintegrate, change colors, and reflect space," there is no dressing room to do so. Instead, patrons either pay for an edited image of themselves wearing the dress, see the garment overlaid as an AR filter or buy it as an NFT. But it's hard to determine if consumers are genuinely thrilled by the creative possibilities of virtual fashion, or just momentarily jazzed about a chance to "wear" the kind of clothes they might not be able to access or afford in real life.
Tectonic shifts in media and tech over the last two decades have transformed fashion. The growth of e-commerce through the 2000s led fashion to become one of the fastest-growing industries in the world, worth $2.5 trillion USD, while the development of faster, more efficient manufacturing methods has resulted in a fast fashion industry that produces clothing quicker than it can be purchased. The past decade of social media marketing evolution has helped stoke and solidify a culture of fashion that overvalues personal style and aesthetic taste, further equating them with success, sophistication, desirability and intelligence. Now, brands are setting up shop in virtual worlds promising a realm of unrestricted creative exploration; but beyond the uncanny thrill of dressing your digital self in designer garb, the true value of metaverse fashion is dubious. The fashion industry is built on contradictions: the conflicting goals of maximizing profit while remaining exclusive, the tug-of-war between fantasy and reality, the duelling desires of genuine self-expression and signalling status. When a fashion brand enters the metaverse, the party line is the same: clothing is the highest form of individuality and to purchase virtual clothing is to build your personal brand. That may explain why someone would spend over $6,800 CAD on an unwearable digital replica of a floral Carolina Herrera dress worn by Karlie Kloss on the runway at New York Fashion Week last year.
"We're just at the tipping point of this new era," said Simon Windsor, co-founder and joint CEO at Dimension Studio, in a 2022 interview with McKinsey. The creative agency collaborated with Balenciaga to produce the 2020 video game Afterworld: The Age of Tomorrow. "It starts to change the meaning of fashion itself." He's right, even if the place of fashion in the metaverse remains unclear. Using fashion to signal and celebrate our identities can be joyful, affirming and, for many of us, necessary. But whether the pursuit of self-expression through fashion can truly translate to branded virtual environments maintained by corporate entities with dubious intentions—and outside of the actual contexts in which clothes matter—remains to be seen. This raises an urgent philosophical inquiry that feels overlooked in the techno-progressivist discourse: what does fashion mean in the metaverse, and who really benefits—and profits—from it?
The sci-fi author Neal Stephenson first coined the term "metaverse" in his 1992 novel Snow Crash to describe, rather prophetically, a virtual reality with avatars and digital currencies. Almost twenty years later, Ernest Cline revisited the concept in his dystopian novel Ready Player One, in which a virtual world called the OASIS is depicted as a reprieve from ongoing global disaster. The term reached a world outside of genre readers when, in October of 2021, Mark Zuckerberg announced that he would be changing the name of his company from Facebook to Meta and focusing on enabling users to participate in immersive virtualexperiences. The retitling signaled a major pivot to—and multibillion-dollar investment in— the metaverse, where people could, hypothetically, work, play, travel and shop in entirely digital worlds. "I believe the metaverse is the next chapter for the internet," said Zuckerberg at a developer conference following the Meta announcement. The promise of the metaverse relies on what some refer to as Web3, the utopically-theorized next phase of the internet that utilizes decentralized technologies, like the blockchain, to underpin a democratized, user-controlled world wide web. Using this technology, the metaverse vows to give people the ability to create their own virtual environments and to buy and sell digital goods and currencies—although many of the metaverse-backing companies hope to keep users within their branded worlds, rather than hand over any power for us to create our own.
As it stands, the feasibility of the metaverse is currently less important to the tech industry than the shiny promise—and the associated investment opportunities—that the term implies. David Karpf, an eminent internet scholar and associate professor of media and public affairs at George Washington University, says that the metaverse means different things depending on a company's product vision and business goals. "It's largely a branding term so that everyone else can get a sense of 'this must be the future,'" says Karpf. In an article for the Globe and Mail, Adrienne Matei claims that "fully-fledged metaverses don't currently exist," critiquing immersive platforms such as Decentraland and Roblox. "People have started calling [these platforms] metaverses either for simplicity's sake or so they sound more revolutionary than they actually are."Karpf notes that Zuckerberg gives employees at Reality Labs, Meta's VR and AR division formerly known as Oculus—which lost $13.7 billion USD in 2022—a copy of Ready Player One for inspiration. "Like Cline's OASIS, they want the virtual world to be just as real as real life," wrote Jillian D'Onfro in a 2016 Insiderarticle, of executives' grand visions of people sitting courtside at NBA games without leaving their homes or using an Oculus to socialize from the hospital. "Hopefully, though, the real world won't be as worth escaping as his."
So far, Zuckerberg's expansive vision of the metaverse has certainly fallen short of expectations. His virtual space has not become a hub for corporate meetings or social events.  "Not a lot of people were visiting and very few people bothered to come back," says Karpf. Meta's focus has since shifted to AI, yet fashion brands are still experimenting with metaverse possibilities, in Meta's world and elsewhere. At the end of 2021, Nike acquired RTFKT, the trendy sneaker NFT company sometimes referred to as the "digital Supreme," for a rumoured $1 billion USD; the Fabricant raised $14 million USD from investors last April. "Brands are tinkering with [the question of] 'is this a place where we can set up an experience?'" Karpf says. "Under the hypothesis that if the metaverse is the future, we'll get a lot of credit for being there first, so let's spend a little bit of money trying it out."
While metaverses have also been knocked for being aesthetically rudimentary—one BC-based digital fashion designer admitted to the Globe and Mail that many metaverse garments look"very childlike"  with their angular, simplistic designs— tech advancements may offer opportunities for creativity and innovation in fashion, at least for some smaller designers. The platform SYKY (pronounced "psyche") intends to allowcollectors to buy both digital and physical clothing from new and emerging designers. After raising $10.5 million USD in an initial fundraising round, SYKY launched the Keystone, an NFT project that grants holders access to a members-only space, exclusive events and early designer collections. "We're seeing traditional designers that are coming to SYKY that want to learn about the Web3 space [and] we're seeing Web3 designers [that are] excited about the potential of moving into the physical world," saysCOO Roxanne Iyer, noting that some SYKY designers hope to first showcase their designs virtually and then present the real garments at upcoming fashion weeks.
Platforms like SYKY could break down barriers for young designers entering the industry, which is notoriously difficult to break into and largely based in phenomenally expensive cities like New York, Paris and London. "Many of the designers that are part of the SYKY community that are building and creating every day don't live near some of the major fashion hubs [or the] major fashion schools," says lyer. "The fact that Web3 and the metaverse lowers the barriers to entry and enables everyone to be a creator and designer in the space and to build and learn is really incredible." The London-based designer Scarlett Yang, for example, first experiments with virtual renderings of her intricate, biodegradable pieces before using algae extract to bring them into the real world. "There's more creative freedom in the digital [realm], there's no constraints, no gravity," said Yang in an interview with Wired UK.
Brands can also use Web3 technology to form deeper connections with their communities. The luxury womenswear brand Khaite partnered with virtual fitting room experience Bods to help shoppers find their perfect fit before purchase, addressing one of online shopping's most persistent problems. In August 2022, the independent New York brand Maryam Nassir Zadeh launched Club MNZ, an NFT priced at $200 USD that grants members access to fashion shows, brand fittings and sales. The NFT is a virtual rendering of founder Maryam Nassirzadeh's all-white Manhattan loft, a staple of her personal, intimate Instagram account. The opportunity for audience-based financing is an easy sell for smaller designers—acquiring capital isnotoriously difficult fornew creators in an oversaturated market. "It was a good opportunity for us because we always need people to be sponsoring us, because we're such an independent business and it's still tough," said Nassirzadeh in an interview with Harper's Bazaar last September.
We have always used clothing as a tool to appear legible to others. In the late 1990s, for example, middle-class jocks wore Abercrombie & Fitch and alternative ravers wore JNCO jeans. Virtual clothing might seem bizarre to those of us who have not been plugged into the internet since birth, but given how much of our lives now takes place online, it seems logical that the virtual realm would facilitate new means of creative expression. Roblox claims that 70 percent of its Gen Z users say that their avatar's style mirrors their own, and that their digital fashion choices influence their real-life ones, providing a sense of confidence and individuality. Vogue Business reported that many young consumers of digital fashion believe that it provides them a space for exploration, especially for people sidelined within the mainstream fashion industry, such as disabled or plus-size consumers.
Iyer believes that there is a real demand for digital fashion among young people. She cites insights from Roblox as proof of consumer appetite: one report showed that, in 2022, more than 11.5 million creators designed over 62 million pieces of virtual clothing and accessories on Roblox, many of them enjoying exposure for their designs that might be difficult to find in the highly-competitive traditional fashion market. "There's so much potential as users are already starting to get inspired by what they see virtually, and that impacts what they do in the physical world," she says. Unlike the millennials who have sunk hundreds of unprofitable hours into designing the perfect outfit on Sims 2, Gen Z virtual fashion aficionados also seem to be turning their gaming into a real design career: Rush Bogin, a prolific teenage Roblox fashion designer, has built a multimillion-dollar company through the sale of his virtual fashion accessories.
While some fashion designers are taking advantage of the new tech that has become available to them, persuading consumers that they, too, should engage with digital fashion is largely achieved by leaning into its novelty rather than any true utility—much like the rest of the metaverse, digital clothing appears to be most meaningful to the people who stand to make money from it. And that novelty might be overstated—according to Karpf, the metaverse isn't so different from Second Life, the online game that launched in 2003 in which users could create an avatar that lives, socializes and shops in a virtual world.Fashion attempted to elbow its way into that experience, too—at one point, you could even buy Armani and Adidas goods for your avatar with Linden dollars, Second Life's virtual currency. The experiment flopped, however, and users criticized and boycotted the virtual designer goods for their poor graphics and lack of interactivity, as well as the way that they slowed down the game. To some, brands' attempts to move into the Second Life virtual world felt like pure commodification, a mercenary attempt to stake out ad space on a platform meant for play, not marketing. It might be amusing to don a Gucci-emblazoned sweater in the metaverse, but major fashion houses exploiting consumerist impulses in a space primarily intended for fun and frolic feels gauche at best and unbearably materialistic at worst. Sure, today's experience is more immersive and the technology has improved, but if people didn't really need virtual designer goods then, why would they need them now?
In a 2021 Wiredarticle, Karpf calls VR "like a rich white kid with famous parents: It never stops failing upward, forever graded on a generous curve, always judged based on its 'potential' rather than its results." His opinion hasn't changed. "People have been trying to say VR is the next thing since the eighties … and people keep not wanting it," he tells me. The backlash to Big Tech that began in the late 2010s saw mounting public concern over issues including corporate monopolies, data privacy, political interference and the spread of misinformation. Since 2018, a string of scandals—including the Cambridge Analytica debacle, in which the consulting firm was exposed for harvesting the personal data of up to 87 million Facebook users to target them with political advertisements—has prompted the passing of privacy and antitrust laws meant to increase competition and protect personal data. Social media companies have been widely criticized for encouraging rampant overconsumption through targeted ads and influencer culture, which skirt the advertising rules and regulations that traditional media must follow. The internet's puppeteers have contributed to the extreme political polarization and cultural homogenization that characterize our alienated era. Rather than leading them to step back and reflect on their business policies, this cascade of scrutiny and pressure has instead spurred our tech overlords to try and invent a different kind of internet.
Technology alone doesn't inherently pose a public threat. But the industry's concentration of power and lack of regulation has exposed the failures of techno-utopianism, the romantic idea that advancements in technology will vastly improve our living conditions. If you've ever been bombarded with Instagram ads, been the target of hate speech on Twitter or blocked your aunt for posting about a stolen election on Facebook, you might agree that the experience of being online is chaotic, isolating or even harmful. You've also probably arrived at the deflating realization that we are not meaningfully in control of the digital platforms we use or our own data, but rather subjected to technologies built to extract the highest profit from us, often by any means necessary. "I remember a ton of conversations in which the introduction of our tools was compared to the advent of the hammer, or the light bulb," commented Chris Hughes, Zuckerberg's college roommate, of Facebook's earliest days in an interview with theNew Yorker. "We could have compared it to a weapon, too, I suppose, but nobody did."
These are concerns that the fashion industry should consider as it makes a home in the metaverse. "Data will fuel the future of fashion," wrote Fashion Law Institute professor Kenya Wiley in an article for Women's Wear Daily last year, emphasizing the need for the industry to take data privacy and ethics seriously—a prescient warning given that many of fashion's expansions into the metaverse involve targeting young consumers on gamified platforms meticulously designed to keep them hooked. In a recent report, researchers in the UK warned that children are particularly susceptible to making in-game transactions, specifically highlighting loot box systems, in which limited-edition items are won through a pay-to-play gambling mechanic. Many parents have been shocked to discover that their kids have made large, nonrefundable purchases on platforms such as Roblox; one father told the parenting websiteParentsTogether that his ten-year-old daughter had spent $7,200 USD on Roblox during pandemic lockdowns in pursuit of  "rare" items. As Terry Nguyen points out in an assessment of digital fashion for Vox, it is no coincidence that big fashion brands have been particularly focused on the virtual gaming space, in which players are increasingly primed to spend money through constant exposure to shiny new toys. A culture of data-perfected consumerism that bleeds into our virtual worlds is not only a boon for fashion companies hoping to make sales off digital items with low production costs—it's a fundamental driver as to why anybody would purchase digital clothes at all.
To Karpf, tech's ruling billionaires are primarily committed to making the metaverse a thing to burnish their reputations as innovators and visionaries—not destroyers of democracy and our social fabric. Likewise, the executives at luxury conglomerates like LVMH and Kering are by no means ignorant to the problems that are rife in our new virtual worlds or the sins of the tech companies pushing for them. They understand that the metaverse only amplifies the privacy and consumerism concerns that have plagued social media; they are well aware that VR headsets can maximize personal data collection, creating fresh opportunities for advertising. Perhaps the marriage of fashion and tech isn't true love but a publicity-stunt romance. It bears the veneer of authentic connection and creative collaboration, but is more of a professional play designed to enrich both parties and launder their public images.
Initally, luxury brands were hesitant to adopt digital technology. Stalwarts like Fendi and Chanel, for example, didn't even launch online shops until the mid-2010s in a bid to remain exclusive, over a decade after the luxury e-commerce site Net-a-Porter had begun selling designer clothes on the web, where theoretically anyone with a credit card could buy a Baguette bag. Embracing e-commerce meant greater accessibility to their products, which did not come naturally to an industry built on exclusivity and fantasy. With the growth of social media and online shopping, sites like SSENSE and MatchesFashion.com made luxury fashion purchasable, though not necessarily affordable, worldwide, while digital media sites like Style.com and Vogue Runway brought fashion shows to the masses: millions of fans could flick through images and videos mere hours after a show.
In recent years it has been Instagram, though, that has made fashion hyper-relevant, both online and off. The rise of the influencer economy meant that, hypothetically, your next-door neighbour or high-school acquaintance could amass a million followers by sharing their outfits and even clinch a paid partnership with Gucci or Balmain, and get paid to post a selfie with a handbag. The platform turned images into social currency and us into consummate consumers. A 2018 Ipsos study commissioned by Facebook found that 54 percent of users made a spontaneous purchase after seeing a product or service on Instagram. Scrolling through your feed means being relentlessly marketed to, encouraged to dress for the life that you want and the person you think you're meant to be.
Instagram also helped fashion deepen its ties to Hollywood. Celebrities joined the platform, advertising dollars migrated toward social media platforms  and media brands like Vogue and i-D began live-streaming and posting about cultural events, from the Oscars to Prada shows. Actors became brand ambassadors and influencers and top stylists like Karla Welch are now industry power brokers between brands and celebrities. (If you've ever wondered whether Margot Robbie or Kristen Stewart are superfans or prisoners of Chanel, the answer is both: they have both acted as brand ambassadors for the French maison.) Today, luxury brands are cultural behemoths. They sponsor art fairs (Gucci), erect museums (Prada) and invest in films (Chanel). In April, the French fashion house Saint Laurent launched a production company to develop films with auteurs including David Cronenberg, Pedro Almodóvar and Gaspar Noé. In an interview with Variety, the house's creative director Anthony Vaccarello explained the move as an "opportunity to expand the vision I have for Saint Laurent through a medium that has more permanence than clothes." In late capitalism, high fashionis pop culture. There's an imperative to engage with it.
But engaging with fashion in the virtual realm is complicated, especially since the concept of digital ownership is widely misunderstood. While NFTs and other digital assets exist on the blockchain, "The land, goods and characters in the metaverse … exist on private servers running proprietary code with secured, inaccessible databases," writes associate law professorJoão Marinotti in the Conversation. These platforms grant you access, not ownership, to digital assets. If you furnished your flat in the metaverse with an NFT of a Gucci-branded bionic person holding a black cat, and that platform goes under or you're banned from it, you'd still own the NFT on the blockchain, but "it is now functionally useless and financially worthless," Marinotti notes. For items like the Roblox Dionysus bag, which is not an NFT, any lasting ownership on the part of the purchaser is entirely dependent on the platform's cooperation. The state of intellectual property as it applies to digital works is currently messy and unclear, and fashion designers could even stand to lose the rights to designs that have been transformed using technology.  Kerry Murphy, CEO of digital fashion company the Fabricant,noted in an interview with Forbes that the Fabricant owns the digital clothing items that they produce, even if the original designs came from other creators. Beyond the fact that the energy-guzzling mining of cryptocurrencies used to buy and sell NFTs in the metaverse emit greenhouse gasses—directly contradicting fashion's public commitments to sustainability—NFTs and other digital fashion assets could be seen as an exemplar of the fashion industry's excesses, paradoxes and vacuousness. The status (or appearance) of merely owning something shiny can eclipse its artistic value, technical innovation and craftsmanship.
At its core, the fashion industry has always been exclusive, targeted toward a miniscule slice of the population—those wealthy enough to drop hundreds or thousands of dollars on the latest designer gear. While industry ventures into the metaverse do reflect marketing efforts to reach a broader swath of consumers, they come as the gulf between the one percent and the masses gets wider and wider. In April, the enviably cool Parisian brand Ami announced its third experiment in the metaverse: a recreation of Paris' charming neighbourhood of Montmartre on the gaming platform Zepeto,which has 20 million active users. Users could purchase fourteen digital versions of pieces from Ami's spring 2023 collection and stroll through the cobblestoned streets to admire the Sacré-Cœur "without crowds, strikes or demonstrations," per Women's Wear Daily. The day before Ami's announcement, hundreds of thousands of French protestors took to the streets to oppose President Macron's plan to hike the minimum pension age. Some stormed the Paris headquarters of LVMH, the luxury goods conglomerate owned by Bernard Arnault, then the newly-crowned richest person in the world with a net worth north of $200 billion USD. "You're looking for money to finance pensions?" asked the Sud Rail trade unionist Fabien Villedieu, according to media reports. "Take it from the pockets of billionaires." I suspect Villedieu wasn't wearing Ami.
Claims that the metaverse can democratize luxury fashion and enable creative exploration are somewhat valid. But they overlook the true motivation behind these digital experiments: to exploit a new revenue opportunity.  The powerful marketing message driving consumers to the Prada store is the same one nudging them to dress their virtual avatars in a simple white tank-top bearing the Italian brand's iconic triangle logo: these clothes will unlock the best version of yourself, whoever that is. And now, you don't even haveto buy the real thing, because the virtual product will capture that feeling and telegraph that version of yourself to the world, all while fashion giants achieve profit maximization. The move into the virtual realm is another reminder of the extractive capitalist logic shared by both Big Fashion and Big Tech, where the few profit off the many. In the metaverse, there are no marches, no rumblings of social unrest. Rather than meaningfully address the inequalities that they have created and contributed to, our tech and fashion behemoths would prefer to simply move over to new worlds, where they can persuade us that all of our needs can be met through further consumption. Your avatar, wearing head-to-toe Gucci, is not dressing to fight for class equality or protest pension reform. In virtual reality, this is pure fantasy.
There's a running joke among media and fashion people about the off-chance of a new garment "changing your life." Could the right dress, suit or sweater make you feel sexier or more confident, or telegraph sophistication and taste? The subtext is that clothes—the kinds made from cottons, linens, silks and synthetics—possess a real emotional power. IRL, clothes can protect, attract, seduce, repel. They can communicate erudition or tackiness. There's even a psychological component; clothes can supposedly uplift our moods and impact our work performance. They're embedded in our cultural fabric, in our real lives. The lingering, titillating possibility that clothes could somehow enhance or unearth our "authentic selves" is fashion's core and enduring, if doubtful, promise. And it's an especially potent fantasy in a cultural moment in which publicly broadcasting our tastes and aesthetics is central to building an identity online, perhaps at the expense of genuine connection or self-knowledge. The metaverse can't replicate the sensual pleasures of a handknit sweater, your favourite thrifted coat or even a Birkin. It also can't mimic the environments that we wear those clothes in—our real lives—any more than spending time in Meta's empty virtual worlds can replicate the real experience of socializing.
The virtual world might open up opportunities for novel creative ventures in fashion, but it also represents fashion further encroaching on our time and money, while upholding existing monopolies and enriching the industry's ruling class. Ultimately, the promise of metaverse fashion echoes the long con of neoliberalism: that technology will connect us and consumption will fulfill us. It's true that technology and social media have made our lives easier and more fun in some respects, but mostly, they've alienated us and fractured our communities. As Chris Murphy writes in the Atlantic, "the consumerism that was supposed to fill our lives with the material rewards necessary for happiness instead left many feeling empty as our cultures and identities got swallowed up by the shapeless, antiseptic, profit-obsessed international economy." In the metaverse, it's supposed to be us in control. But the rapid and ongoing attempts to commodify creativity and exploration in this new space are naked endeavours to turn users into consumers who could justify spending thousands of dollars on an immaterial handbag.
For now, fashion in the metaverse may be nothing more than a slick, if hollow, rebranding of decades-old technology that has yet to resonate with the masses. Beyond the scant opportunities for true innovation, tech and fashion billionaires finish social media's job of cheapening our desire for individuality and self-expression by equating it with consumption. The concept of an unlimited virtual wardrobe further instills an illusory sense of control over our fashion choices, and reinforces the false idea that we're empowered consumers. Perhaps a digital handbag is not a pure representation of our authentic selves, but proof that marketing is powerful. And maybe digital clothes are just a uniform for a frictionless, branded universe, the rough edges of reality pixelated and out of sight. You can't smell the roses, eternally in bloom, in the Gucci Garden. ⁂
Josh Greenblatt is a writer living in Toronto.