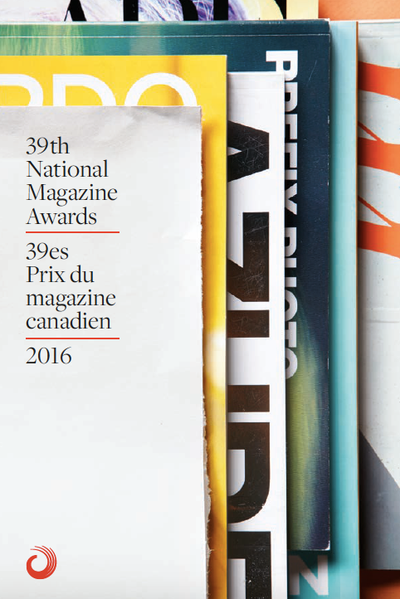 Maisonneuve Wins Magazine of the Year
June 13, 2016
We are happy to report that Maisonneuve was named Magazine of the Year at the 39th National Magazine Awards on Friday, June 10. It was the third time in the magazine's history that we have received the top honour, with previous wins in 2012 and 2004.

Here is what the jury had to say:

Maisonneuve fulfills its bold mandate of "banishing boring," clearly striving to engage, inform and inspire. From its refreshing and imaginative art direction to its passionate editorial voice, the magazine feels like its constantly evolving, yet at the same time seems to connect with a sense of familiarity with its readers.

In total, Maisonneuve took home four gold and one silver awards, coming second only to the Walrus in the total medal count:
Marta Iwanek won Best New Photographer for "The Maidan." She also received a gold for the same piece in Photojournalism & Photo Essay. 
Alison Motluk won gold in Health & Medicine for "Worth the Risk?"

And finally, Anna Minzhulina, Haley Cullingham and Ian Patterson won silver in Magazine Covers for our Summer 2015 issue.

Honourable mentions went to:
Photojournalism & Photo Essay: Angela Gzowski for "Foraging For Fortunes." 
Magazine Cover: Anna Minzhulina, Haley Cullingham and Ian Patterson for our Spring 2015 issue. 
Arts & Entertainment: Peter Henderson for "Back to the Drawing Board."
Arts & Entertainment: Will Di Novi for "October Boy."
Essays: Joseph Rosen for "The Third Solitude."
Health & Medicine: Rhiannon Russell for "Home Truths."
Politics & Public Interest: Angelina Chapin for "The Home Front."
Society: Lyndsie Bourgon for "Herd Mentality."
Society: Chantal Braganza for "More Than Words."
Society: Sara Harowitz for "Kings, Queens, and Everything In-Between."
Illustration & Photo Illustration: Mike Ellis for "Reduce, Reuse, RIP."
Portrait Photography: Ian Patterson for "The Home Front."
Spot Illustration: Patrick Doyon for "Catching the Light."

Congratulations to all of this year's winners, and thank you to all of our 2015 contributing writers, artists, photographers and interns! 
And if you like what we do, please support us by subscribing.