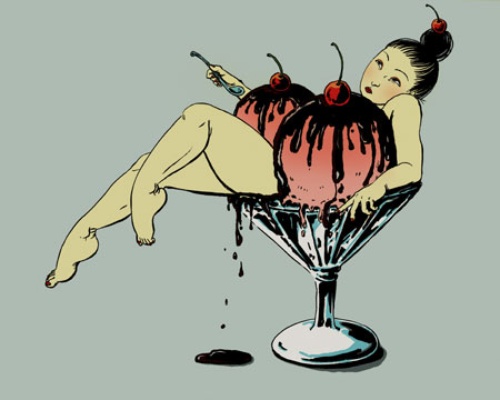 Adult Language
The internet has changed the way porn writers depict sex. How one man nearly became a scribe of smut.
Art by Yuko Shimizu
A few years ago, I sat between two men in a nondescript Montreal office and watched a woman fellate a large penis. In the video, a man held the woman by the neck, while a different set of fingers, coming from off-camera, pushed the back of her head down. "I love it when they gag," Randal, the man on my right, said. I looked at him, speechless. DJ, the other man in our trio, shook his head. "He's crazy and has absolutely no scruples, but he's a necessary evil," DJ said. "Sometimes I think his descriptions are better than the actual clips."
Randal was a porn copywriter who loved what he did, which involved creating text to accompany online photos and videos. DJ was his boss. Working fast and with the sort of joy reserved for children at ice cream stands, Randal had already written, in the short time I'd been there, blurbs that included the terms "cream pie," "meat pole" and "jizzicle." "I like to think of my work as a cum shot in the eye," Randal said. "It's exciting, but a bit painful if you really look at it."
I was there because I needed a job. Just days earlier, I had turned down the "chance" to write business copy for peanuts, so I now found myself watching simulated rape with two strangers and wondering how I'd make the clip attractive to a search engine. In an email to DJ, I'd described myself as a "writer"—but what kind of writer, I now asked myself, did I want to be? Unlike me, Randal did not want to make his living with words. He didn't even call himself a "copywriter." He was simply "in porn." There was money to be made in this industry, and it was, to him, far better than his last job, which involved handling the money deposited in ATMs—a revelation that made me avoid automated banking like an escort steers clear of unprotected sex.
"So? What do you think?" DJ asked eventually, sensing my discomfort. "The work really isn't bad. You make your own hours, can do it from home if you want, and it's mostly anonymous, so there's no stigma."
"And there's the free T-shirts," Randal said, pointing to his own chest. Just over his slight potbelly, near his heart, was the phrase, "Go Fuck Yourself."
People like Randal, who stumbled into smut barely knowing what the word "copywriter" means, are a dying breed. As in the newspaper and music industries, the past several years have not been kind to pornography's old business model. Adult Video News, an industry magazine, estimates that adult products generated over $12 billion in 2006, with DVD sales representing a third of this total. Since then, DVD sales have dropped 30 percent a year. Thanks in particular to the explosive popularity of homemade erotica and YouTube-esque porn sites—a site called YouPorn attracts 15 million visitors a month—the industry has largely shifted to digital content and online memberships. Having a skilled, experienced copywriter who knows what porn fans are looking for can be a big advantage.
"A good adult copywriter is near-identical to a good copywriter in any other industry," a manager at erotic writing agency Adult Language told me. She should know; she also writes copy for "straight" industries, which is why I'll call her Miss X. "They must be a good writer with a strong understanding of marketing techniques and an ability to use language creatively."
At the heart of all this is Search Engine Optimization, or SEO, a series of techniques used to improve the way any given site communicates with users and search engines. Essentially, SEO involves using and placing relevant words as effectively as possible in order to improve your ranking in keyword searches. Pages, domains and images all have to be properly titled, and texts need to be clean and logical. There is no magic bullet that automatically ensures your site the first spot in a Google search, but you can increase your chances by focusing, in the words of Google's guide to SEO basics, "on what's best for the visitors of your site."
So if a person is looking for an interracial MILF threesome, for example, you need to ensure those particular keywords are prominent on your site. There can be no ambiguity regarding what a page is about, and copywriters have to clear the way. For an industry built on lurid visuals, success now depends on the titles of photo galleries and how frequently certain words are used. "The adult industry is so competitive that, without effective SEO tactics, it wouldn't be possible to run a successful site at all," Miss X said. "And the key to effective SEO is well-written copy."
But it's hard to write about sex well. Every year, for example, Britain's Literary Review presents an award for Bad Sex in Fiction. Usually, the winning works involve long, graphic descriptions that list, in hilarious detail, every action, reaction and secretion. My favourite is 2005's winner, which includes this passage: "And as she grabbed at his dick, which was leaping around like a shower dropped in an empty bath, she scratched his back deeply with the nails of both hands and he shot three more times, in thick stripes on her chest. Like Zorro." More often than not, the guilty parties are talented, high-profile novelists. So if well-known writers have a hard time of it, how do adult copywriters manage?
"The most important thing is to make the reader horny," said Marcelo Bagalciague, formerly of content agency Adult CopyWriters. And, true to the cliché, you have to write what you know. "For me it's much easier to write hardcore or lesbian scenes than bondage or gays," Bagalciague continued. "I don't know one straight writer who would take a job of describing four hundred gay scenes. They just won't do it."
To write about porn, you have to love porn. This, Miss X believes, may drive away more talented scribes—and it's the reason copywriters like Randal, with no writing background but plenty of smut-watching experience, are able to sneak in. "While we all have our own tastes, pornography is one of those areas where it is extremely difficult to venture outside of one's own comfort zone," she said. Sometimes, it proves too much for her. "I stopped wanting to do this during a week spent researching and writing reviews on hardcore S&M porn sites. I found visiting and making notes on sites depicting images of electrocution, water torture and rape to be a little depressing."
The clip ended, and the requisite money shot splashed all over the screen. I was left staring at a woman covered in semen, but now, thankfully, free from the clutches of two ugly men. How could I best sum this mess up? What was I supposed to focus on? Anatomical sizes? Race? Should I be obvious? Subtle? Funny?
In The Joy Of Writing Sex, Elizabeth Benedict says that in "the best fiction writing about sex…we come to the end knowing not just 'what happened' but something about the characters, their sensibilities, circumstances or inner lives." The trouble was that I didn't know anything about the borderline assault I had just witnessed. I didn't know anything about these characters, or the circumstances that brought them there. The only words that sprung to mind were, "Young woman traumatized for life," a phrase that didn't quite gel with the giant smile now plastered on her face.
Eventually, I settled on something involving "voluptuous" and "brunette," though what the full sentence was I can't really remember. I decided then that I didn't want to watch four hundred X-rated videos every day, or constantly think up new euphemisms for rim jobs and gangbangs. I didn't know what I wanted to write, but I did not want to be like Randal. "Obscenity is a cleansing process," Henry Miller once said, "whereas pornography only adds to the murk."
"Not bad," DJ said, reading my work. "I think 'busty' would be a better word to use, though."
"Yeah," Randal said, scratching his crotch and reading over DJ's shoulder. "But I would have used the words 'big-titted'."
See the rest of Issue 36 (Summer 2010).
Related on maisonneuve.org:
Subscribe to Maisonneuve — Follow Maisy on Twitter — Like Maisy on Facebook