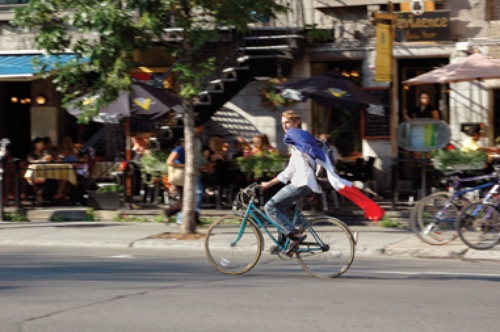 The French Invasion
Montreal is now home to a growing population of French newcomers. But what's the allure of Quebec, and does it live up to expectations?
Photograph by Austin K. Kapfumvuti
Noon on a sunny Saturday; we're at the bakery. The employee who greets us is French, as is the person who hands us our bread. Same with the cashier, and the clients. You'd think you were in Paris, but we're at Première Moisson on the corner of St. André and Mont-Royal.
"The Plateau has become New France," says Pierre-Marc, a local waiter. That's no exaggeration. Businesses here are teeming with young employees from France. Indeed, by year's end, Ottawa expects to grant fourteen thousand temporary visas to French visitors. "That's a record," says Pierre Robion, consul general for France in Montreal. In 2003, it only issued three thousand.
"All the CVs coming in right now are from French people on Working Holiday visas," says Première Moisson manager Marie-Josée Servais. The Working Holiday program— which issued seven thousand visas in 2010—allows visitors to stay for one year. But most of her French staff dream of permanent residency, including Guillaume Drivierre, twenty-eight. His visa is set to expire. "I just have one month left," he says. "I don't want to have to leave."
Drivierre's girlfriend, also from France, is already a permanent resident. She works for the website of AlloCiné, a French film organization. The couple lives in the Plateau, where many French jobseekers end up. "It's not expensive for us," Drivierre says of the gentrified neighbourhood. "In France, you need to pay three months' rent upfront when you sign a lease, and someone has to guarantee it."
Why Montreal? "France is in crisis over politics and immigration," says Jodie Sparapani, twenty-one, who works further along Mont-Royal Avenue at the shoe store Mochico. "Here, it's quiet in the streets, there are not the same social tensions and it's easier to find work." Her boyfriend, also on a Working Holiday visa, works just across the road, at Sport Dépôt.
Sparapani did not expect to meet so many ex-pats in Montreal. "I try to steer clear of the French," she says with a laugh. Bars like L'Barouf and Café Campus are no-go zones.
France is now second only to Algeria as a source country of immigrants to Quebec. Marie-Christine Brault runs a private daycare, Le Rendez-vous des lutins, on Mont-Royal, near Henri-Julien. "Most of our children are from France and Belgium—a good 60 percent of them." Brault left northern France thirteen years ago and settled here with her husband and two children. "We live on the Plateau, like all the French," she says. "It reminds us of neighbourhood life in France."
Jacques Perron is a real estate agent; Plateau Mont-Royal is his turf. "For the last two to three years we've definitely seen more French clients," he says. "They're not fazed by house prices here, and they're happy with a nine hundred- to one thousand-square-foot living space."
All is not rosy, however, for those leaving France to try their luck in Montreal. Drivierre has the bakery gig, but, with a Master's in audiovisual production, he wants a media job. "An employer is only allowed to hire you if there's no Quebecois candidate capable of doing the same job," he says. "You need to be the Messiah or something to get a foot in the door."
Caroline Dal'lin is a permanent resident, but becoming one was "very complicated." The twenty-eight-year-old, who works for ATOUT France, the French tourism development agency, had a study visa, a temporary work visa, a Working Holiday visa, a Human Resources Canada visa, and then, finally, permanent residency. "It's quite the process and it costs a fortune," says the new Montrealer and Plateau-dweller. "You really have to want to be here."
"For the past two or three years, we're seeing more and more French people become disillusioned with Quebec," acknowledges Myriam Gagnon, the twenty-six-year-old Quebecois coordinator at the Parisian office of the Association France-Québec. Gagnon meets French people who have never set foot in her home province yet are desperate to emigrate there. "This whole infatuation with Quebec blows my mind," she says. "I tell these people at least to go there on vacation first, to see if the streets are really paved with gold."
On arrival, new immigrants can have a rude awakening. Before touching down in Montreal, Drivierre had never heard of the maudit Français. "The Quebecois have a stellar image and reputation in France, but when you get here, you see that the same can't be said for us," he explains. "Many people of a certain age have had bad experiences in France—we can come across as arrogant. The term 'maudit Français' derives from that."
But Quebec's transatlantic cousins are the first to recognize their shortcomings. "The French are big complainers," says Brault. "And we can be a bit full of ourselves when we get off the boat," adds Dal'lin.
Drivierre describes France as a gloomy country, with senseless bureaucracy and soaring unemployment. He prefers Quebec. "People are welcoming…they talk to you," he says. "There's an undercurrent of insecurity back home that just doesn't exist here."
"There's so much going on culturally," Dal'lin adds. "Exciting new ideas and projects in music and cinema are coming out of Quebec." Going back is too daunting to consider. "I've never paid rent in France; I've had all my experiences of adult life here."
This article originally appeared in La Presse on March 13, 2010.
See the rest of Issue 36 (Summer 2010).
Related on maisonneuve.org:
—How a Soft Drink Became Quebec's Homegrown Insult
—Will Steep Fines Kill the Plateau's Nightlife?
—Alphabet City
Subscribe — Follow Maisy on Twitter — Like Maisy on Facebook